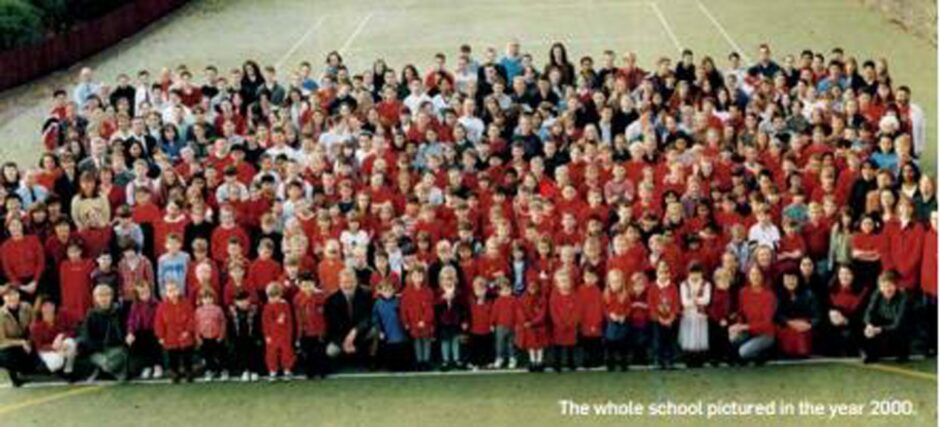 Celebrating 50 years of International School Aberdeen, we are taking a look at some of the key moments during this time.
Last year, the school proudly celebrated 50 years of educational excellence. 50 years being part of Aberdeen life and bringing families together from around the world.
International School Aberdeen's first school in Cults in 1972. Since then, the school has had many homes, finally settling on its present campus in 2010.
Height proves beneficial for the under-15 team, with wins against Kincorth Academy
and Robert Gordons in 1975.
Left to right:
Queen Elizabeth II visited ISA in 2013 and the school named their state-of-the-art 300-seat theatre after the late monarch.
By the mid-1980s, the US airbase at Edzell started sending students to ISA and by the
1990s they made up a third of the school population.
ISA was founded in 1972 as The American School Aberdeen (ASA) but by the mid-90s,
the student demographic diversified so the school adopted the IB and changed name to
International School Aberdeen (ISA) in 1996.
1983 saw the arrival of the school's first computers.
The senior IB class of 1999 – a group of students working towards the internationally recognised diploma, allowing them to continue into further education anywhere in the world.
In 1979, the school's owner, AJ McCormick sold the school to a group of major energy companies who created a not-for-profit company – Paloak to ensure an international education in the city to support a booming energy sector bringing many
expatriates to Aberdeen.
In 2006, ISA not only hosted the ISSA Volleyball Tournament but the Senior Boys team cruised past every team and made it to the finals against DSL, taking first place.
In 1980, eight years after the school was founded, the student population had grown
significantly, and a new building was required. Secondary students remained in Cults
whilst elementary students moved to Milltimber.