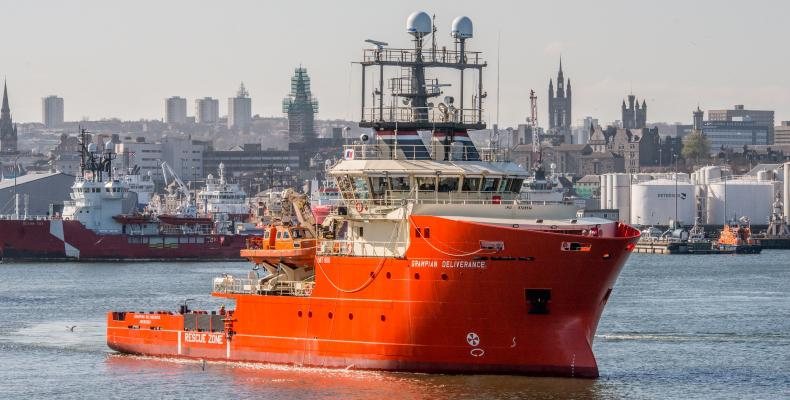 Crews of oil and gas emergency standby ships are facing an extra month out in the North Sea in response to the coronavirus pandemic, sparking "anger" from parts of the workforce.
Operators of Emergency Response and Rescue Vessels (ERRVs) are taking measures in response to the "unprecedented impact" of Covid-19, including asking crews to significantly extend their offshore trips.
One seafarer, who wished to remain anonymous, confirmed his crew has been asked by North Star Shipping to double their 28-say rota for a full two months out at sea.
He said the move has caused "anger" as well as concern among those with elderly relatives needing care during the virus outbreak.
However, it is understood that no one is being forced to remain on board, with the chance to depart as the ship comes to shore to resupply.
North Star Shipping said it is "considering the best course of action" to protect the industry and its people, adding that "extending trips is an option that could help to limit the risk of people on vessels becoming infected".
Having standby vessels in place is a requirement for offshore production platforms, so travel restrictions for EU nationals, who make up a significant percentage of the seafarers, are bringing challenges for crewing the ships.
The ERRV Association held a meeting last week to discuss the impact of the coronavirus outbreak.
Rory Deans, chief executive of fellow vessel operator Sentinel Marine confirmed "arrangements for the crewing of vessels is an issue that is affecting the ERRV industry as a whole".
He added that asking seafarers to extend their trips is something his firm is considering.
However, not all workers have responded in the same way to the extra time at sea.
Another seafarer on a North Sea vessel, who also wished to be anonymous, said: "I honestly don't think any of the companies had any choice in the action they have taken.
"It's the only way to keep the ships at sea and the oil platforms producing. We are, quite literally, doing our bit for our country."
That sentiment was echoed by David Kenwright, chairman of the ERRV Association.
He said: "There is no overall guiding set of steps to be taken by the industry. We have had a conversation and explained the circumstances to OGUK and I dare say that duty holders offshore will be experiencing similar difficulties.
"Crews will get the same amount of leave they normally get but it's just about managing a set of circumstances to ensure that the required levels of crew are available in the event of an emergency evacuation or any other event offshore.
"It's a mature and responsible approach to an issue of which we really have no experience in determining how bad it's going to get."
A spokeswoman for North Star Shipping said: "The North Sea sector as a whole is responding to the unprecedented impact of the Coronavirus and along with other vessel operators we are considering the best course of action to protect the industry and our people.
"Extending trips is an option that could help to limit the risk of people on vessels becoming infected."
Recommended for you

North Sea vessel operator expects tightening market to fix balance sheet