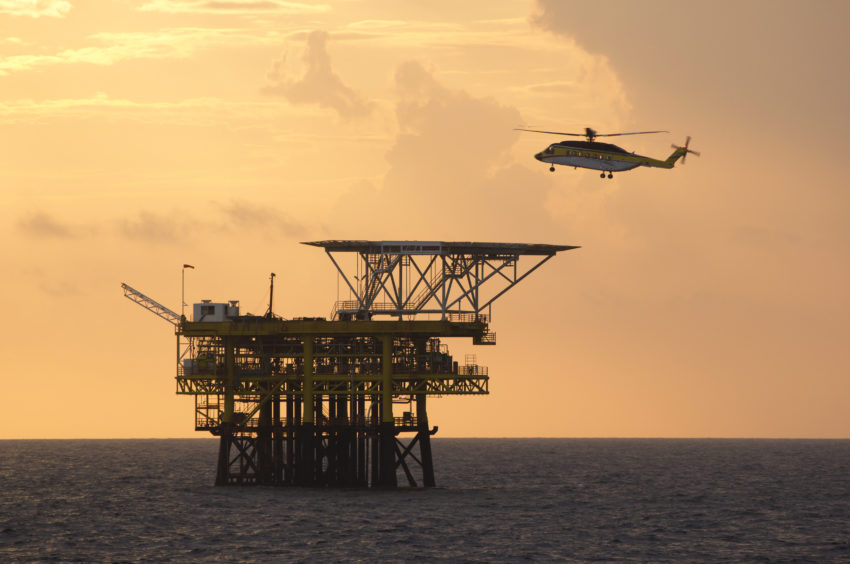 Oil and gas operator China National Offshore Oil Corporation (Cnooc) International is set to halve worker numbers travelling by helicopter to its North Sea assets in an attempt to socially distance staff and combat the spread of coronavirus offshore.
The Beijing-headquartered firm intends to reduce passenger numbers from around 18 to eight crew per flight.
It is understood the decision has been taken as part of the firm's desire to be "on the front-foot" in terms of its wider Covid-19 precautionary measures.
A spokesman for Cnooc said: "We have introduced a comprehensive range of control measures during the Covid-19 pandemic to help ensure the health and safety of our people and maintain safe operations offshore."
However, North Sea operator Taqa, who was also understood to be part of safety discussions on passenger numbers, has confirmed it would not be reducing crew on North Sea flights.
John Boland, regional officer for workers union Unite, claimed some operators were "slowly beginning to move" in the right direction.
He said the issue of social distancing on helicopters had been raised "numerous times" with representative body Oil and Gas UK (OGUK) and discussed with Scottish Energy Minister, Paul Wheelhouse, last week.
He added: "Unfortunately, in these circumstances we do need people to move quickly.
"We're trying to push some of the individual operators and what we'd like to see is all operators go down to similar route to what Cnooc is doing, which gives a degree of social distancing.
"It's not perfect, but under the circumstances it's a lot better than what we've got at the moment.
"Having 16 to 18 people on a helicopter is just asking for trouble."
OGUK said it continues to work with industry, government, trade unions and health bodies to provide "clear communications" on Covid-19 prevention and management on and offshore.
Deirdre Michie, OGUK chief executive, said: "While we understand concern, OGUK has throughout been working closely with Health Protection Scotland on the prevention and management of Covid-19 in an offshore context, particularly with regards to helicopter transport.
"Passengers are pre-screened before entry to heliport and this confirms that they are asymptomatic and are at low risk of transmitting the virus if they have it.
"Some operators are choosing to limit personnel on board further but this is something they have chosen to do rather than on advice from Health Protection Scotland."