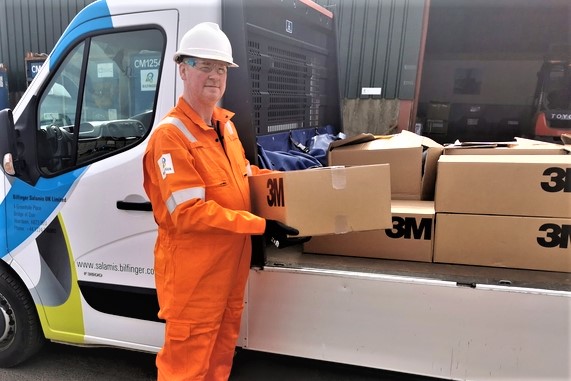 A number of companies more commonly known for supplying personal protective equipment (PPE) to the North Sea oil and gas sector have shifted their focus to provide much needed face masks, visors and respirators for key UK NHS staff fighting the Covid-19 outbreak.
Bilfinger Salamis, which has its UK head office in Bridge of Don in Aberdeen, announced this week it donated PPE to front line healthcare workers in Grampian to combat critical shortages in medical masks.
North-east ambulance workers received more than 220 face masks – which are more commonly used for North Sea maintenance, painting and blasting work – to help fight the Covid-19 pandemic.
HSE manager for Bilfinger Salamis Ralph said: "The ambulance service staff are at the very front line of the pandemic in our local communities, entering the homes of those showing symptoms of Covid-19, and putting themselves at unimaginable risk every day.
"We are delighted to help these key health professionals do their job with the correct protective equipment at this critical time."
Tekmar Energy, which supplies bespoke offshore equipment, announced this week it will partner with design engineering firm Subsea Innovation to roll out face shields for NHS doctors and nurses.
Subsea Innovation has designed and started the manufacture of protective shields using 3D printing technology.
Recognising the limitations of using 3D printers to produce the face shields in quantity, the firm developed a design that can be manufactured in greater numbers with sister company Tekmar Energy.
Technology firm 3M, which traditionally supplies thousands of products for the UK oil and gas industry, also revealed it had "doubled production" of respirators to 1.1 billion per year across its global manufacturing facilities.
It added that it plans to double its capacity again to 2 billion over the next twelve months.
The firm said it is currently experiencing an "unprecedented surge" in demand for respirators, adding that demand will outpace supply "for the foreseeable future".
A spokeswoman for 3M said: "In this unprecedented crisis, the vast majority of our capacity is now being directed to serve the healthcare and government emergency response.
"3M is also partnering with other companies on a range of innovative solutions to protect healthcare workers and first responders."