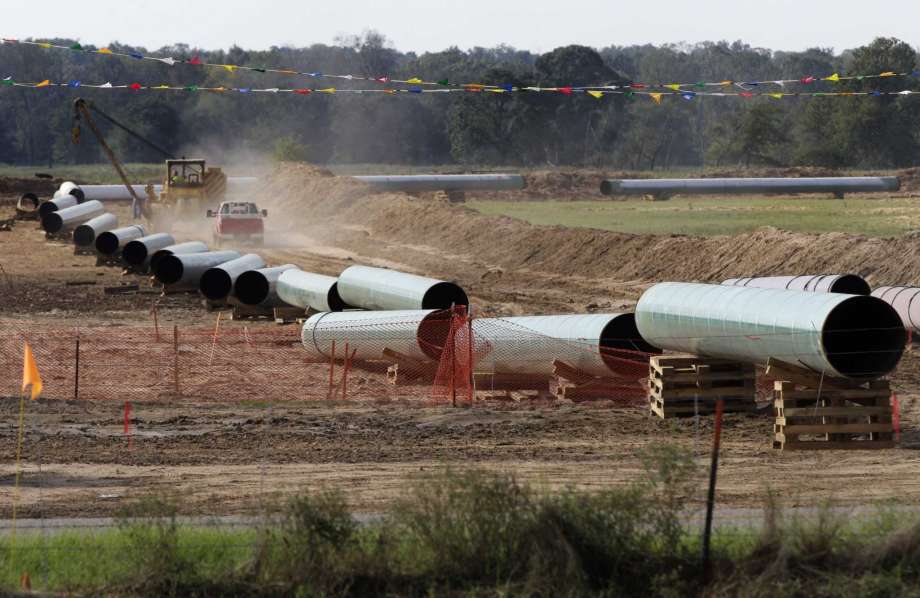 Construction work on Canada's major Keystone XL pipeline looks poised to stall mere weeks after the controversial project was given the green light by TransCanada (TC) Energy.
On April 15 US District Judge Brian Morris in Great Falls, Montana ruled against the US Army Corps of Engineers' use of Nationwide Permit 12, which allows energy pipelines to cross bodies of water across the United States. Judge Morris ruled that the Army Corps violated US federal law by failing to appropriately consult on risks to endangered species and habitat. The Corps must comply before it can apply Nationwide Permit 12 to any project.
Judge Morris' decision effectively halts the construction of Keystone XL pipeline through much of its US route. Senior Attorney Jared Margolis, who was one of plaintiffs that challenged the Army Corps' reissuance of the Nationwide permit in 2017, underlined how this court decision affects a vast degree of overall construction given that a substantial portion of the project consists of construction at US water crossings.
The project could be hit by another roadblock, as American Indigenous tribes and environmental groups voiced their case to Judge Morris on April 16 that the pipeline's construction be shut down due to fears of COVID-19 spreading and concerns of a future spill. There will be more to follow on this in the future, as Judge Morris did not immediately rule following an almost four-hour hearing on April 16, which included arguments over whether President Trump's authorization of the border crossing was legal.
TC Energy announced on March 31 that it was moving ahead with the project after the government of the Canadian province of Alberta pledged to invest US$1.1 billion in the project, which will substantially cover construction costs for the rest of 2020. The remaining US$6.9 billion capital investment for the project, which will be made largely in 2021 and 2022, will bring the pipeline's cost up to US$8 billion.
The 1,947 km long (1,210 miles) pipeline will pump 830,000 barrels per day of crude oil from Hardisty, Alberta to Steele City, Nebraska where Keystone XL will then connect with TC Energy's existing facilities and Keystone Pipeline System, enabling oil to reach Illinois and the US Gulf Coast. TC Energy aims for the Keystone XL pipeline to enter service in 2023.
In reaction to Judge Morris' April 15 decision against US Army Corps' use of Nationwide Permit 12, TC Energy spokesman Terry Cunha expressed the company's commitment to building the pipeline. Likewise, Kavi Bal, a spokesperson for Alberta Energy Minister Sonya Savage, stressed that the Albertan government remains "committed to this extremely important project" in a statement to CBC News. The US District Judge's decision will not, however, stop construction across the Canada-U.S. border, as workers installed the first portion of pipeline across the US-Canada border in northern Montana on Monday.
The duct has been seen as critical to the energy infrastructure in Alberta, where a lack of pipelines have previously held back E&P work. But a week after announcing the project would move ahead, TC Energy said it was reviewing its 11 Keystone XL work camps – some of which were originally planned to house up to 1,000 workers – in light of health risks posed by coronavirus.
Notwithstanding the Montanan Judge's decision, the potential for large numbers of workers being in close proximity for the pipeline's construction in Alberta has forced a rethink around the work programme for the project, with social distancing measures in place to prevent the spread of COVID-19. Heavy construction work on the project was due to get under way in June, but lockdown restrictions look likely to impede progress and delay this phase of the project to at least July and potentially later in the year, depending on COVID-19's progress throughout Alberta.
While TC Energy has had to review its worker practices, stringent COVID-19 measures have been reportedly prevalent across oilsands camps in Alberta. Rod Nickel, a senior correspondent for Reuters on the Canadian oil industry, told Energy Voice that companies are enforcing strict precautions to limit the disease's spread and to ensure they are in a strong position to rebound when the lockdown is lifted.
However, upon this article's initial publish date, these COVID-19 concerns for Albertan oil industry workers suddenly became very real at Kearl Lake's oilsands project. As of April 16, it was reported that this oilsands project, which is jointly owned by ExxonMobil and Imperial Oil, had 12 workers that tested positive for COVID-19 – this being the first reported outbreak of COVID-19 at an oilsands camp. 2 of these workers who tested positive for COVID-19 are on site while the remaining 10 infected workers are off site.
Imperial Oil's Vice President, Simon Younger, stressed that the health and safety of Imperial's workers and surrounding communities is of paramount importance. He also expressed how Imperial had completed contact tracing of all the infected individuals and asked additional workers to self-isolate while further testing is occurring. Younger emphasized that stringent measures had been in place since March and that Imperial is now working with Alberta's government and health services to manage the issue.
In addition to COVID-19 impacting Keystone XL's construction and oil workers' health, companies have had to halt important site operations in Alberta due to the virus. In late March Shell announced that maintenance work at its Scotford site would be delayed until late 2020 in a bid to reduce the spread of COVID-19. Subsequently, Athabasca Oil Corporation announced on April 2 the suspension of its operations at its Hangingstone SAGD oilsands camp owing to low oil prices and the pandemic.
Delays such as those anticipated at the Keystone XL project are likely to have a deep impact on the province's prosperity this year. A recent report by the Royal Bank of Canada (RBC) said that Alberta's oil-reliant economy would be the hardest hit of all the country's provinces in 2020, with a forecasted real GDP growth of -8.2%.
Recommended for you

Canada's love-hate relationship with oil and gas