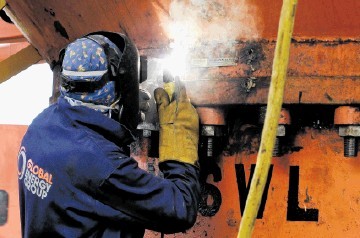 Workers at a Highland company Global Energy Group site staged a walkout yesterday after Covid-19 temperature checks resulted in incorrect readings.
It is understood around 21 staff left the firm's Invergordon service base after they were ordered to begin work despite a malfunctioning thermometer presenting results that were "all over the place".
One worker described the situation as "a disgrace" and accused the firm of putting the local community in "danger".
Global Energy Group, which has several bases across Aberdeen, Inverness and the Cromarty Firth, admitted that the thermometer was faulty but said the safety of its workforce was of "paramount importance".
The Aberdeen-headquartered firm provides manufacturing and engineering services for the oil and gas and renewable energy sector.
Around 180 workers made a phased return to work at the firm's sites this week.
But one staff member, who did not wish to be named, claimed staff at the Invergordon base had warned the firm of the walk out on Wednesday before unless it replaced the faulty temperature thermometer.
He said: "When we came back the next day it wasn't sorted so we walked.
"The pressure they put on us to go back to work was nothing short of a disgrace.
"The testing wasn't right, it was all over the place and was clearly broken.
"Not only are they putting me in danger they're putting my family in anger and the community in danger."
A Global Energy Group spokesman confirmed that 21 workers left the Invergordon site yesterday.
He said it was due to "concerns in the malfunction of the thermometers which form a part of our overall health and safety protocols, checks and continuous monitoring."
He added: "These people all returned to work today and were checked with the new thermometers we acquired and are now happy with this and the various additional protection measures we have in place."