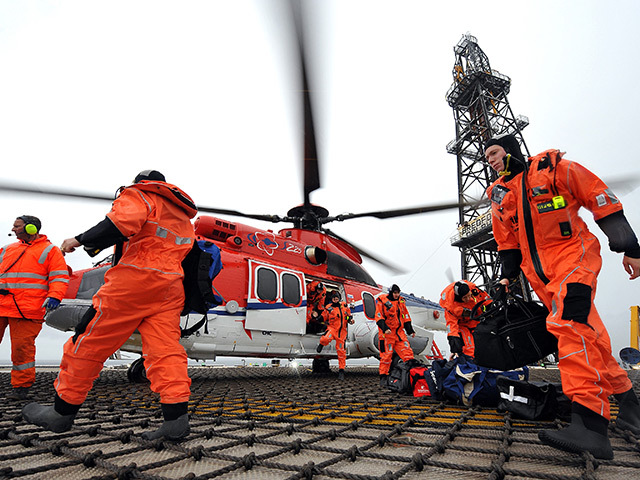 The UK's oil and gas industry has welcomed the publication of fresh guidance on managing Covid-19 cases offshore.
Health Protection Scotland has produced a 20-page document setting out how helicopter companies, duty holders and medics can manage and prevent an outbreak on oil and gas installations.
It comes as the North Sea has seen confirmed cases across several offshore platforms, with dozens more people suspected to have been infected but not confirmed.
Step Change in Safety (SCIS) said it was "pleased" to see the publication after initial guidance from HPS "lacked the detail and clarity" to address the industry's specific needs.
Industry body Oil and Gas UK also worked to produce the document, which goes into points including PPE requirements, quarantine measures and dealing with cases that develop while helicopters are in transit.
The guidance can be read here.
SCIS executive director Steve Rae said: "We are pleased to hear that the HPS guidance has now been officially published.
"We realised from the onset of the 'lockdown' that the UK Government and HPS's mainstream initial guidance lacked the detail and clarity to address our industry's specific needs.
"To this end, we took the proactive approach of establishing a two-way communication conduit so that we could receive first-hand the concerns of our workforce and respond accordingly.
"We have been collaborating with OGUK (Oil and Gas UK) since the onset of the COVID-19 pandemic to ensure the information we are making available to the workforce is consistent, timely and factual.
"We will continue to do so as the safety and wellbeing of our workforce remains of paramount importance to us at this difficult and challenging time."
A survey published last week by offshore unions highlighted workers' concerns around the industry's response to the outbreak, from sick pay to the use of PPE.
OGUK's HSE director Trevor Stapleton said: "OGUK's Pandemic Steering Group worked alongside the HSE, Public Health England and Health Protection Scotland to draft and publish this guidance which helps demonstrate and give clarity to industry's proactive and comprehensive response to the COVID19 pandemic.
"OGUK together with wider industry continues to do everything we can to protect the health and welfare of our workforce and we will review and evolve industry guidance as we learn more about this virus."