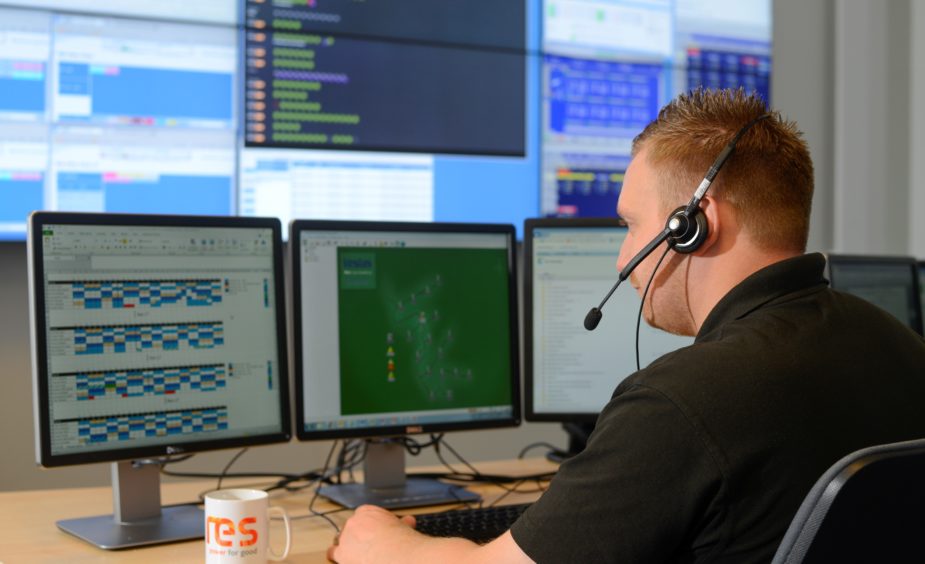 A firm responsible for the site operations of several Highland and Grampian wind farms has revealed it used technology from the gaming industry to keep turbines spinning during the Covid-19 pandemic.
Using a tool commonly established by developers to play popular online multiplayer games such as Fortnite and Counter-Strike, Renewable Energy Systems (RES) brought in the programme to quickly shift staff operations from the control room to home.
RES, which has its main 24- hour Scottish control room in Glasgow, provides site access operations and monitoring to the Mid Hill wind farm in Aberdeenshire, the Dunmaglass project near Inverness and the Hill of Towie development in Moray.
The gaming program creates a virtual room and gives RES operational controllers the ability to communicate with each other verbally or through instant messaging.
It also allows staff the ability to carry on with a range of other tasks, such as site monitoring, fault identification or emergency response.
Rachel Anderson, RES head of external affairs, said: "We looked to the gaming industry for technology innovation and the adoption of a program more commonly used by gamers has made the move to home working possible for our control centre.
"Our Operational Controllers receive external calls and information continuously throughout the day.
"The adoption of this system is helping them to work remotely as a team by providing the communication tools to share tasks, prioritise actions and the deliver the high quality service our clients are accustomed to.
"It has also enabled a social hub of the control centre to be transferred to a new environment."
RES works on behalf of more than 100 wind farms and 19 solar parks in the UK, which powers around 600,000 homes.
It employs more than 2,500 people in 10 countries, with operations in the UK, France, Germany, Turkey, Australia and the United States.
Ms Anderson added: "From our perspective it was about how do we continue what we're doing while keeping people safe.
"We run our Glasgow control centre 24/7, 365 days of the year and under difficult circumstances we've now got a situation where we only have one controller on site, with others working from home.
"This is the best thing we could do to put people next to each other, even if it had to be virtually."