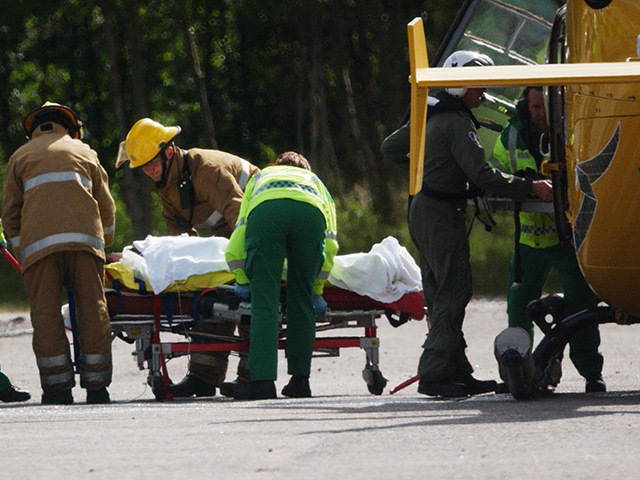 North Sea medics have revealed that a lack of PPE, verbal abuse from "worried" riggers and working 17-hour shifts are some of the issues they had to tackle at the height of the Covid-19 crisis.
Over the last several months, some have had to deal with non-virus emergencies, "ironically" having to secure personal protective equipment (PPE) from China and give guidance on "moral dilemmas" and money troubles.
One former military medic, Chris, went offshore in the North Sea four days prior to the UK going into lockdown on March 23. He was brought on to aid an installation medic who was already working "15 to 17-hour days".
He said: "There was a mad rush in the first week to 10 days when we were there.
Everyone was just basically trying to get off if there was some sort of issue.
"Many people on the rig weren't the fittest in the world, I think it's fair to say, and had underlying issues which they were very, very worried about."
Chris, who did not want to disclose the company he works for, said the rig went down to 50% capacity within the first two weeks, but "crawled back up" once arrangements around PPE, cleaning schedules and bed space had been made.
He said: "The biggest issue we had was, because the NHS was eating up all the supplies, there was no kit."
Over on a construction vessel in Norway, PPE was not an issue for James, a UK national who spent 10 years as a paramedic before working offshore.
He was also brought on board shortly before lockdown – March 12 for Norway – but had a contrasting experience to Chris.
"My partner works for the NHS as a midwife and she could not get Covid-tested even at work," he said. "Yet the company that I work for had delivered 200 kits to me.
"The oil company just said 'there you go', yet the NHS was struggling to get them.
"I had better PPE than she did, she had to order hers off Amazon. I had nearly 3,000 masks available to me on board. I had eye protection, everything like that, yet she didn't have anything."
However, that did not mean smooth sailing for James, who early on had a patient with a burst appendix needing medical evacuation.
The urgency was overshadowed by the coastguard's focus on the virus.
He said: "I had to do two medevacs while I was on board and they were not really interested in what's actually wrong with them, all they keep banging on about is Covid.
"So when you're calling the coastguard, you're trying to explain to them that a person had a burst appendix and they're saying 'Oh, are you sure it's not Covid?'
"It was quite difficult and delayed trying to get a medevac arranged."
Dealing with "panic" that workers coming on board were bringing the virus with them was also part of regular duties for James.
He added: "I was a little bit worried about when people joined in Norway because it wasn't as strict as the UK was.
"Most had been isolated for the last two weeks before joining but some were like 'Oh, I've been at work at this construction place'.
"It wasn't really locked down as much and once the rest of the crew got wind of that then jungle drums start and everyone starts panicking that they're bringing Covid on board."
Before full screening and testing was in place, the North Sea had waves of medical evacuations of workers who had minor symptoms or were asymptomatic but suspected to have been in contact with the virus.
For medics, that meant telling many they had to depart the platform, which would hit their income.
"I had to get rid of eight crew members on board because of their temperatures," James said.
"I was called every name under the sun by crew members because I had to take them off-board.
"At the end of the day they didn't understand fully I'm there to protect the crew, they just thought I was taking their money away from them."
It's a problem which he shared with Chris, who, despite seeing people anxious to leave in the opening weeks, also had symptomatic crew members who wanted to stay in order to pay the bills.
Chris said: "The anxiety side of things; a lot of it is money. The predicament with a lot of lads is people live pay cheque to pay cheque and kind of beat themselves up
about it.
"If somebody said there's a confirmed case back home with a family member or 'I've been around this', then we had to quarantine them. There was nothing we could do about that.
"You've got the people who may have symptoms but, at the same time, don't want to get off.
"You've just got to speak to people and put it into context. This is not
the be-all and end-all, this is just a job and your health is more important."
SSI Energy
The need for such removals has reduced, as firms have gradually been able to put in more robust screening and testing procedures.
SSI Energy, a medical consultancy for the offshore energy industry, has seen its workload "skyrocket" since the outbreak, as the sector dealt with maintaining output amid a travel and domestic lockdown.
The firm has been offering services ranging from screening to supplying medics to go offshore, as well as collaborating with CHC on its "Covid Copter" service for patients with Covid symptoms.
Medical director Dr Paddy Morgan said "one of the biggest steps" was to then "offer the complete solution" including PCR testing – a lab test for small proteins that make up the virus, with a 95%-plus accuracy rating.
Coupled with other measures like appropriate PPE, screening, cleaning regimes and ensuring social distancing, where possible, this ensured a "fair risk strategy" is in place, Dr Morgan said.
However, there are still "rare" occasions when workers return with Covid-19 symptoms which is "invariably" caused by other companies who "haven't necessarily followed such strict regimes", he added, bringing the need for the Covid Copter service.
From April to May, SSI medics deployed on 13 such flights, while the company screened more than1,500 people at its Norwich base.
Dr Morgan contracts for SSI as medical director, while his main employment is as an intensive care and pre-hospital consultant for the NHS in Wales.
He has worked with the oil and gas sector for seven years, but is heavily involved with the UK Search and Rescue (SAR) medical group, including as clinical governance lead for Great Western Air Ambulance.
That has included helping develop "pragmatic" advice for offshore companies and medics, including dealing with moral dilemmas like what to do when a virus carrier has a cardiac arrest.
He said: "There is that question of balance and risk.
"If it sounds clinically like you have the virus on board and it is Covid-19 and you have a cardiac arrest, your chances of survival are less than 0.1%.
"We are human beings, we have a moral obligation to act and preserve life where we can, but of course you have to offset that against the chances of that person contaminating you, which if you don't have the right PPE is incredibly high."
Providing CPR could mean the resuscitator becomes infected, along with the entire workforce, so guidance from Dr Morgan and UK SAR, is that PPE must be applied prior to doing so, which mirrors NHS hospital practice.
He said: "There is that awful moral dilemma to face and, thankfully, because of some of the other work my colleagues and I do, we've been able to give a kind of ivory tower opinion which is to say you must look after yourself first.
"What we don't want to do is say 'Don't go and help your crewmate', but we need to make sure everybody we are working with is as safe as possible."
Dr Morgan said he is "very fortunate" that he has not gone without PPE for his work with the NHS and that SSI has been able to find solutions for its offshore
medics.
To that end, "SSI had to procure additional PPE from, ironically, China", he said, as protective gear was "rightly prioritised" for the healthcare sector and supply became "really difficult".
The Health and Safety Executive (HSE) recently prevented millions of sub-standard PPE items getting into the UK North Sea supply chain, but SSI said it ensured everything met Public Health England standards.
One of the "biggest restrictions" was supply of FFP3 face masks – a heavily-regulated type of respirator which effectively filters air, so the company used industrial masks, such as those used in asbestos work and tested them to the FFP3 standard.
Dr Morgan said: "We went and talked to people who were using these for their intended purpose. We had them tested to ensure they met the FFP3 standards and went through the principles of practice put out by Public Health England.
"So again you have a pragmatic solution to the problem of lack
of PPE."