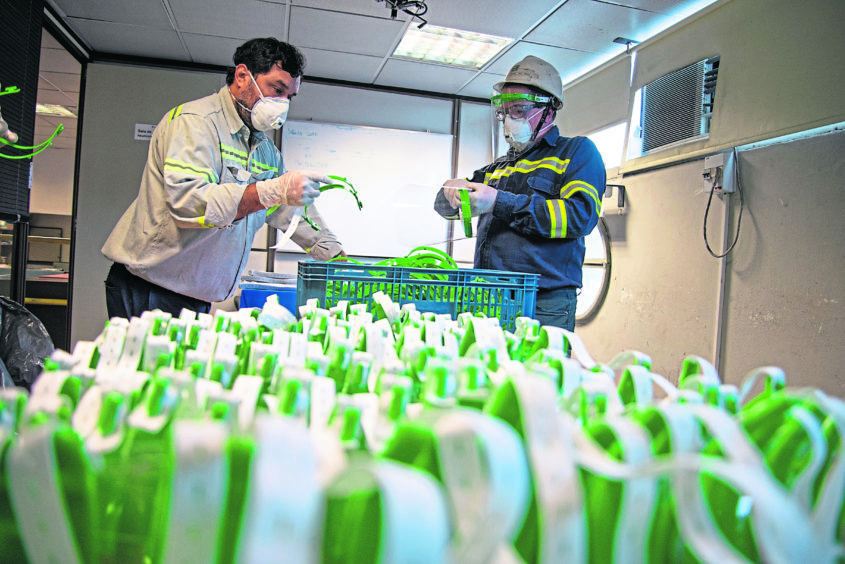 The upheaval brought on by the health pandemic has had wide-reaching impacts.
How we live and work has changed in ways we are not accustomed to – wearing masks, taking temperatures, and keeping a distance of at least two metres.
Having facilities in China, Tenaris has had to respond to the Covid-19 pandemic since the very first recorded cases globally. The company quickly began mapping out a comprehensive plan to keep its employees safe while securing the continuity of its operations, support to customers and to its communities around the world.
Like most companies, office/home rotas, business critical travel restrictions, regular sanitisation, online meetings, teleworking and markers guiding people to a safe distance from one another are now commonplace. In the mills, visors have been added to the traditional PPE as an extra layer of defence.
In addition to these, Tenaris has also been repurposing its resources and using its network to support not only employees but also the communities it is in direct contact with.
Dalmine, Tenaris's mill in Bergamo, Italy – at the epicentre of the virus in Europe – expedited the manufacture of 4,300 medical-use gas cylinders used in ambulances and mobile intensive care units to treat the critically ill.
The company's hotel in Campana, Argentina, was transformed into a Covid-19 treatment centre, strengthening the local response, offering 52 rooms for the care of patients with mild symptoms, and allowing hospitals to focus on more critical cases.
Also in Campana, employees at the local mill, Siderca, engineered the production of 50,000 visors for employees, first responders and medical workers using existing mill equipment and 3D printers.
Tenaris' sister company, Humanitas, runs a network of Italian hospitals and a research hospital in collaboration with Milan University. Since the outbreak of Covid-19 in Lombardy, Italy, the company has been at the forefront of the pandemic. It has been sharing its experiences, knowledge and preventative advice with Tenaris employees, contractors and members of the community.
In these unusual times, where all sectors have been impacted, Tenaris has maintained its support to the local communities where it operates, dedicating $6 million for the procurement of PPE and medical supplies with targeted support to areas most in need across Latin America, Europe and North America.
The response by Tenaris to the pandemic is an extension of the
company's guiding mission and its values.
Tenaris CEO Paolo Rocca reinforces this commitment on the company's Covid-19 response page, indicating its responsibility lies in "all the required measures aimed at the prevention and defence of our people's health in our plants and offices, to defend the continuity and long-term sustainability of our company and its value chain, to do everything possible to sustain the communities in which we are rooted and support the action of governments of the countries in which we operate".
Tenaris is a leading global manufacturer and supplier of steel pipe products and related services for the world's energy industry and other industrial applications.
Recommended for you

OEUK winding down Covid task group as virus enters 'endemic' stage