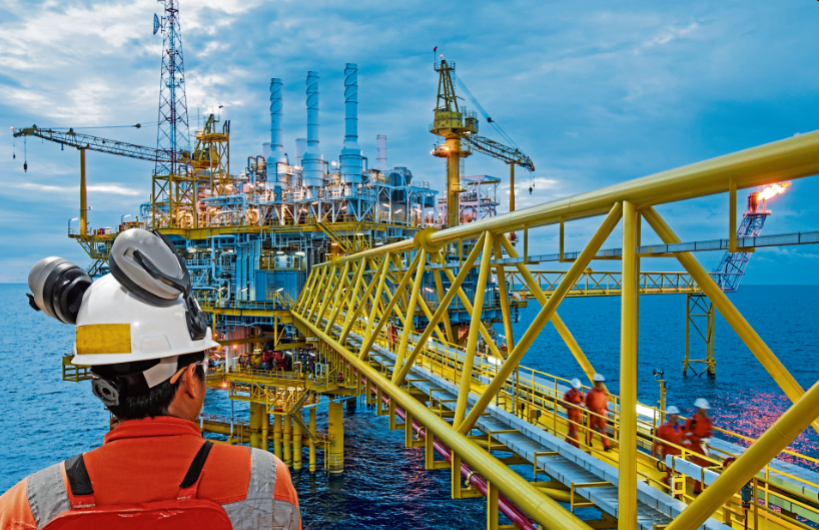 Very few people instinctively know what to do during a crisis.
Yet, while the severity of the Covid-19 outbreak grew and the implications for the North Sea oil and gas sector became clearer, it was Chris Flint's job to help come up with workable solutions to keep people safe.
As energy director for the Health and Safety Executive (HSE), he became part of a team involving Oil and Gas UK (OGUK), Health Protection Scotland and Step Change in Safety that would effectively decide how the crisis was handled on the many offshore installations pumping oil and gas from the North Sea.
It was a response that Flint today describes as a "real success story" for the sector.
At the height of the pandemic, around 200 workers were airlifted from North Sea assets with suspected Covid-19 symptoms over a six-week period despite a 40% reduction of offshore staff.
The main problem seemed to be about getting information to those people who needed to hear it as a means of keeping them safe, Flint believes.
He said: "In the first few days of the lockdown I was getting word that things weren't going as well as they might do, particularly around communication with the workforce.
"I had conversations with Trevor Stapleton at OGUK and Steve Rae at Step Change in Safety and very quickly we decided that the best thing to do would be for those two organisations to work together to get the right communication effort out to workers.
They really stepped up and provided an awful lot of information.
"OGUK realised very quickly we'd need the pandemic steering group (PSG) to ensure the industry was responding in the right way."
However, the nature of the pandemic also impacted HSE's ability to do its usual health and safety monitoring in person – how could IT ensure that North Sea operators were implementing the actions required to reduce the virus if it couldn't deliver it in person?
Flint said: "At the outset we knew we'd have to have a short pause in the offshore industry.
"We recognised that we weren't going to be going offshore other than for fatalities, serious incidents or, where we needed to get public assurance, we started doing virtual visits.
"These have been quite intense visits with operators and people have had to come together to look at how major accident hazards are managed in this new Covid-19-affected world."
"What we did – virtually – was ensure that everyone who needed to be around the table was around the table – and that happened very quickly due to the fact that the virus was really concentrating minds."
Yet Flint concedes that while the work being done "was very visible" to the steering group and other sub groups, there was "a lag" in it being visible to the workforce and trade unions.
He added: "When we decided to get more people, like the unions, around the table that really helped as people weren't then hearing things second hand and they were part of coming up with the solutions.
"It was a really good example of an industry responding very quickly to what was a unique set of circumstances."
Flint described the reaction from sector groups and regulators as "a real success story for the industry".
He also praises the speed with which the response came together under the supervision of the OGUK-led PSG and the various work groups assembled, albeit virtually.
He said: "HSE were heavily involved in that from the outset and I think it's been really good that we've been able to bring together all the key trade associations, Health Protection Scotland, HSE, Police Scotland and the helicopter operators to work together collectively to come up with solutions in these unprecedented times.
"The work they've done is as good as anywhere to allow workers to still be able to mobilise offshore and reduce the risk of Covid-19."
Alongside all this, there was an essential reduction in the offshore workforce as more than 4,000 workers were stood down to halt the spread of the virus on North Sea assets.
Pre-Covid, the North Sea averaged a standing offshore workforce of 11,500, which was quickly reduced to 7,000.
Uplift workers, non-essential contractors and those with underlying health conditions were all removed.
Flint said: "We were very conscious of the reduction of staff offshore and we are only now starting to see it creep up gradually month on month, so our inquiries were centred around not only the levels of manning, but also the numbers of skilled people who were out there to do the essential maintenance around safety and environmental critical equipment.
"What we've seen is that certain types of projects, such as capital expenditure projects, have probably not gone ahead as planned, but we were provided with the assurance that things that are critical are still going ahead – a key part of the virtual visits was to ensure these weren't being cut back.
"The next step will be when we get out to visit we will see what the actual state of play is, but companies have been very alive to the fact that they need to keep on with the essential, safety critical activity."
All focus has now shifted to what the "new normal" might look like and to getting effective protocols in place to stave off any second wave of the virus offshore.
Despite this, Flint believes the numbers of workers going back out to the North Sea could start to edge up – current numbers are understood to have increased from 7,000 to 8,000 over the last month or so.
But he claims the key will be having appropriate control measures in place.
He said: "It just has to be done in a careful way to ensure
they're not increasing the risk by suddenly putting 2-3,000 people out there.
"It is easier to keep up with social distancing with a reduced workforce and the numbers of coronavirus cases in the North Sea have dropped significantly – you could count them on one hand today.
"If we get the control measures right, I would think we could well start to see an increase in the workforce, but when it will be back to full capacity I wouldn't like to say at this stage."
Recommended for you

Dozens of inspection letters reveal recurring HSE problems for North Sea