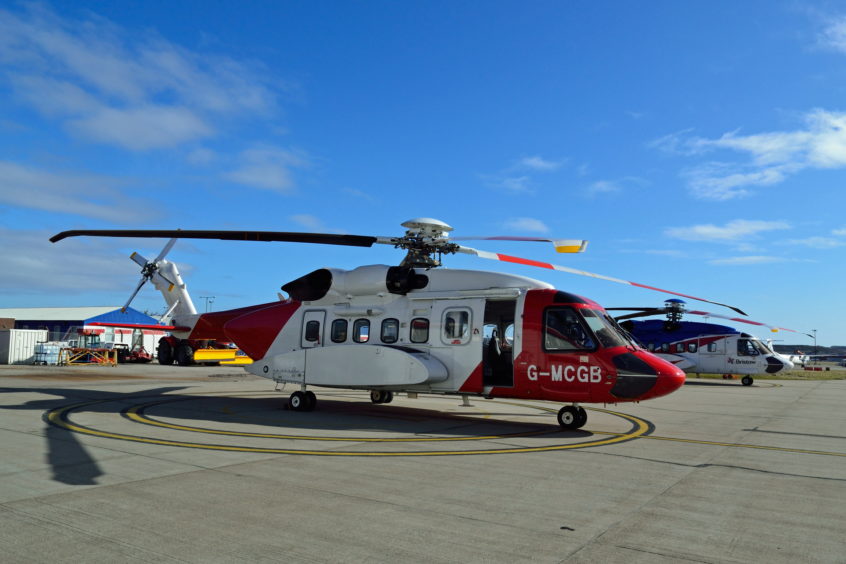 When Covid-19 gripped the UK North Sea oil industry, there was only one way for helicopter operators to manage the crisis – take it hour by hour, day by day.
Information and guidance was coming at companies from all angles all the time during those initial fraught weeks.
Many people would crumble under the pressure, but copter firms have a wealth of experience when it comes to crises, whether in the shape of viruses like Covid-19 or Sars, giant ash clouds spewed out by Icelandic volcanoes, incidents or fatal accidents.
They know how to hang tough and pull together.
The end product of their labours has surely been one of the success stories to emerge from the coronavirus tragedy.
All involved can be proud. The companies quickly implemented a comprehensive set of measures for returning suspected sufferers back to the beach, while protecting their crew and engineers.
UK divisions of global aviation groups created passenger categories which have been adopted globally and are a source of great pride for those involved.
Each of the four operators provided at least one C-Med aircraft, or "Corona Copter", dedicated to flights involving category C passengers who were showing symptoms.
Other measures included putting up barriers between crew and passengers, removing seats to make extra room, strengthening cleaning regimes and introducing "snoods", of all things.
Testing and temperature-checking workers before they went offshore, and keeping them apart on the rigs by downmanning and reverting to single-occupancy cabins, also played a part.
Conscientious workers staying away when they knew they had symptoms or had been in contact with a sufferer helped a great deal, too.
Fewer than 1% of the nearly 9,000 who continue to work offshore have been brought back to shore with symptoms.
Two hundred category C passengers were evacuated from North Sea platforms between the end of March and early May, but the total has only increased to around 236 since then.
Cat-C flights dropped to zero at one point, though there has been a slight increase of late, perhaps due to a recent rise in the number of people going offshore.
One of the main reasons for the effectiveness of the response was the industry's ability to get key decision-makers in a room together, albeit a virtual one, said Graham Wildgoose, aviation adviser at representative body Oil and Gas UK.
The sector's pandemic steering group was quickly established, but it was decided helicopter transport should be split off into a separate sub-group.
Wildgoose said: "We decided that sub-group should be restricted to helicopter operators only and that it would be a decision-making group.
"The people who attended were senior managers, people who were able to make decisions at the meeting without having to refer back to their company.
"That made the group very efficient. If issues came up they were discussed, agreed or disagreed. Some of the discussions were lengthy, but at the end of the meeting a decision was made.
"There was real breadth of experience in those meetings. There were maybe only eight people, but with combined experience of more than 200 years of helicopter operations.
"It's very enlightening in a way because you're talking about four commercially opposing groups. For them to line up their processes was a terrific step forward."
Wildgoose said the introduction of the snoods was a prime example of the willingness to work together displayed by company and regulator alike.
The entire process of being asked whether passengers could wear ordinary face masks to issuing the snoods lasted about three weeks.
Operators quickly recognised ordinary masks would be hazardous as they could interfere with passengers' attempts to deploy their emergency breathing systems.
Alternatives were identified, after which survival training firm RelyOn Nutec opened the doors to its helicopter underwater escape training facility for testing.
The snood was found to be the best option. Then the UK Civil Aviation Authority did its bit, going over the test results and approving the snood "very quickly", in just 48 hours, Wildgoose said.
Matt Rhodes, oil and gas director for Bristow Helicopters' UK and Turkmenistan businesses, also reflected on the first few days when it became apparent Covid-19 wasn't going to bypass UK platforms, but land "right on their doorstep".
In terms of the influx of guidance from health authorities, Mr Rhodes remembers there being "lots of moving parts" to arrange, but feels his team managed "extremely well".
He described himself as "very fortunate" to have a group of experienced and capable colleagues who have dealt with a lot of challenges over the years.
Rhodes stressed that a huge amount of effort went into achieving results within "very tight timeframes".
The entire process of getting the dedicated C-Med flights into action was completed in 10 days flat, which Rhodes described as a "phenomenal piece of work".
Wildgoose and Rhodes explained that top priority throughout was to prevent pilots and engineers contracting the virus.
"There's a finite number of crew and engineers," Wildgoose said. "You can have as many serviceable aircraft as you want, but if the virus is allowed to spread and you've no pilots to fly them and no one to maintain them, you don't have a fleet."
Again, a triumph. Among the ranks of pilots and engineers, companies identified only a
couple of category B cases – meaning the person was asymptomatic but had close contact with an individual showing symptoms – but they came back negative, Wildgoose said.
Rhodes was unaware of any confirmed cases among those two groups, which he put down to the "robust" procedures put in place.
Passenger safety was obviously extremely important, as well, though not everyone was satisfied.
Energy Voice heard of complaints from workers about the lack of social distancing on helicopters and a perceived lackadaisical attitude to cleaning.
Maybe it's a sign of the effectiveness of the industry's approach that only a few people out of thousands flagged their concerns.
Then again, not everyone who feels anxious or threatened immediately goes to the press.
For sure, gauging the level of dissatisfaction is difficult. A survey by the RMT trade union indicated two-thirds felt their employer's response to the Covid-19 outbreak was "average or worse".
But the scope of that poll, which attracted 270 responses, went well beyond simply assessing helicopter operators' performance.
Rhodes said Bristow did receive "a few comments" from passengers, but "nothing unusual".
He said the company put up the right barriers and was continually learning about the virus and updating as the situation evolves.
Wildgoose also noted some "feedback" about issues such as the cleaning of life jackets between flights and social distancing in heliports.
He said: "The helicopter operators were free and open with that information. The level of cleaning and decontamination depends on the category of flight. There are detailed cleaning processes in place for the survival suits.
"It's all stuff the passengers don't see. All the equipment looks the same. There's an impression that the life jacket or survival suit has just come in and is just getting turned around and handed to another passenger, but that's not the case at all.
"As for the terminals, you will always get people saying, 'I was standing in a group of four people but no one told me to stay two metres apart'.
"But you know you're supposed to stand two metres apart. What more do you need other than constant announcements and posters all over the terminal saying, 'maintain social distancing'?"
Clients appear to be satisfied with the service they received. Chris Laughton, offshore installation manager on BP's Clair Ridge platform, which had to call upon C-Med in April, said: "We are a close-knit community offshore who care deeply about one another's health, safety and wellbeing.
"Before we had the security of the C-Med helicopter, the lack of a swift and reliable evacuation route was cause for some anxiety among offshore crews.
"Not only does a C-Med-type solution support our physical health during Covid, it supports mental wellbeing too by removing this concern, helping us to continue to run safe and reliable operations."
The helicopter operators may well be comfortable with the procedures they currently have in place, but they are certainly not resting on their laurels and assuming they've vanquished Covid-19.
Rhodes said: "We're generally seeing a reduction in C-Med flights, as we'd expect, but there still remains a level of uncertainty about the future. The challenge is to prevent future spikes."
Rhodes has been working from home, as have most, for some time and concedes that a holiday "would be nice".
But there is still some way to go before normality returns, he said, adding: "There is still more to sort through in terms of the next stages in the government guidelines.
"As lockdown rules are relaxed, you cannot just sit back and assume everything is going to be OK. You have to be ready to react. We've got a bit more to do to get through the next few months and have a clearer picture."