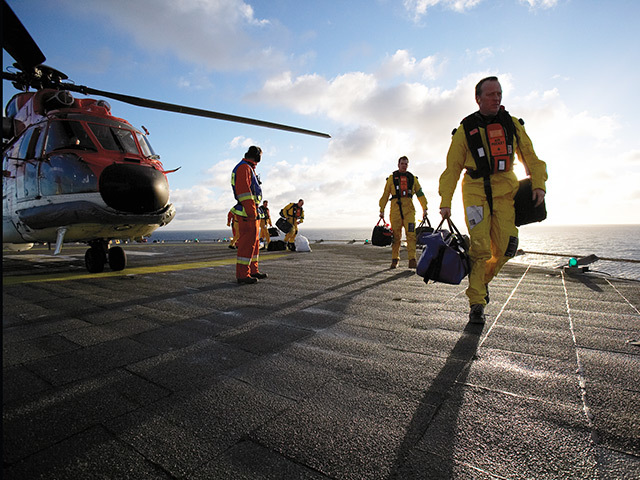 The North Sea is bringing the risk of Covid "under control" with just 10 cases of people contracting it while at work offshore in the UK .
Figures from the Health and Safety Executive (HSE) show only a handful of cases being contracted in the oil and gas sector since the beginning of April, none of which have been fatal.
Legislation, known as Riddor, requires employers to disclose illnesses at work to the HSE.
Oil and Gas UK (OGUK) said it shows barriers "appear to be working", as the industry makes moves to re-man to normal offshore levels.
The pandemic saw staffing levels slashed to a low of 7,000 as platform operators set about ensuring safe, socially distanced working environments.
The UK sector now has around 9,000 people offshore, compared to a standing level of 11,500 pre-virus.
Meanwhile, the number of symptomatic Covid cases has averaged around three for the last eight weeks in the North Sea, OGUK said.
Trevor Stapleton, OGUK's HSE director, said it is a low figure compared to the overall offshore population, and praised industry measures like temperature checks, questionnaires, screenings, testing and changes to working practices.
He said: "These barriers do appear to be working – but we can never become complacent.
"Increasing manning levels back to those seen before the Covid-19 impact requires careful consideration.
"For instance, issues such as cabin sharing, further assessment of people travelling from 'at risk' areas, asymptomatic testing and the ability to differentiate between the common cold and Covid-19 as we approach the winter cold/flu season, all have a bearing on the decision process."
It comes as OGUK has been lobbying the UK Government for blanket asympomatic Covid testing for North Sea workers.
Presently there is only limited provision for offshore staff via a base at Aberdeen Airport, which is shared with other key sectors – but some firms have booked private testing as an extra safety measure.
Mr Stapleton added: "It is worth noting that OGUK still believe that the use of NHS test centres across the UK, for the testing of asymptomatic offshore workers, is another important barrier in helping stop the spread of Covid-19 offshore."
HSE has released stats for some major industries for Riddor Covid disclosures, although these are generally under-reported, the watchdog said.
Residential care has been worst-hit, with 3,054 UK-wide, with 119 fatal notifications, while warehousing and support activities for transport sit lower in the table with 41 cases, one of which was fatal.
Recommended for you

Windfall tax risks 'destroying' North Sea production, Tory MPs warn Chancellor