September 16

-

September 17

Organized by: EnergyNet Ltd
The Latin America & Caribbean Gas Options (LACGO) will gather some of the most exciting Latin American and Caribbean gas markets together to address the future of gas for power in the region. This meeting will address the appetite for gas for power, governments' strategies and infrastructure requirements to enable the sector's growth.
With the official endorsement of the International Gas Union (IGU), the Inter-American Development bank (IGU) and speakers from the National Secretariat of Energy in Panama, the Autoridad Nacional de los Servicios Públicos, Panama Canal Authority and numerous other regulators and gas developers from across Latin America, the meeting is set to uncover what is needed for the Latin America and the Caribbean regions to achieve their gas potential.
For more information visit www.lac-gasoptions-growingeconomies.com
Recommended for you
X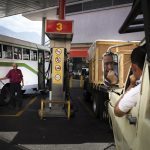 Venezuela cash crunch means tanker waits five months to get paid