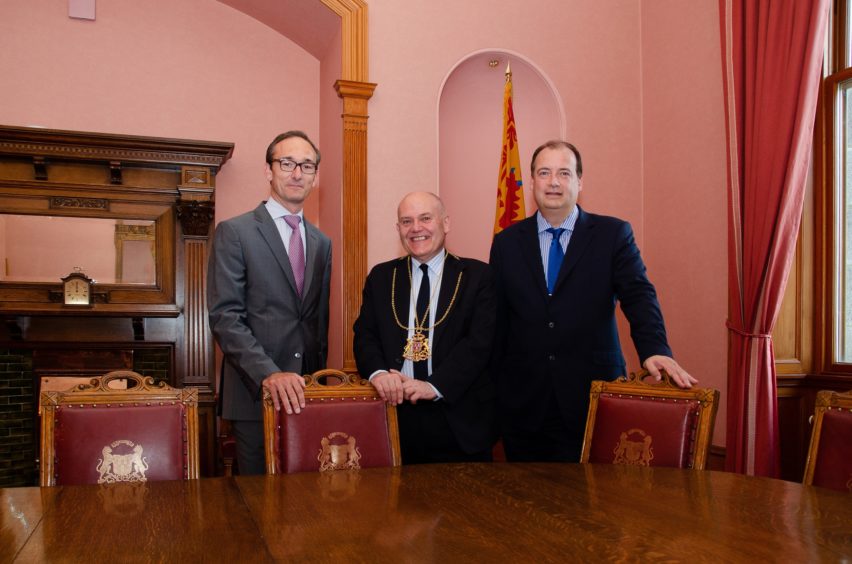 A series of events which aims to foster international business links will 'come of age' next week with the staging of the 21st Gateway.
The renowned Gateway sessions, created by Aberdeen entrepreneur Brett Jackson of Granite PR, provide a platform for knowledge sharing and a springboard for fostering links between key international locations.  The first Gateway linked the North East of Scotland with Houston in 2013 and, since then, other locations have been strategically added to the mix including Norway, Perth WA, Guyana and the United Arab Emirates.
Plans are now in place for the 21st Gateway which will celebrate the work of the World Energy Cities Partnership and provide an opportunity for local businesses to build on this network whilst expanding their global horizons.  Carefully timed to coincide with Offshore Europe, the first ever World Gateway breakfast will take place at the Marriott Hotel, Dyce on Thursday, September 5th at 7am for 7.25am. It is being held in association with the WECP AGM and Aberdeen City Council.
Speakers will include Aberdeen Lord Provost Barney Crockett; keynote presenter Romain Chambault of Baker Hughes a GE Company (BHGE); The British High Commissioner to Guyana Greg Quinn; Ed Gardyne of Safewell Solutions, Allan McCartney of OmniFlow, Mark Fraser of Nucore Group, Nick Little of the International School Aberdeen, The Government of Western Australia's European representative, Commodore Mike Deeks and Mike Savage, President of the WECP and Mayor of Halifax.
Commenting on plans for the inaugural World Gateway, Granite PR Founder and Managing Director Brett Jackson said: "This exciting event takes our Gateway concept to a new level by encouraging delegates to think in a truly international way. Some presentations will be location-specific and some more globally focused giving a good balance and mix for those keen to look beyond our shores."
The Lord Provost of Aberdeen Barney Crockett, Vice-President of World Energy Cities Partnership said: "The Gateway events are renowned for providing excellent business and networking opportunities which is why it is fitting that the 21st Gateway celebrates the WECP.
"A key driver of the WECP is to provide opportunities to share knowledge on current and future developments while facilitating business-to-business interaction and networking opportunities. By hosting the WECP AGM here in Aberdeen local participants will have these opportunities on their doorstep.
"One such opportunity will be the World Gateway Breakfast and I look forward to addressing delegates at what I am sure will be an excellent event."
World Gateway 2019 chairperson Leif Johan Sevland, President & CEO of ONS and a founding member of the WECP added: "The spirit behind the foundation of WECP was to address and discuss energy challenges and market opportunities, hence I´m looking forward to meet fellow delegates from all parts of the world in Aberdeen during Offhore Europe.''
Romain Chambault, Europe Director, Oilfield Equipment, for Baker Hughes, a GE company (BHGE) said: "To strive in today's market place, including our O&G industry, it is key to strike a balance between how companies leverage their global networking and local expertise. This is at the core of how we work in BHGE and, as such, it is a great pleasure for us to join forces with World Gateway on this edition of World Gateway to bring together unique and insightful perspectives from multiple stakeholders."
The World Gateway 2019 is supported by Aberdeen City Council, ABIS Energy Baker Hughes a GE Company, Government of Western Australia, International School Aberdeen, Invest Aberdeen, Loganair, Nucore Group, OmniFlow, ONS, Safewell Solutions, Scottish Development International, Traveleads, World Energy Cities Partnership.
To find out more about Granite PR's Gateway series, visit www.granitepr.co.uk