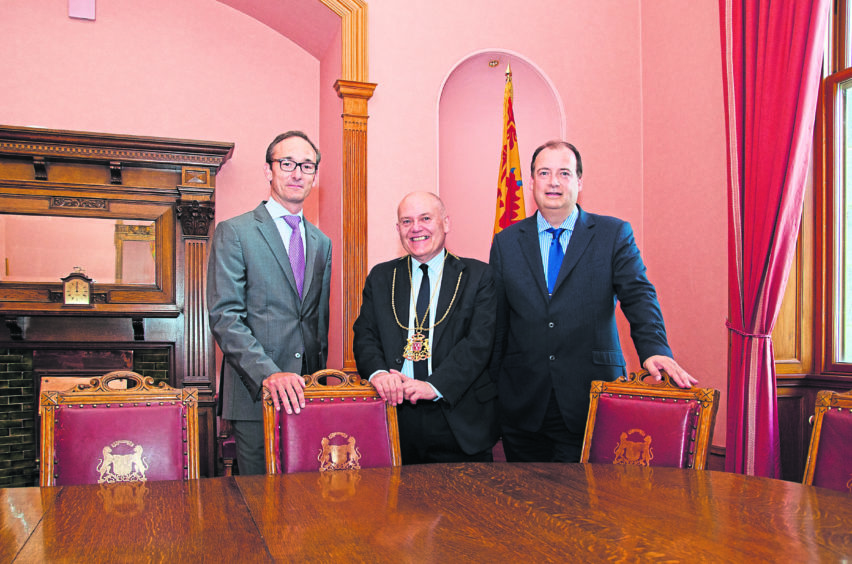 It's 20 years since peak production flowed in the 50-year-old North Sea oil and
gas basin.
The North Sea is still a major basin for a wide variety of legacy and up-and-coming operators, service companies and technology companies and associated professional services and supply chain.
The region is often seen as a "go to" global benchmark in excellence and somewhere to develop and create innovations and technologies that will benefit not only the region in the second half of its oil and gas life, but also add value and create cost benefits to the global supply chain.
This, combined with the long and well-worn path of Scots travelling and exploring the world, has led to an ever-increasing focus on developing and exporting technologies and competencies to oil and gas hubs across the world.
In 1995 the World Energy Cities Partnership (WECP) was created by seven key energy cities seeking to collaborate on best practice and capitalise on oil and gas sector and energy opportunities.
Almost a quarter of a century on, this has grown to become a network of more than 20 cities and has now added smart city thinking combining innovation, collaboration, digitisation and many other aspects into the mix.
Canada is the current chair of the organisation and is about to hand this rotating position to Aberdeen's Lord Provost.
Against this backdrop, and with Offshore Europe returning to Aberdeen in the new P&J Live facility, the WECP has decided to bring its AGM to the city, thus providing an exciting opportunity for us.
For Granite PR, too, it is an exciting time because the arrival of this prestigious event will coincide with our 21st Gateway business networking event. Since March 2013, we have held 20 such sessions linking the likes of Houston, Norway, Perth WA, the United Arab Emirates and Guyana.
For the "coming of age" of the Gateway series, we are delighted that our 21st one will be our first-ever World Gateway on Thursday September 5 at the Marriott Hotel in Overton Circle, Dyce, at 7 for 7.15am until 9.30am. It is being held in association with the WECP AGM and Aberdeen City Council.
The event is supported by a range of companies including Baker Hughes, a GE company, and will be chaired by ONS President and CEO and former mayor of Stavanger Leif Johan Sevland.
Updates will be given by locations and businesses from across the globe and the event will provide an opportunity for global networking and collaboration to take place at the start of a programme of events for the WECP AGM across the city.
This exciting event takes our Gateway concept to a new level by encouraging delegates to think in a truly international way.
Some presentations will be location-specific and some more globally focused, giving a good balance and mix for those keen to look beyond our shores, and we look forward to welcoming delegates for a morning of knowledge sharing, networking and discussion.
To find out more or to book a place email Katrina at katrina.dunbar@dunbar-eandm.co.uk
Recommended for you

Ninth event celebrating Aberdeen's business links to Norway returns to Marcliffe