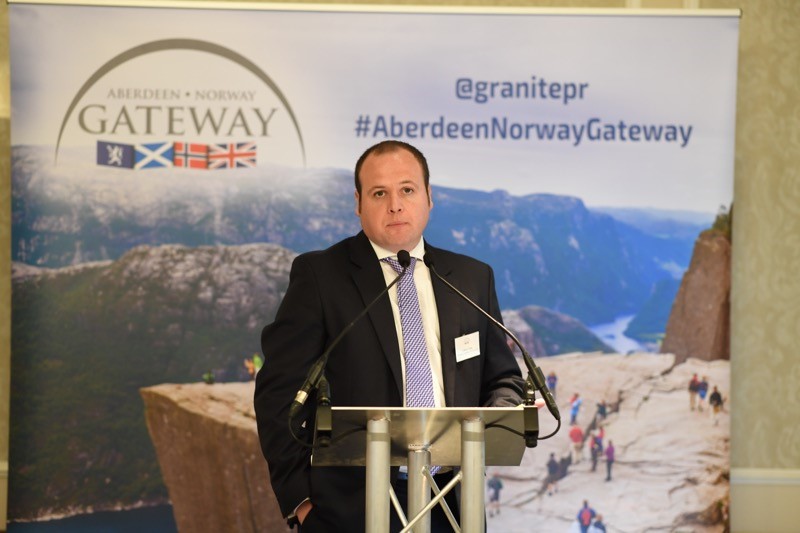 More Norwegian acquisitions of UK oil and gas assets and businesses are on the cards later this year and into 2020, a top Aberdeen accountant has said.
Callum Gray, director at Anderson Anderson and Brown, said Norwegian firms were well supported by private equity, the state and banks, meaning they have the clout to do deals quickly.
They also view the UK as a "place of opportunity", Mr Gray told the audience at Granite PR's sixth annual Aberdeen-Norway Gateway event at Macdonald Norwood Hall Hotel.
Mr Gray said market factors, for example, the price of Sterling being lower, were "driving" Norwegian investment in the North Sea.
Earlier this year, Norwegian operator DNO acquired Faroe Petroleum, which was headquartered in Aberdeen and had interests in the UK continental shelf (UKCS).
Norwegian private-equity (PE) fund HitecVision joined forces with Omani group Petrogas to buy a package of North Sea assets from Total in summer.
Mr Gray said more large operators were considering exiting the UKCS and that the PE model "worked well" when it comes to buying mature assets.
In the supply chain, WellConnection Group, a Norwegian portfolio company of EV Private Equity, took over Independent Oilfield Services, based near Peterhead.
Mr Gray said north-east supply chain firms were attractive because their technology is more advanced.
Acquisitions also present an opportunity for Norwegians to break into new markets, as many north-east Scottish energy service firms export services and products overseas.
Granite PR managing director Brett Jackson said: "Whilst Scotland and Norway are very individual and unique, they also have much in common such as a pervading culture of looking beyond home nation for opportunities to grow corporate horizons.
"The Aberdeen-Norway Gateway exists to celebrate those synergies and maximise opportunities to learn about doing business abroad and we hope that delegates left feeling energised and inspired by the range of speakers we heard from on the day."
Event chairman Mark Munro of DNB Bank said: "For me, the overriding theme of the day was one of positivity.
"This event brought together a diverse range of people with a singular appetite for international knowledge and I am confident that the connections and energy created will lead to positive relationships and outcomes for many participating delegates and organisations."
Recommended for you

Making most of North Sea links at heart of latest Aberdeen-Norway Gateway event