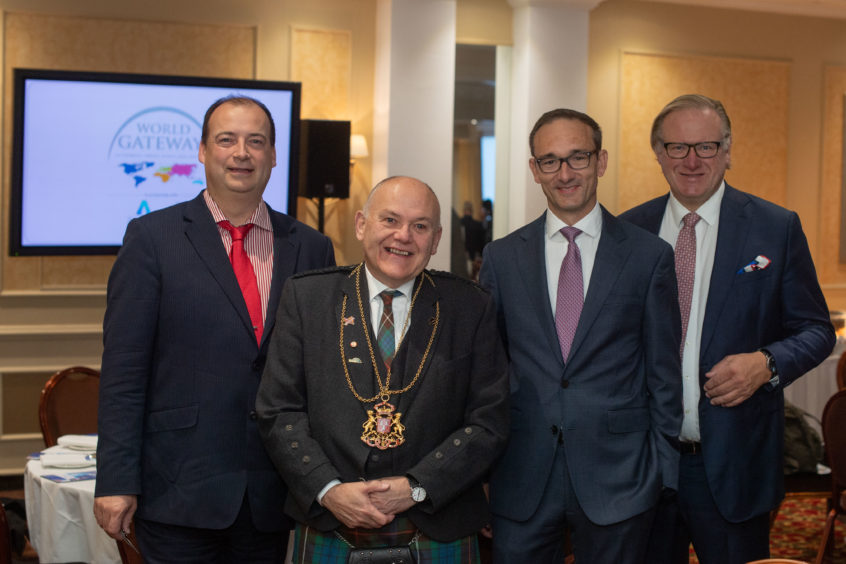 The power of partnerships was talked up yesterday at an inaugural event celebrating Aberdeen's status as a global energy capital.
About 150 people gathered in Dyce for the World Gateway, which was the 21st instalment of Granite PR's gateway series of networking events.
It was held in the same week as the Offshore Europe and corresponded with the visit to Aberdeen of the World Energy Cities Partnership (WECP).
Delivering the keynote speech, Romain Chambault of Baker Hughes, a GE company, said working as partners "unlocked new opportunities" and should be embraced.
Mr Chambault also said collaboration should not just occur within the oil and gas industry, but between cities, countries and "ecosystems".
He also said the oil and gas industry was "not dirty" and should be a leader in the transition.
Mr Chambault added that people working in the sector had a duty to motivate young people to work in oil and gas.
Other speakers included Lord Provost Barney Crockett and Leif Johan Sevland, president and chief executive of ONS and a founding member of the WECP.
Mr Sevland said that when WECP was set up in 1995, its members had a "dream" to create a meeting place for energy cities which can work closely together.
Mr Crockett said it was encouraging to see people from all over the world coming together to speak seriously about the energy transition.
Attendees also heard from the British High Commissioner to Guyana Greg Quinn, Ed Gardyne of Safewell Solutions, Allan McCartney of OmniFlow, Mark Fraser of Nucore Group, Nick Little of the International School Aberdeen, The Government of Western Australia's European representative, Commodore Mike Deeks and Mike Savage, president of the WECP and Mayor of Halifax.
Granite PR managing director Brett Jackson said: "This exciting event takes our Gateway concept to a new level by encouraging delegates to think in a truly international way.
"Some presentations will be location-specific and some more globally focused giving a good balance and mix for those keen to look beyond our shores."
Recommended for you

Offshore Europe looks to accelerate transition at half-century event