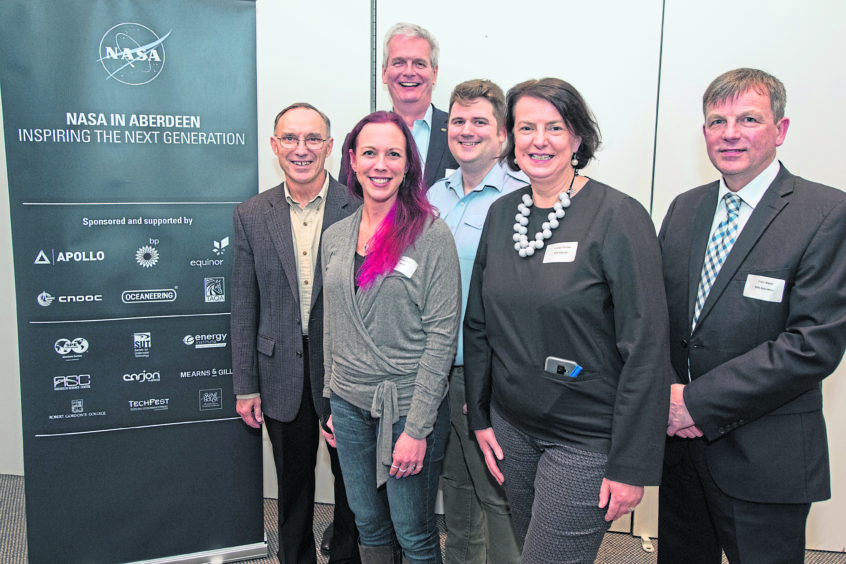 A former astronaut and engineer from Nasa is coming to Aberdeen in March.
Sponsored by Apollo, BP, CNOOC, Equinor, TAQA and Oceaneering, the Nasa in Aberdeen programme will bring former astronaut Bill McArthur to the Granite City.
Having worked for Nasa for almost three decades, Bill has logged 224 days and 22 hours in space over three Space Shuttle missions and on the International Space Station.
Bill will be joined by Nasa engineer Heather Paul, who returns to Nasa in Aberdeen for the second year after making a huge impression last year with her inspiring and motivational stories.
During their time in Aberdeen, Bill and Heather will talk about living and working in space, as well as the challenges of going to Mars and how the International Space Station is helping gain the knowledge required to make each mission successful.
Students and adults will be encouraged to think about where we, as 21st Century explorers, will go next and how we will make this happen.
The Society of Petroleum Engineers Aberdeen Section (SPE Aberdeen), together with the Energy Institute Aberdeen, Highlands and Islands branch, the Society for Underwater Technology (SUT), Aberdeen Science Centre and TechFest, are also playing a part in the visit.
The Nasa in Aberdeen programme, which has run since 2017, has brought more than 12,000 primary and secondary school children, families and members of the public to the initiative's range of educational events.
These include primary and secondary school sessions and a family weekend at the Aberdeen Science Centre and TechFest, as well as a public talk, all aimed at inspiring the next generation by getting them excited about studying science, technology, engineering and maths (Stem) as well as subjects such as robotics, artificial intelligence and machine learning.
Nasa in Aberdeen chairman Colin Black said: "Focusing on the energy sector and SPE's global Energy4Me schools education programme, SPE Aberdeen is a firm believer in promoting Stem subjects to children and young people of all ages.
"By encouraging these groups to become immersed in these subjects from an early age, through exciting and fun activities, SPE Aberdeen works towards equipping these young people with the learning and skill sets required for the next generation of technicians and engineers who will become our 21st-Century explorers in space, oil, gas and energy."
SPE Aberdeen holds events throughout each year, including the Offshore Achievement Awards and a variety of workshops, seminars and conferences.
Any surplus from these events is used to fund educational initiatives and school career guidance activities such as Nasa in Aberdeen.
Ian Phillips of SPE Aberdeen and part of the Nasa in Aberdeen steering committee said:
"When the idea of Nasa in Aberdeen came up, it was an opportunity we simply couldn't pass up on – having astronauts and space scientists in our city, getting young people excited about science and technology, sits perfectly with SPE's values of inspiration and education.
"I'm so proud to be part of the team that has seen the programme grow and flourish over the past four years."
A public talk about life in space and voyaging to Mars, featuring presentations from Bill and Heather, will take place on Friday March 20 at Robert Gordon's College.
Tickets are £3 and can be bought through Eventbrite, or call TechFest on 01224 274348.