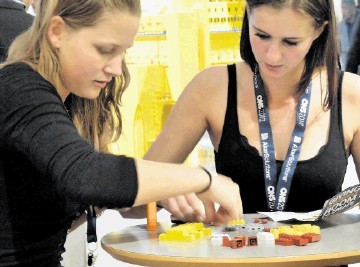 Interest in Norway's booming oil and gas industry helped to make this year's Offshore Northern Seas (ONS) show a record event with nearly 60,000 visitors.
The biennial gathering, which ended in Stavanger yesterday, attracted delegates from more than 100 countries for the four-day exhibition and conference and three-day festival.
ONS chief executive Leif Johan Sevland said visitor numbers were 59,913, up from the previous record 49,000 when the event was last held in 2010.
"We had expected about 50,000," he said.
"There is all-time high activity on the Norwegian continental shelf, we have new discoveries like Johan Sverdrup and we have the far north attracting attention, so there is a lot of interest in what is happening here."
He added that this year's exhibition had new features including a debating arena and plans for the next show in 2014 included a new hall, an indoor arena and the potential for another building across the road from the main exhibition site.
A 440-room hotel is also being built on the site.
North-east firms attending the show also felt it had been a success.
Andy Hurst, managing director of Tracerco, which has offices in Aberdeen and has exhibited at the past five ONS events, said: "This feels like the most buoyant of the ONS events I have attended."
Jim Milne, managing director of Aberdeen-basedBalmoral Group, said: "This year has helped us move forward with a number of projects we are working in within the Norwegian sector."
Karianne Amundsen, commercial service manager for first-time ONS exhibitor Tendeka, of Aberdeen, said: "The timing of ONS worked well for us. We've seen a surge in activity in Norway, including our recently announced frame agreement with Statoil, and the show provided a great platform for us to talk about that."
Iain McMillan, hire sales manager at Aberdeen-based modular engineering specialist Labtech, said: "The show has been an ideal opportunity for us to continue our expansion in the Norwegian market.
"We have recently completed a major order for a Norwegian oilfield service company for deployment in the Norwegian sector of the North Sea and we will continue to grow our presence in the region."
David Lamont, chief executive at Westhill-based Proserv, said: "This year's ONS has had a tremendous energy about it.
"We have been overwhelmed with the number of people actively seeking us out at the stand and most importantly in what we are doing at Proserv."
Mark Vorenkamp, chairman at fellow Westhill firm ROVOP, said: "There was a real buzz at ONS which has been particularly worthwhile for us."
Recommended for you

Back after four years, trust the ONS conference to go the extra mile