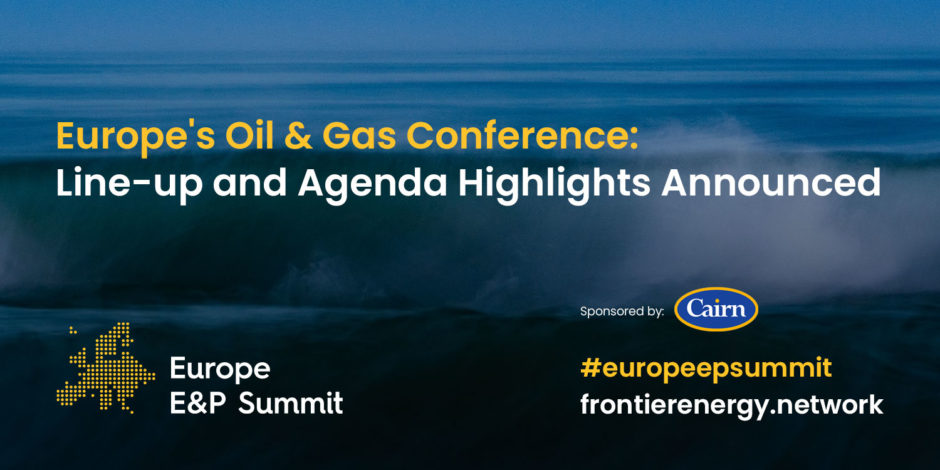 Frontier is pleased to announce this stellar line-up and agenda for the upcoming Europe E&P Summit taking place on 20th May 2021.
The event will highlight the evolving dynamics and players in the European E&P sector and will showcase the best opportunities in the region. We have been working closely with the industry to bring you an interesting and relevant agenda on the day that cannot be missed.
We are thrilled to welcome Cairn Energy PLC as Silver Sponsors of this event. Cairn Energy Exploration Director, Eric Hathon, will be participating in the 'Key E&P Players' Q&A Session and giving an update on Cairn's outlook and priorities in the region.
Why Attend?
Leading Industry Sponsor Cairn Energy PLC
25+ Expert Speakers
Network with only the most senior level E&P executives
Agenda Highlights
The Outlook for Exploration in Europe and Beyond by Westwood Global Energy
Key E&P Players including Cairn Energy and Serica Energy
Israel Ministry of Energy Update by Dr Michael Gardosh
NVentures Wells to Watch Highlights by Peter Elliot
Frontier Acreage and Licensing Opportunities
Key Independent Players Hartshead Resources, Viaro Energy and Summit Exploration  & Production
Regional Upstream: State of Play by Energy Industries Council (EIC), Ascent Resources PLC and GEOExPro
Building a Low Carbon E&P Portfolio encompassing Shell, EY, Neste, TGS and TelosNRG
Europe E&P Summit Confirmed Speakers
Eric Hathon, Exploration Director, Cairn Energy
Mitch Flegg, CEO, Serica Energy
Dr Michael Gardosh, Head of Geology, Geophysics and Information Department, Israel Ministry of Energy
Minna Aila, SVP, Sustainability and Corporate Affairs, Member of the Executive Committee, Neste
John Austin, Chief Executive Officer, Summit E&P
Daniel Davidson, COO, Frontier
Graham Bagley, Head of Global Exploration and Appraisal, Westwood Global Energy
Katja Akentieva, Vice President, New Energy Solutions, Western Hemisphere, TGS
Nick Maden, Senior Vice President, Upstream Executive, Independent
Nicol Shepherd, Managing Director, TelosNRG
Gayle Meikle, CEO, Frontier
Bethan Vasey, Business Opportunity Manager Upstream Energy Transition, Shell
Peter Elliot, Director, NVentures
Stuart Broadley, CEO, EIC
Thomas Perkins, Director Of Projects, Stellar Energy Advisors
Chris Lewis, CEO, Hartshead Resources
Malcolm Graham-Wood, Non-Executive Director, Ascent Resources
Francesco Dixit Dominus, Chief Financial Officer, Viaro Energy
Jon Clark, EMEIA Oil & Gas Strategy and Transactions Leader, EY
Keith Wise, Operations Manager, OGUK
Dr Ollie Folayan CEng FIChemE, Co-Founder, Diversity Champion, Member OGUK  Diversity and Inclusion Taskforce, Association for Bme Engineers 
Iain Brown, Editor In Chief, GEO ExPro
Members of the Frontier Energy Network get complimentary access to this event, RSVP via the Members Portal.
We invite you to join us as we focus on this key anchor region of the world oil/energy markets.
Online
Europe E&P Summit
Telephone
+44 208 1947 051
Email
info@frontierenergy.network
Contacts
For sponsorship and exhibition opportunities: contact Tony Moyo at tony@frontierenergy.network
For programme opportunities: contact Gayle Meikle at gayle@frontierenergy.network
For media partnerships: contact Mrinalini Mitta at mini@frontierenergy.network
For any other enquiry: contact info@frontierenergy.network
Recommended for you

Nautical Petroleum founder steps up to chairman at Viaro