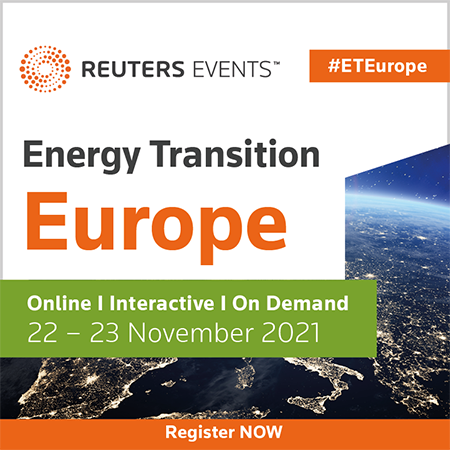 Reuters Events: Energy Transition Europe (22 – 23 November, Online) unites leaders from across the energy, business and government ecosystems to shed light on the defining issue of our time and tackle the energy transition head on.
Run over two days, the flagship meeting will explore the importance of collaboration and action, through governance, technology, and finance on the road to zero. Uniting 5,000+ attendees and 50+ executive speakers, we'll define the future of the energy system in Europe and deliver you with a definitive guide to your transition strategy.

Key themes for 2021 include:
Business Model Innovation: How can we translate rhetoric into action and deliver new business models for success?
Governance and Finance: What support can we provide for energy companies looking to adapt to a low carbon future? What structures can be put in place? New Energy Technologies: Explore the importance for new innovations, hydrogen, electrification and grid transition to the realisation of the energy transition
The Industry Transition: Whilst the energy sector continues to double down on electrification, the industry transition presents new challenges
Visit the website and download the information pack today: https://bit.ly/2UmDGa1
Speakers confirmed for this year's critical summit include:
· Kadri Simson, Commissioner – Energy, European Commission
· Philippe Ducom, President – Europe, ExxonMobil
· Odile Renaud-Basso, President¸ European Bank for Reconstruction and Development
· Simone Rossi, Chief Executive Officer, EDF Energy
· Anna Borg, Chief Executive Officer, Vattenfall
· Marco Alvera, Chief Executive Officer, Snam
· Rafael Mateo, Chief Executive Officer – Energy, Acciona
· Miguel Stilwell d'Andrade, Chief Executive Officer, EDP
· Kwasi Kwarteng, Minister for BEIS, UK Government
· Dan Jorgensen, Minister for Energy, Utilities, and Climate, Denmark
Recommended for you

Exclusive: Deirdre Michie to step down as CEO of trade body OEUK