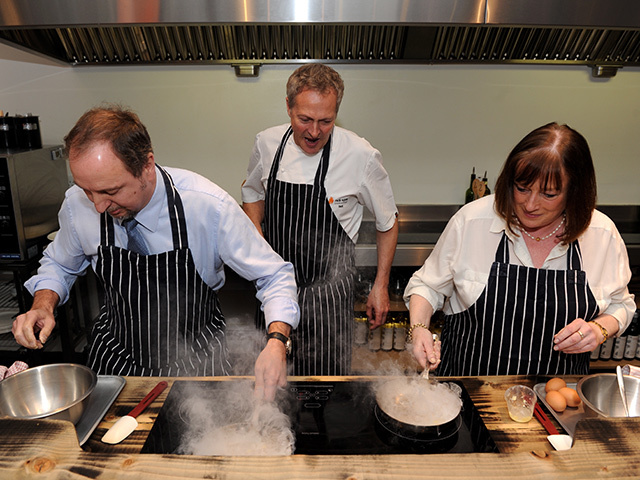 A cooking speed challenge in Aberdeen set no records but it did leave everyone hungry for the Press and Journal Energy Ball.
The culinary evening at Nick Nairn Cook School this week marked the official launch of one of the highlights of the Granite City's social calendar.
Aprons on and whisks at the ready, four budding chefs stepped forward two at a time to attempt omelettes in record-shattering time.
Jim Anderson, the founder and managing director of Aberdeen company Axis Well Technology, was crowned fastest omelette-maker after turning his dish out in an impressive 27.9 seconds.
The other contestants included Ian Park, international marketing manager at Hunting Energy Services – the ball's title sponsor.
He was well behind in the omelette race, taking all of 32.2 seconds to get his beaten eggs from pan to plate.
But he was more than happy at the turnout of sponsors for the launch event, and the mood of eagerness for the Energy Ball on Saturday, October 5.
Mr Park said: "It's a good way to meet everyone, while having a bit of fun at the same time.
"We are all now looking forward to the ball itself, which allows local business people to meet up and celebrate the industry.
"Hunting has taken tables at previous year's events and seen their success.
"It truly is the premier event in Aberdeen's social calendar, and it is so good to be involved."
Mr Park admitted his omelette-making was not up to scratch but said the outcome may have been different if the challenge had involved his particular speciality. "I am the local risotto king," he joked.
The evening got off to a spectacular start when the celebrity chef demonstrated his cooking skills.
The regular on BBC's Saturday's Kitchen made making coconut beef in a hot, sweet, salty and sour dressing on crisp lettuce look easy.
Energy ball sponsors lined up to see if his culinary creation tasted as good as it looked and everyone agreed it did.
And then it was on to the cooking challenge, with all four participants aiming to beat the 15.2 seconds it apparently takes celebrity chef Paul Rankin to make an omelette.
Beverley Robertson, finance manager at Precision Oil Tools, clocked 32.8 seconds and later admitted she was not very good in the kitchen, adding: "My husband does most of the cooking at home."
Eileen McBay, sales manager at Eastern Airways, took a more patient approach to omelette-cooking, turning hers out in 33.1 seconds.
Cooking challenge champion Mr Anderson said it was an ideal way to start the countdown to the Energy Ball.
"It's a fantastic way to launch it," he said, adding: "My culinary skills are rather limited to say the least, so winning this has been a surprise."
The sponsors also enjoyed their chance to see the cook school.
It opened a year ago to the delight of foodies across the north-east.
The two-storey former St Nicholas Kirk hall in Back Wynd underwent a £500,000 transformation by the chef to create a new culinary experience.
Mr Nairn had his eye on the north-east for some time following the success of his first school, which he opened 13 years ago at Port of Menteith, near Stirling.