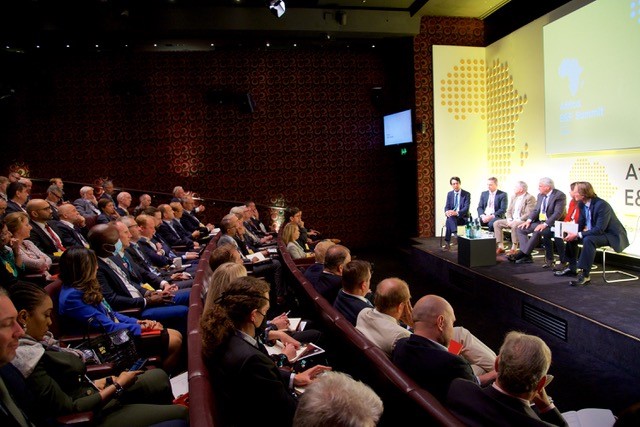 As COP26 – UN Climate Change Conference is gearing up for the start of November, the Energy 2050 Summit | COP26 EDITION prepares to convene energy industry leaders on the 20th – 21st October 2021 to discuss, debate and collaborate on the future of energy globally.
The full speaker line-up has been announced for this COP26 Edition which will see companies across the value chain join to chart a course on where to now for the energy industry and to collaborate on building a bridge to net zero.
How does the energy industry adapt?
Who will be the winners and losers?
What are the solutions and who pays?
Frontier would like to thank our Sponsors Clean Planet Energy | GOLD SPONSOR and ERC Evolution | BRONZE SPONSOR who have been excellent partners in the building of this Agenda and are making a hard stand for a cleaner and more sustainable world.
Energy 2050 Summit | COP26 Edition Agenda Highlights
+35 Business & CEO Speakers across the energy sector
Clean Planet Energy Keynote | How to Find Hope
Net Zero; Global Trends & Drivers of Change
Leading Companies & Projects in the Energy Transition
Sustainable Finance
Innovation & Technology
Evolving Energy Transition Strategies
The Role ESG is Playing in the Energy Sector
ERC Evolution Keynote | Challenges & Opportunities of a Low Carbon Future
Direction of Travel for Energy Globally & COP26 Outlook
100% Live Content, Roundtables, Debates & Discussions
Energy 2050 Summit | COP26 Edition Speakers
+35 Speakers Across the Energy Value Chain
Bringing together the energy community online to discuss the most exciting opportunities of a low carbon future and the pertinent issues affecting the transition. The aim of the conference is bringing together energy decision-makers to progress building a bridge to net zero.
Dr. Katerina Garyfalou, MBA
Commercial and Business Development Director (CBDD)
Clean Planet Energy
Paul Chernik
General Manager
ERC Evolution
Tim Lord
Senior Fellow, Net Zero
Tony Blair Institute for Global Change
Rob Doepel
Partner
EY Energy Leader (UK&I)
Gayle Meikle
CEO
Frontier
Marta Marjan
Operations and Project Director
Clean Planet Energy
Pradeep Pursnani
Chief Executive Officer
Konexa
Valentina Kretzschmar
Energy Transition Director
Cairn Energy
Daniel Davidson
COO
Frontier
Stuart Lloyd – Evans
Managing Director
Cielo Energy
Simon Stromberg
Commercial Director – Energy
Olwg
Philipp Stratmann
Chief Executive Officer
Ocean Power Technologies
Richard Romanowski
Executive Director and Co-Founder
Planet Ark Power and eleXsys Energy
Ian Cloke
Chief Operating Officer & Co founder
Afentra PLC
Rouha Hussaina
Head of Energy Transition Services
ERC Evolution
Ibrahima Aminu
Business Development Manager
Invest in Africa
Ignacio de Calonje
Chief Investment Officer
International Finance Corporation
Rob Tims
Managing Director
RWT Energy Advisory
Sasha Mackler
Executive Director of the Energy Project
Bipartisan Policy Center
Cany Jobe
Director of Exploration & Production
Gambia National Petroleum Corporation (GNPC)
Olia Filippova
Head of Portfolio Management and Governance
bp Launchpad
Damien Speight
Vice President Green Carbon & Renewable Fuels
Javelin Global Commodities
Daxita Rajcoomar
Chief Sustainability Officer – Africa, Middle East and Asia
Engie
Kirsty Gogan
Managing Partner
LUCIDCATALYST and Co-Founder of TERRAPRAXIS
Christopher McLean
CEO
Stonechair Capital
Asif Chowdhury
Senior Manager, Energy sector ESG specialist
Ernst & Young
Jim Totty
Managing Director
Viridis Capital
Renat Heuberger
CEO & Co-Founder
South Pole
Zoë Knight
Group Head HSBC Centre for Sustainable Finance
HSBC
Cathal Hughes
Investment Associate
bp Launchpad
David Linden
Head of Energy Transition
Westwood Global Energy Group
Ed Reed
Africa and LNG Editor
Energy Voice
Will Scargill
Managing Analyst
GlobalData
Steven Lloyd
Leader Sustainable Investment Advisory
Arup
Roberta Boscolo
Climate and Energy Scientific Officer
UN World Meteorological Organization
David Alejandro Contreras Díaz
Startup Advisor
Terra.do
Phil McNally
Senior Researcher, Net Zero
Tony Blair Institute for Global
Silvian Baltac
Principal Consultant – Industrial Decarbonisation, CCUS & Hydrogen
Element Energy
Steve Freeman
Head of Energy Transition, D&I
Schlumberger
For more information visit energy2050summit.com