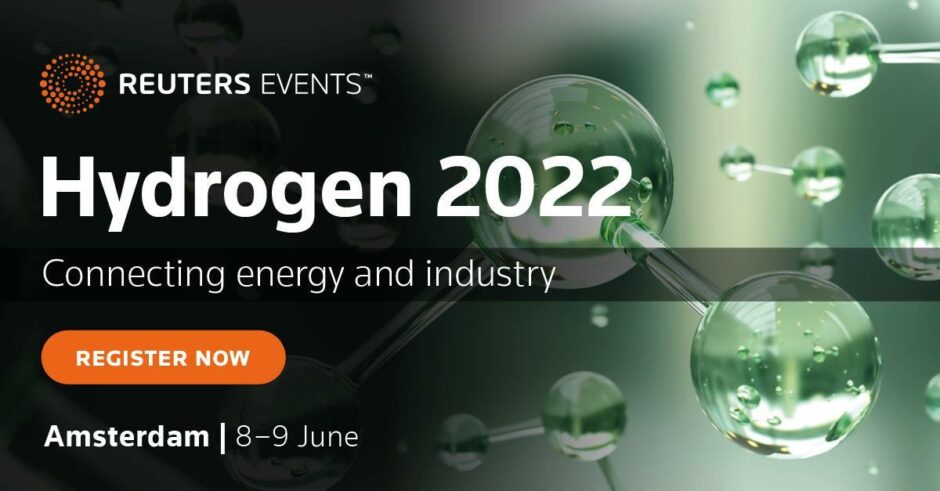 Reuters Events – this week announced the launch of Hydrogen 2022 (June 8-9, Amsterdam). The two-day summit will gather senior public and private sector leaders to build the global hydrogen economy.
Now launched – download the Hydrogen 2022 info pack
The agenda will cover five key themes:
• Leadership and the Global Hydrogen Opportunity – With falling cost of renewables, the potential of green hydrogen is enormous. To build the hydrogen economy, leaders in policy, investment, energy, and industry must collaborate to seize the opportunity and transform the global energy landscape.
• Decarbonizing Hard-to-Abate Sectors – Hear from off-takers from metals, mining, industrial uses, shipping, aviation, and vehicles on their approach to the hydrogen economy and how these fits into their wider net zero ambitions.
• Production and Projects – Learn from and meet the developers behind the large-scale projects aiming to reach $2.00 or under hydrogen.
• Infrastructure Requirements – Storing and transporting hydrogen over land and sea will require colossal investment and innovation. Learn the key challenges and solutions to develop hydrogen ready infrastructure.
• Financing the Hydrogen Economy – Discover how the hydrogen economy can capitalise on the green financing momentum and learn the off-take agreement models that will make projects bankable.
Leaders speaking at the event include:
• Bart Biebuyck, Executive Director, EU Fuel Cells and Hydrogen Join Undertaking
• Kajsa Ryttberg-Wallgren, EVP – Head of Business Unit, Hydrogen, H2 Green Steel
• Alicia Eastman, President, InterContinental Energy
• Val Miftakhov, CEO, ZeroAvia
• Ana Quelhas, Managing Director – Hydrogen, EDP
• Ann Metler, Vice President – Europe, Breakthrough Energy
• Ferry Franz, Director – Hydrogen Affairs Europe, Toyota Motor Europe
• Rob Stevens, President, Ammonia Energy Association
• Shiva Dustdar, Head of Division – Innovation Finance Advisory, European Investment Bank
• Belén Linares, Innovation Director – Energy, Acciona
• David Morgan, Director of Flight Operations, Easyjet
• Henry Rushton, Director – Energy Sector, ING
Receive your copy of the Hydrogen 2022 info pack
"Last year there was a lot of momentum behind hydrogen and this year shows no sign of slowing. It's time to meet again and build partnerships to scale-up the global hydrogen economy" – Luke Brett, Head of Hydrogen, Reuters Events.
Contact
Luke Brett
Project Director – Hydrogen
Reuters Events
UK: +44 (0) 207 536 7257
E: luke.brett@thomsonreuters.com
Recommended for you

Reuters Events: Hydrogen 2024