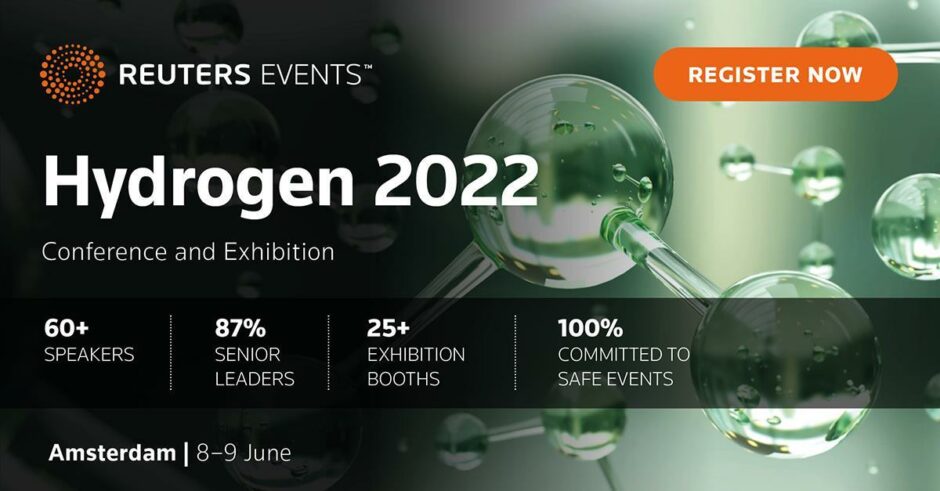 Reuters Events is delighted to announce C-level executives and Presidents from Air Products, CWP Global, ACWA Power, Hyzon Motors, Linde Gases, HH2E, and Madoqua Renewables have confirmed to speak at Reuters Events: Hydrogen 2022 Conference and Exhibition (June 8-9, Amsterdam 2022).
The executive lead event will convene 300+ global leaders in policy, energy, finance, and industry to scale-up the hydrogen economy. Over two-days, the conference agenda addresses the challenges in production, distribution, sourcing capital, engaging applications, and infrastructure.s
Backed by the industry, speakers sharing their hydrogen strategy include:
• Paddy Padmanathan, CEO, ACWA Power
• Ana Quelhas, Managing Director – Hydrogen, EDP Renewables
• Felipe Arbelaez, Senior Vice President – Hydrogen & CCUS, BP
• Camilla Palladino, EVP – Corporate Strategy & International Relations, Snam
• Ami Gupta, CTO, Linde Gases
• Andreas Schierenbeck, CEO, HH2E
• Kerstin Jorna, Director General – Internal Market, Industry, Entrepreneurship and SMEs, European Commission
• Craig Knight, CEO, Hyzon Motors
• Glenn Llewellyn, Vice President – Zero Emission Aircraft, Airbus
• Alex Hewitt, CEO, CWP Global
• Ivo Bols, President – Europe, Air Products
• Rogaciano Rebelom, CEO, Madoqua Renewables
• Wiveka Elion, General Manager – Hydrogen Import and Export, Shell
• Dr Oliver Weinmann, Managing Director, Vattenfall Innovation
• Juergen Guldner, Vice President – Hydrogen, Fuel Cell Technology and Vehicle Projects, BMW Group
"Last year there was a lot of momentum behind hydrogen is tremendous. We look forward to welcoming the hydrogen community to Amsterdam this summer to solve the chicken and egg dilemma between supply and demand" – Luke Brett, Head of Hydrogen, Reuters Events.
Media enquiries: Luke Brett, Head of Hydrogen, luke.brett@thomsonreuters.com and Samantha Riina, Marketing Assistant, Samantha.riina@thomsonreuters.com
Recommended for you

Reuters Events: Hydrogen 2024