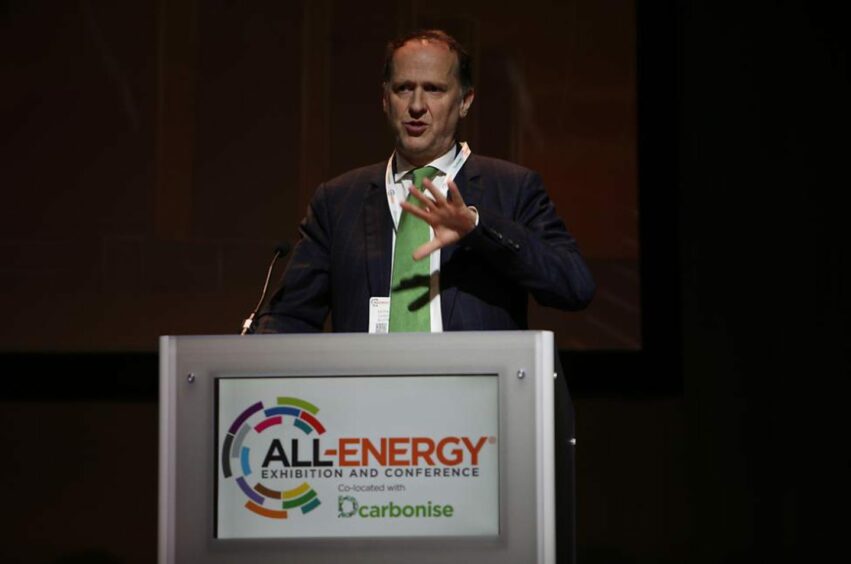 The CEO of Scottish Power has called for the creation of a "head of ScotWind" to oversee the multi-billion pound development process.
Speaking at All-Energy in Glasgow, Keith Anderson said the industry needs "to have an identifiable head" of the programme, which is managed by Crown Estate Scotland.
Awards for the offshore leasing round in January set out a pipeline of plans to develop a massive 25 gigawatts (GW) of offshore wind capacity in Scottish waters via 17 sites, with billions of pounds to be invested.
Scottish Power is teaming up with Shell on three ScotWind projects: two floating wind developments off the east coast and a fixed foundation project off the west.
In his speech, Mr Anderson set out issues such as red tape on planning and grid investment which need to be focused on.
He said: "I think we need to have an identifiable head of the ScotWind programme.
"A person who is there and whose sole objective in life is to deliver 25GW of offshore wind for this country, working right across government, the supply chain, academia, looking at the innovation sector and delivering 25GW.
"It's that focus that we need, that concentration of effort and shared objective we need to make this a huge success."
READ: ScotWind developers' supply chain pledges ranked
Mr Anderson was joined on the panel by First Minister Nicola Sturgeon, who set out the prize of more than £25 billion which could be spent on ScotWind projects.
However, with issues around supply chain capacity, she acknowledged "it won't happen by magic" and a huge amount of work is needed to tackle the opportunity.
Today the Scottish Offshore Wind Energy Council (SOWEC) has published a charter, signed by 24 developers, including all of the successful ScotWind bidders, to collaborate to create supply chain work within Scotland.
An early priority for action for the charter is work around Scottish ports.
She said: "If our ports and harbours are confident enough to invest in new facilities for manufacturing and assembly, and also for longer-term operations and maintenance that, in turn, will help the whole of the Scottish supply chain."
SOWEC industry co-chair Brian McFarlane added: "Scotland's offshore wind industry has made a series of commitments about working to support the Scottish supply chain.
"SOWEC's Collaborative Framework is a practical way for developers and Scottish ports to work together, to help build a long-term pipeline of work, creating certainty that ports need to prioritise investment in higher value activities like fabrication.
"By working together developers can look for joint opportunities and also mitigate some of the risks faced in bringing together the infrastructure we will need to successfully build out the full pipeline of ScotWind projects."