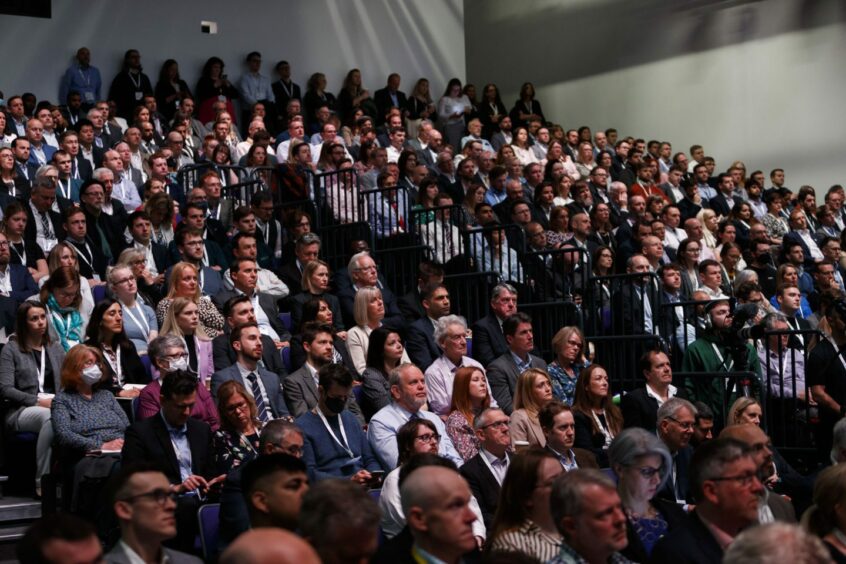 All-Energy and the co-located Dcarbonise are back bigger, better and brimming with more free networking, knowledge, and technology to help us engineer a net zero future together – excitement is mounting. With just over a fortnight to go before the duo of events opens at Glasgow's SEC on 10 and 11 May, it's 'all system go, go, go!".
All of owners and organisers, RX Global team, are working flat out to ensure that this year's event is the best ever, and the best attended. It is a measure of All-Energy's reputation that last year, held shortly after lock-down had been lifted, our total attendance of 7,642 was almost at pre-pandemic levels, whereas most exhibitions had far lower figures. Our exhibitors (250+ of them from home and overseas – and still growing) and 500+ speakers are busy preparing too. Free registration for the major exhibition, the conference and the Giant Networking Evening is open to all with relevant business or academic interest at www.all-energy.co.uk/EV
The exhibition list resembles a 'who's who' of organisations from throughout the sectors we serve including: Headline Sponsor Shepherd and Wedderburn (sponsors of the offshore wind and decarbonisation of cities conference streams); 2G Energy, ABB, BayWa r.e; Bosch Rexroth, BP, Centrica, ENERCON, EDF Energy, Energy Systems Catapult, Innovate UK, Invest Northern Ireland, Natural Power, Nordex, Red Rock Power, RES, Ripple Energy, ScottishPower, Shell U.K., Siemens Gamesa, SmartestEnergy, Statkraft UK, SSE, Vestas, West of Orkney Windfarm as well as groups from Flanders, Italy, and Korea and individual exhibitors from far and wide. What's going to steal the show? It could be Orbital Marine Power's six-metre long tidal turbine blade; or exhibits in the Hydrogen Tech Showcase. Yes, hydrogen figures prominently in the conference and show floor theatre programmes.
This year has been unusual for the conference. It is the first time since All-Energy 2001 (anyone remember the deep snow?!) that we haven't published a call for speakers for the main conference (we did for our show floor theatres and have some superb speakers in them). As conference creator I wanted themes to work to, and suggestions for speakers to be invited, rather than matching abstracts together.
I spent the autumn and winter soaking up thoughts, advice, and gems of information from kind and supportive key stakeholders. Thanks to their input, we have a really exciting and topical programme. So much to learn from (learning tops the list of visitor requirements!) with energy security and net zero ambitions topping the list and "delivery, delivery, delivery!" the cry across the board.
Our day one plenary with Keith Anderson of ScottishPower in the chair and Chris Stark of the Climate Change committee as one of the speakers will set the scene, while day two's has 'Zero emission electricity 100% of the time: How do we deliver a net zero GB electricity system by 2035?' as its theme. In our energy systems stream there are sessions on 'Is there an end to the gas security crisis?', 'Energy security and net zero: The roles of geopolitics and UK offshore resources' and 'Electricity supply resilience'. We also have sessions on the Review of Electricity Market Arrangements (REMA); on unlocking grid capacity; and Ofgem sessions looking at 'Investment in, and coordination of, new offshore electricity transmission' and similarly for onshore.
Our streams and sessions on renewables cover similarly topical issues and look to the relatively near future. When All-Energy was launched in Aberdeen in 2001 we considered it ideal for 'wet and windy' subjects; then a wise man said: "Let the market decide what you are, don't be prescriptive". Great advice! Every form of renewable energy is featured, with offshore wind in pole position.
The first offshore wind session asks: 'Are we on track for 2030?' and features some of the industry's 'big beasts' – six more sessions on offshore wind attest to its importance. And so does the presence of Tim Pick. Having delivered his report on the industry, the UK Offshore Wind Champion is joining us on both days – "in conversation" on one and chairing a supply chain session on the other. INTOG winners feature too. Check out the online programme for all topics including marine renewables, onshore wind, solar, hydropower and bioenergy ……plus green jobs and the Future Talent Hub; finance and funding; the circular economy and more.
All-Energy has spent two decades helping the UK to decarbonise its power supply, Dcarbonise ensures that private and public sector energy end users gain the same access to advice and technology to assist them in their plans to decarbonise their buildings, businesses and transportation. Conference sessions reflect these aims and include heat, industry, the supply chain and places/cities.
We look forward to welcoming you to the focal point of the industry's calendar on 10–11 May at Glasgow's SEC.
Recommended for you

Unite plans 'hard-hitting' campaign to canvass energy workers