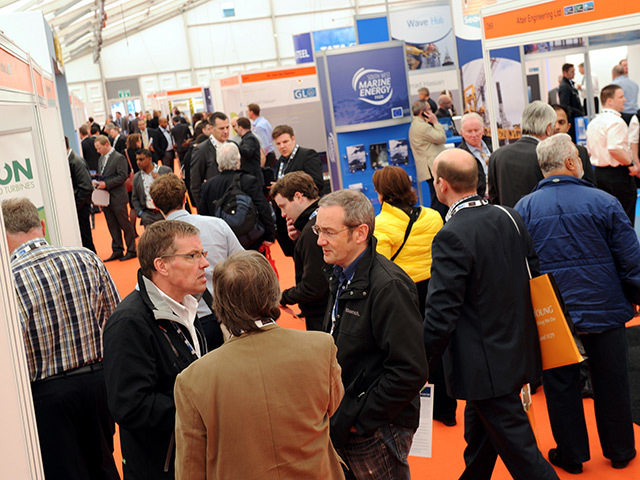 The annual All-Energy show suffered a sharp fall in attendance in its final visit to Aberdeen before a controversial move to Glasgow.
A total of 6,875 people attended the two-day renewable-energy event at Aberdeen Exhibition and Conference Centre this week.
This was down from last year's total of 7,687 and more than 8,000 visitors in 2012.
All-Energy conference director Judith Patten said: "Yes, the figure is lower.
"Shows reflect what is happening in the industry they serve; and the renewables industry is – as was made clear in many presentations – coping with changing policy.
"I wholeheartedly support the move to Glasgow for all the reasons we have spelled out and look forward to welcoming exhibitors and visitors from right across Scotland (in 2015)."
It was revealed earlier this week that All-Energy will be held in Glasgow next year.
It is a major blow for the Granite City – home to the show for the past 14 years – and its ambitions to be the European hub for all kinds of energy production and not just oil and gas.
Event organiser Reed Exhibitions says Glasgow's emergence as the Scottish heart of the renewables industry and cheaper hotel prices in the city were behind the decision.
But suspicions are rife in Aberdeen that some kind of financial inducement, possibly involving public money, was involved.
The Scottish Government insists it played no part and provides no funding for the event, although it has repeatedly rejected this reporter's requests for an interview with Energy Minister Fergus Ewing.
However, a government spokeswoman said: "Mr Ewing was not privy to the commercial details of the location change, and was made aware of the decision on Tuesday, May 20.
"As previously stated no public money has gone into the conference."
A spokesman for Glasgow City Marketing Bureau, said: "Contractual arrangements with conference and exhibition organisers are commercially confidential.
"The release of contractual information would compromise the client as well as negotiations with potential future clients."
According to event director Jonathan Heastie of Reed Exhibitions, Aberdeen had become too costly for All-Energy exhibitors and visitors.
Explaining the move, he said Glasgow offered "amazing cost savings".
These included access to reduced-rate transport and a "plethora" of affordable nearby hotels.
He cited five-star hotel room rates of less than £175 a night in Scotland's biggest city, compared to more than £200 at the bottom end of the market in Aberdeen.
The loss of All-Energy has shocked business leaders and politicians in the north-east, with Labour MSP Lewis Macdonald asking First Minister Alex Salmond on Wednesday when he became aware of it and what he did to stop it.
Mr Salmond said it was important to foster renewable conferences "wherever and whenever".
Deputy Aberdeen Provost John Reynolds accused the Scottish Exhibition and Conference Centre (SECC) in Glasgow of poaching the UK's biggest renewables event.
He added: "I cannot believe that a conference which was born in Aberdeen, the very heart of the energy industry in the United Kingdom is to head to the central belt.
"This proves yet again that with all the massive subsidies plowed into the SECC over the years, they are able to entice the conference organiser away from its roots."
Recommended for you

UK North Sea sees chance for political reprieve in energy crisis