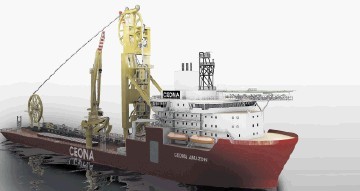 A deepwater vessel which will allow remote exploration is on track to be in use by next year.
The Ceona Amazon, a hybrid construction and pipelay vessel designed by CEONA Offshore, began construction last year.
Jay Nguyen, an engineering lead with the company gave a talk at the Deep Offshore Technology International 2014 (DOT) conference on the project, which is one of the first of its size.
The Ceona Amazon will be able to carry 85,000 tonnes of storage when it goes into use next year.
Ceona previously said it would be especially well-suited for operations in remote and challenging locations and capable of laying rigid or flexible pipelines and umbilicals.
Mr Nguyen said:"The Amazon was conceptualised because a bunch of really clever people did some research and noticed that we were seeing fewer shallow and benign projects and an increasing number of deeper, harsher more remote projects.
"So they identified a market need for a versatile vessel that could provide full project execution capabilities in a single spread and in terms of storage she has 85,000 tonnes above and below deck storage which is 50% larger than the nearest vessel in her class.
"The Amazon itself is aimed at reducing the overall field development cost by combining what would typically be a multiple vessel mobilisation and multiple other field installations into one, getting to the field sooner and reducing the dependence on supply base.
"The Amazon employs what we call a g-lay pipe method, because of the shape the pipe makes as it goes through our system.
"In the first quarter of 2013 we were doing engineering, and the hull was being delivered to Germany.
"She's getting kitted out at the moment, and next year she will be ready for working."
The vessel is being kitted out with two 400-tonne heave compensated mast head cranes and a single 30-tonne heave compensated knuckle-boom crane.
The pipelay suite will comprise an inclined lay system with a top tension of 570 tonnes and a rigid pipeline firing line system.
Amazon will be able to lay rigid pipelines, flexible pipelines and umbilicals, plus install large subsea structures using one or both of its big cranes in tandem lift mode.