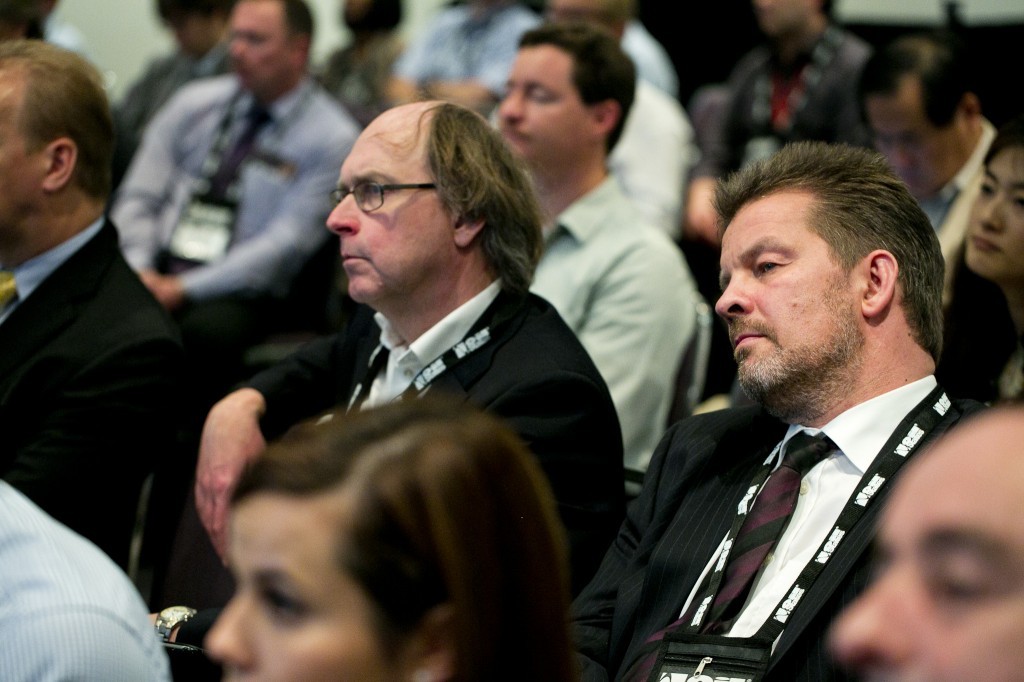 A strategy manager for French-engineering company Technip said it was the end of the "gold-plating" technology era.
Scott Campbell, strategy manager for the company's UK business unit, said the market downturn would likely remain for the next year.
But speaking on the final day of Deep Offshore Technology International 2014 (DOT) he was positive oil prices would soon begin to rise.
Mr Campbell said the tools used by the industry would need to be more cost-effective rather than "the best".
He said: "I know what we are seeing in the industry as a whole. There was an awful lot of gold-plating in the industry, and people wanting to do everything top spec.
"All that does is add cost, so what we are seeing now is probably a bit of the gold-plate coming off.
"In this time we have to look at more innovative ways to get business done but it's not just about technology, the best widget or the grooviest gadget.
"It's about creating technology that is cost-effective for the client.
"There's no point in providing a fantastic piece of kit that's horrifically expensive. What you have to do is provide a piece of kit and integrate it at a cost-saving to the client."
He said here had been "very good" papers presented at the three-day event, which saw speakers from major oil companies including Shell, Total and BP come together to discuss deepwater projects in the North Sea and across the globe.
Mr Campbell said the Wood Report, which came out earlier this year, had signaled one of the main themes seen at the conference.
He added:"The Wood Report talked about collaborations and collaboration across the industry.
"It's not just operators collaborating, we are starting to see operators collaborating fields to make them economic.
"You're also going to see a lot of the supply chain moving together and see people team-up to understand the operator's requirements better.
"People need to be more cost effective because there has been a huge growth in the industry so there has to be some coming together for costs.
"You also have things like the DNV regulations instead of having five or six checks, you now have thousands.
"That takes time and that takes money, and adds cost.
"Our strategy was primarily building a big backlog, we did an awful lot of work that would take us out into 2015 and 2016, so we have a lot of work next year.
"The work we are doing has all been in awarded in 2012, 2013 and 2014 , enabling us to go forward for 2015.
"Into 2016 you're beginning to see some of the slowdown.
"There were only three major awards this year in the North Sea for subsea and they won't be repeated for 2015. I don't think we will see big awards in 2015.
"The slowdown will continue but it will pick up again towards 2016.
"You can't continue just to win work all the time, at some point you have to go and execute it, so we're going to be executing it over the next couple of years.
"Also sometimes when then CAPEX market drops off, the OPEX market picks up.
"We built our strategy around being able to do large scale AVC type work and when necessary move into the diving survey inspection work and fill our boats and people that way.
"We have four DSVs in the fleet at the moment, we added Deep Energy to our fleet this year and it has already been on three operations in the North Sea this year.
"We've done more than 100 days of pipe laying this year, and that's also in conjunction with working on the Apache which is our primary pipelay boat.
"We are in a downturn but we've done more pipelay this year than we've ever done across the North Sea and Canada in any year.
"That was a testament to the work being built up, that leads to work for everybody.
"Technology has to be cost-effective and not just be technology for technology sake. Many industries are guilty of creating things because it's fantastic technology.
"We need to start building technology that saves money."
Recommended for you

Interview: UK energy minister reaffirms oil and gas support ahead of COP26