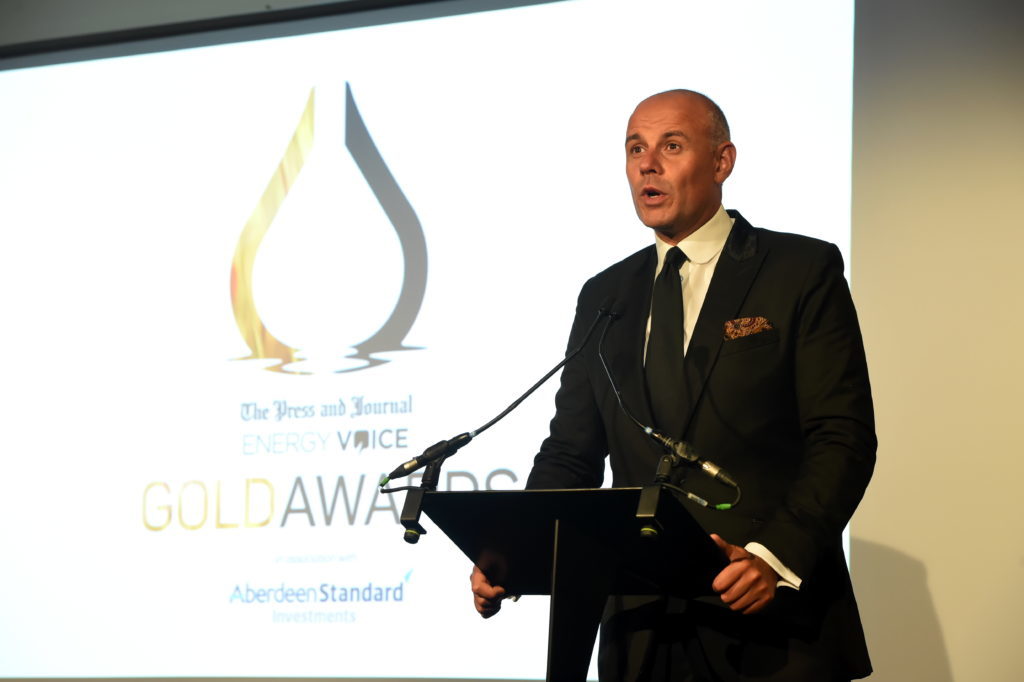 The best and the brightest of the North Sea energy sector were celebrated at the Press and Journal Gold Awards on Friday night.
Hundreds gathered at the Marcliffe at Pifodels for the event, hosted by BBC One's Final Score host Jason Mohammad.
Take a look at our gallery below to see and hear from the winners, as well as pictures of guests from the evening.
HALL OF FAME

– Robin Watson, CEO Wood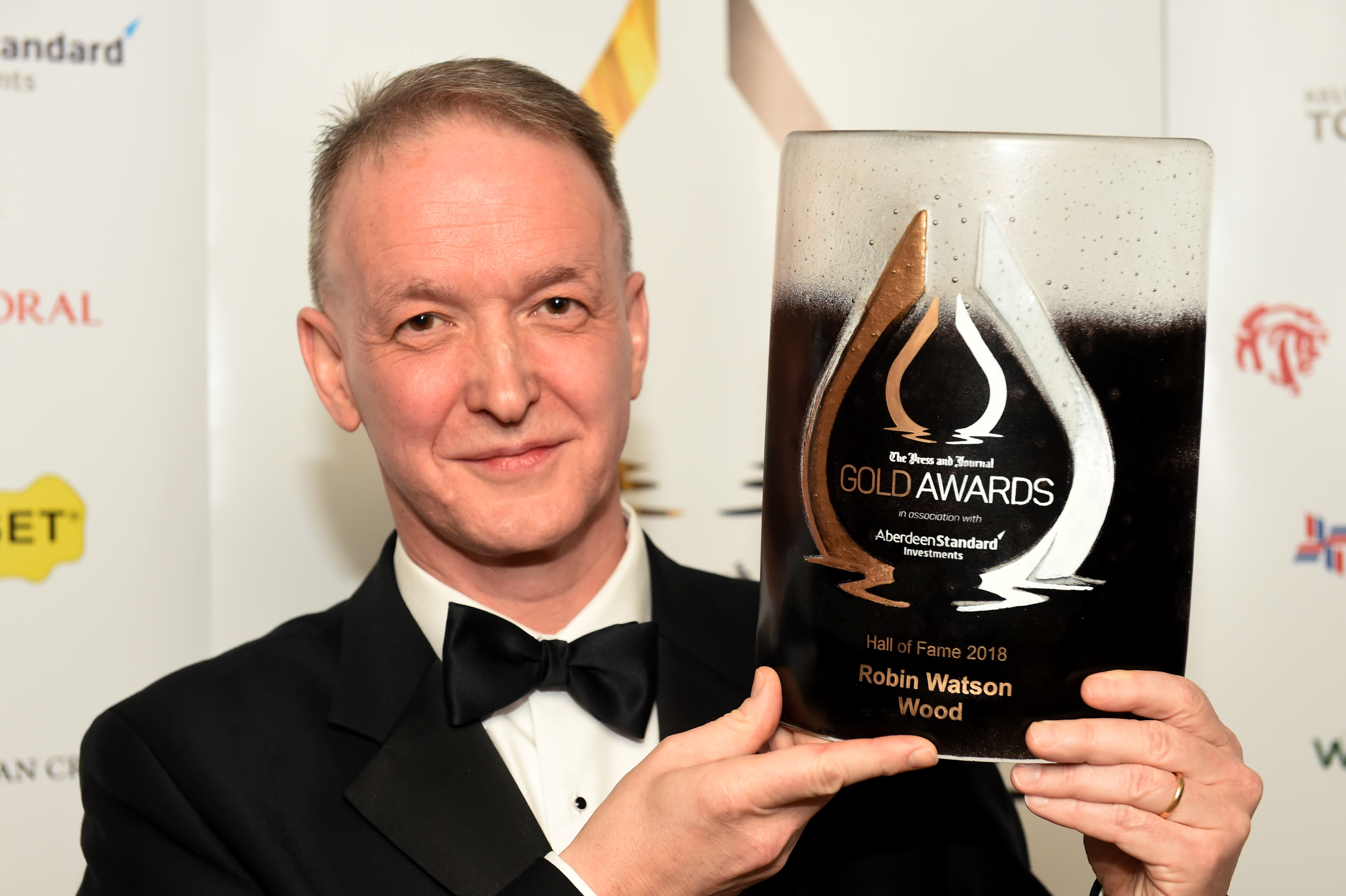 Hall of Fame winner Robin Watson.
Wood CEO Robin Watson became the fourth member of the Gold Awards' Hall of Fame, after Sir Ian Wood, Jim Milne of Balmoral Group and Professor Alex Kemp of Aberdeen University.
"I'm really very honoured, very privileged. I really feel quite humbled by it. When I look at the previous winners, they're people I have a huge amount of respect for.
"I'm pleased for all the people that work in the organisation. We've really done a lot in the last three years but we've done it together, that's been great. The organisation has reacted very well to the changes we've made.
"We've asked a lot of a lot of people and I just get a chance to get some of the accolade but really it's an accolade for the entire organisation. My own team and their managers and the hard work that they have all put in.
"There's been a tough side of it which has been the downturn in oil and gas and there's been actually some real strides we've made in the business. We've used it to transform the business. In completing the acquisition Amec Foster Wheeler we've created an entirely new proposition that we're really excited about.
"It's good to be growing again, we've remained in Aberdeen – that was something really important to us – we've remained in the north east. We're now recruiting again, growing the business and doing more oil and gas work than ever before but equally doing more work outwith oil and gas as well. It ha been a good year so far.
"If I look back at my career, words of guidance that have always stood me in good stead are 'be humble, be honest, be fair' and you try to always do that. I'm pretty focused, I do believe in having a good strategy for the business and working that through and I think that's helpful because it gives you a real sense of direction.
"I'm fortunate with the team I've got around me, I have a fabulous team that work with me. In very simple terms, if you get the right people doing the right things in the right way you will have a successful business. It's staying with that course, recognising that some things you can't affect but doing the best to address the things that you can."
INDUSTRY LEADER

– STEVE PHIMISTER, UK UPSTREAM VICE PRESIDENT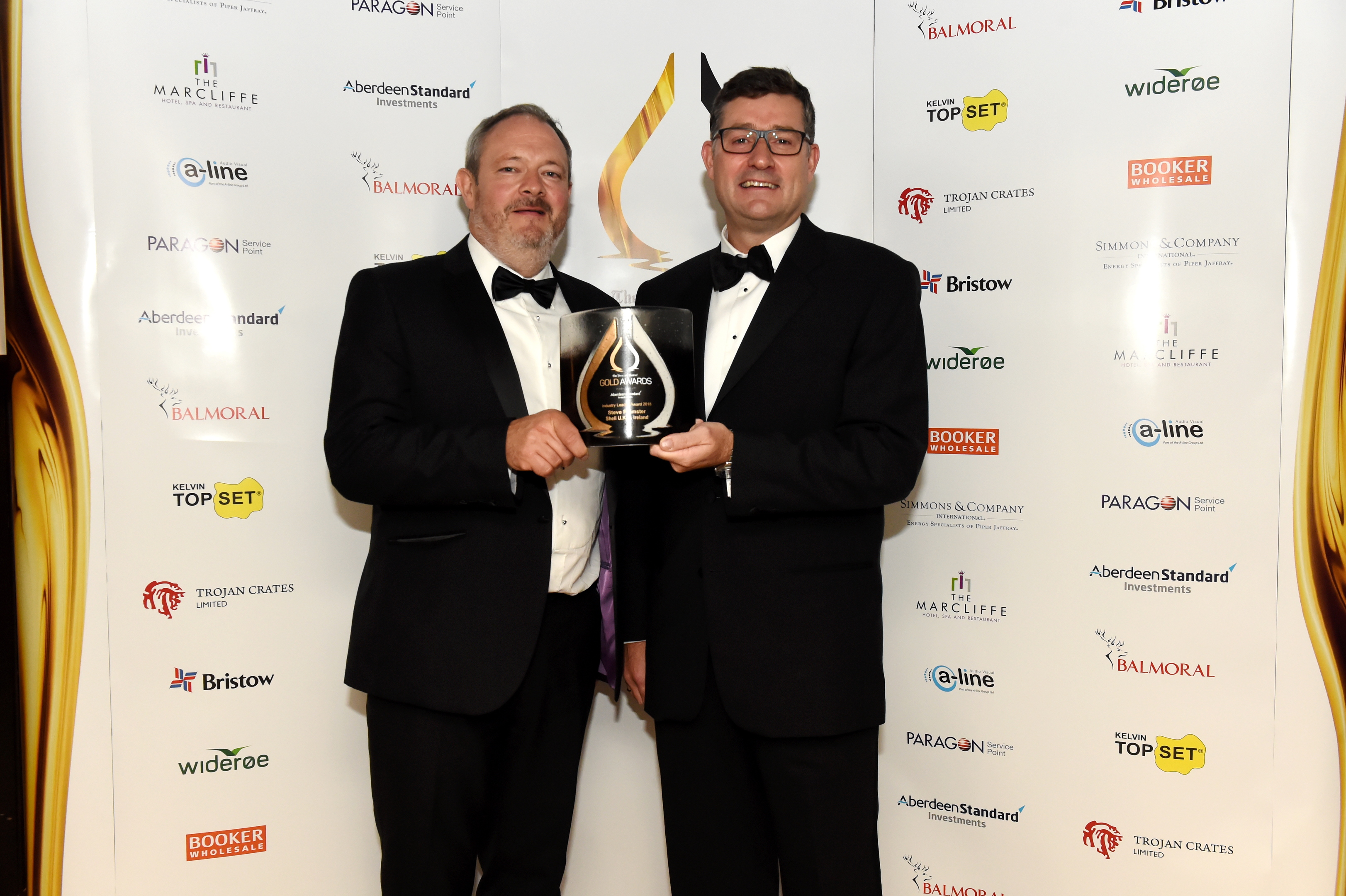 "Shocked and absolutely delighted. Everything that we've been trying to do now for a year trying to raise collaboration across the industry is recognised in this.
"There' a lot of people trying to do their very best and pulling together is the difference. Helping one another through, and I'm very, very hopeful about the future.
I'm very hopeful about investments that are going ahead now and that are coming in for us as an industry in the future.
"It isn't straightforward, it is tough and some people are still finding it tough, but the fact that we can do things together for the good of the basin and pull investment back in, keeping employment up, is a great thing.
"It is a big year for us, it is a great masting for us. Very hard to believe, from 1968, where we've come from. Back then it was the pioneering between the operators and the supply chain that started the whole of the North Sea. It's the pioneering between us that's making the difference today. Different kind of pioneering, obviously, but it really does make a massive difference when we work together and pull together.
"I think there's some really good times ahead of us. I'm hoping another 50 years – you never know – but I think we have a great opportunity, provided we continue to work together the way we are."
DR. MILDRED DRESSELHAUS AWARD

– Fiona McKie, Wood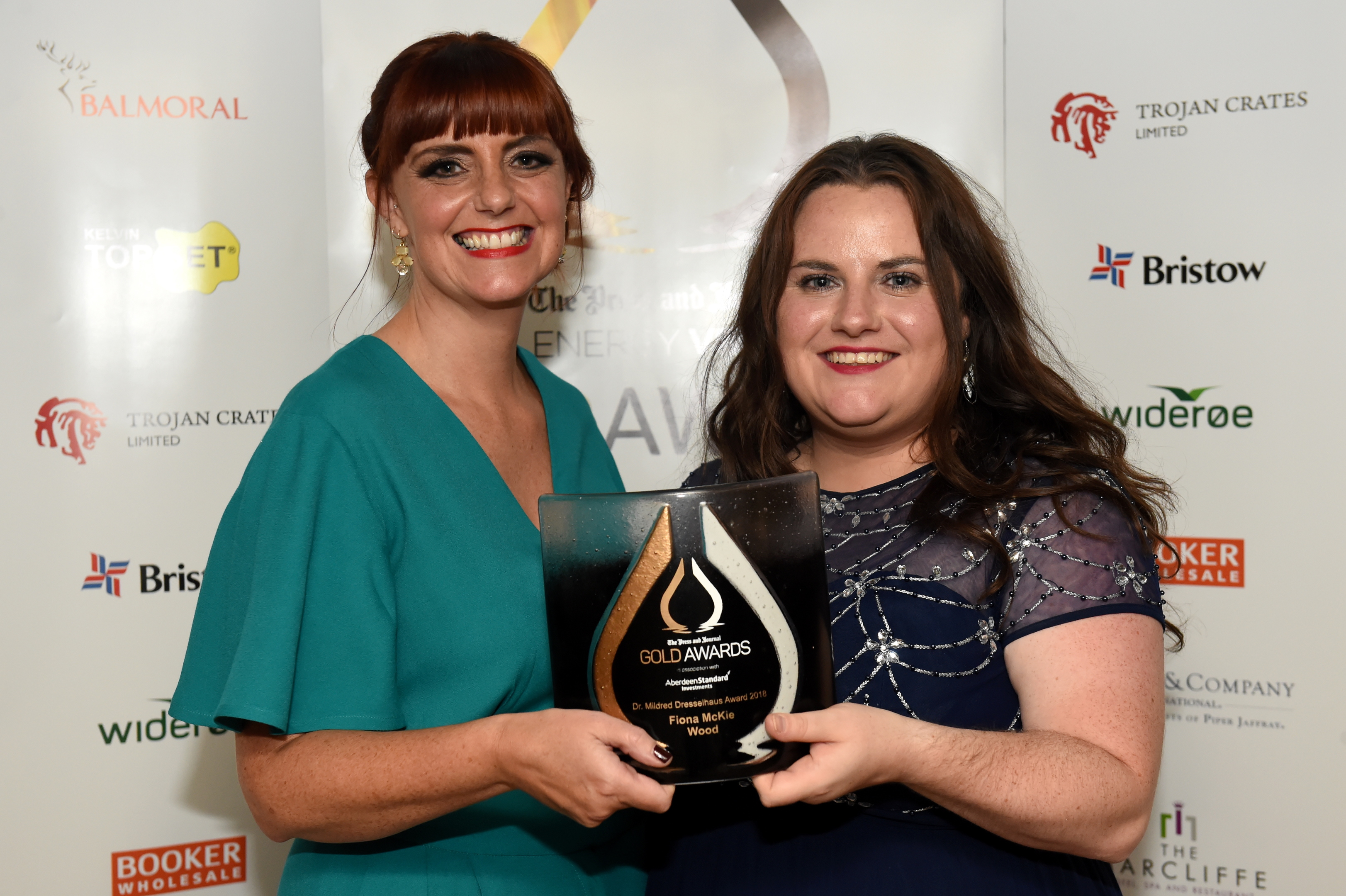 The Dr Mildred Dresselhaus award is a new category for the awards, celebrating women in the energy sector.
Ms McKie said: "I feel so passionate about it. I've had an absolutely blessed career where I've done things I thought I would never do and i just feel that not enough women know that is a route that is available to them, that they can go and live quite an extraordinary life, see the world and do things they never thought they can do.
"I want to make sure women know they can do that, nothing can hold you back, you're capable of doing anything you want to do in life and not to go through a model that's presented to you as you're growing up."
LARGE COMPANY OF THE YEAR

– ENTIER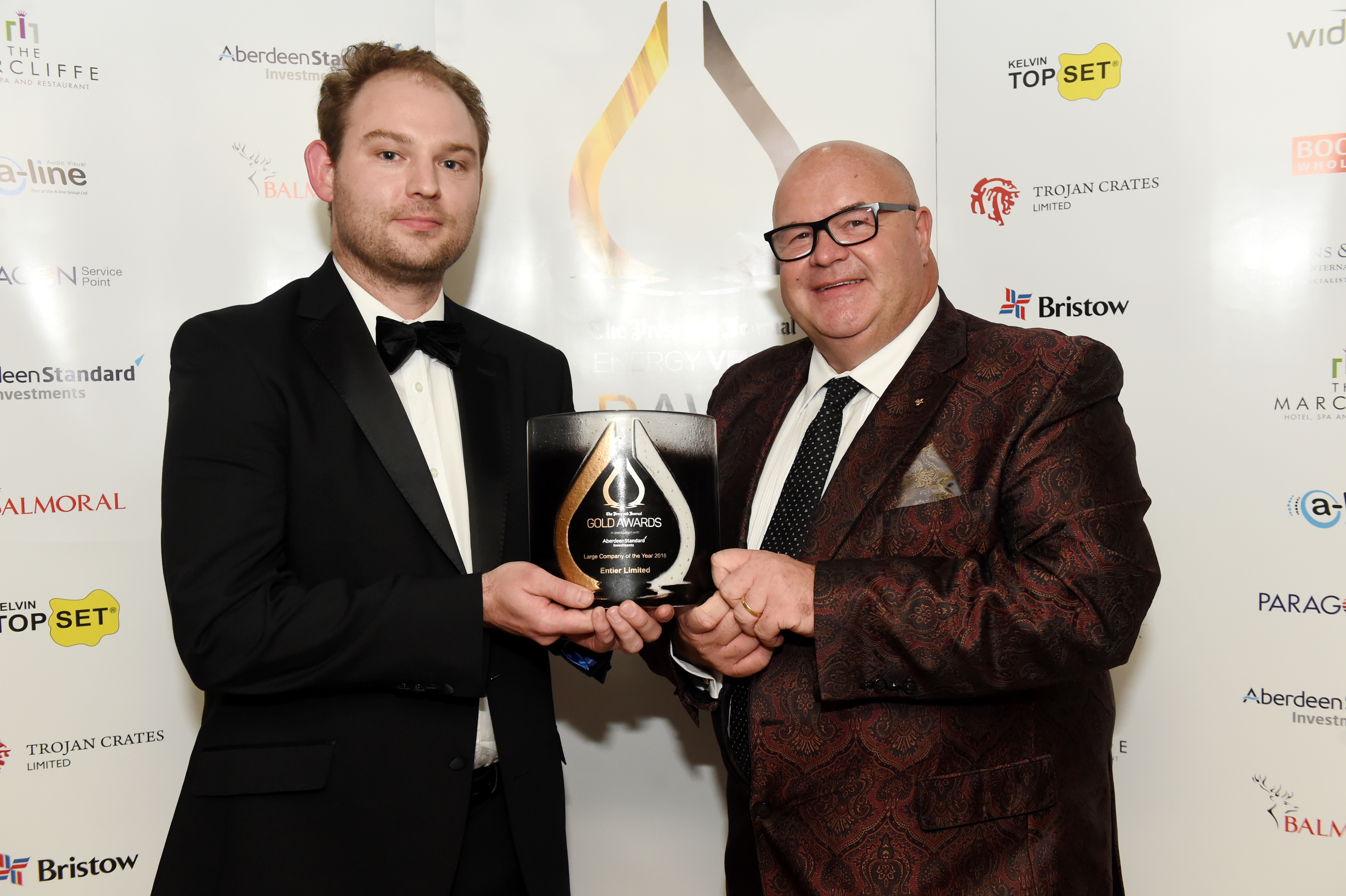 Entier received the award on the eve of its 10th birthday, and CEO Peter Bruce said there's no better way to mark the occasion.
"We started with four employees, and today we have 850 employees. We're working in 23 countries throughout the world. We just started a joint venture in the Middle East and the company has gone from strength-to-strength.
"It's just a fantastic achievement, against people like Nexen and TWMA it's a major achievement for us. Nexen is one of the best operating companies there is, so to beat them with the resource they've got is magnificent. To get rewarded and recognised for that is truly remarkable."
SMALL COMPANY OF THE YEAR

– SICCAR POINT ENERGY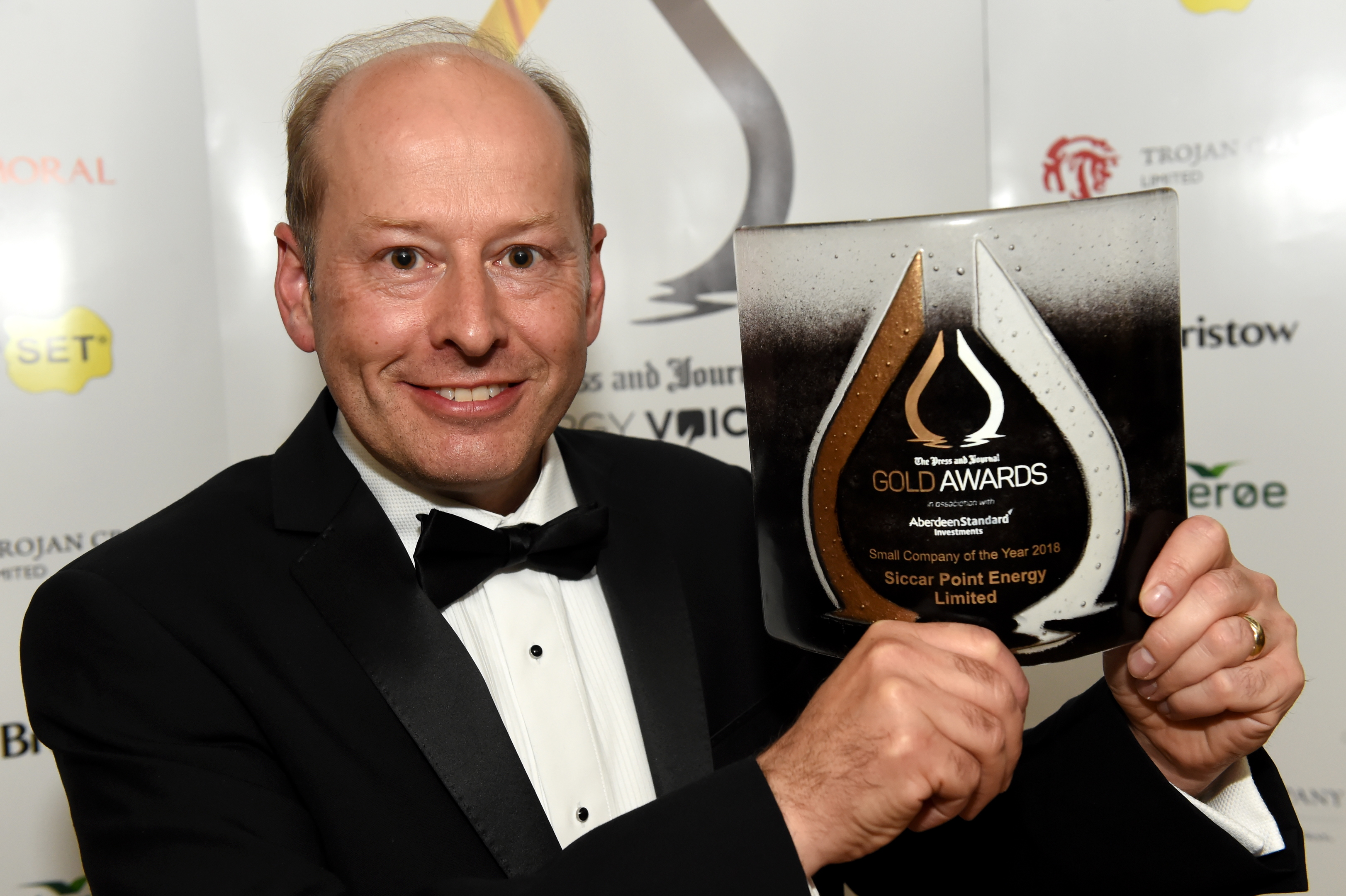 CEO Jonathan Roger said: "Really pleased for the team,we've put in so much over the last few years to build a company to take us where we are today and we're absolutely delighted.
"We're small in terms of people, we've only 38 people, but making a big footprint, particularly west of Shetland. We're in some of the biggest assets west of Shetland with Schiehallion, Rosebank and the Mariner field, but we're also operator of Cambo which has just had a hugely successful well test and we're looking to develop that as operator.
"The team's put in an awful lot. We've built-up over the last few years. I must admit we've ended up in a place today much more advanced than I'd ever dreamed we'd be with regard to the quality of the assets we're in."
INNOVATION AWARD

– TENDEKA
Paul Lynch, advanced completions director at Tendeka said: "Ecstatic actually, it's really really good. The thing for us is we want to be an innovation company. We want to deliver new, game-changing technology but we can't do that without the input, efforts and hard work of a fantastic team and I feel really proud to be the representative of that team here today to receive the award.
"The Pulse Eight technology has allowed us to advance the communications technology in the downhole environment to match what happens at surface. That's really allowed to make real-time decisions downhole but also improve productivity for wells. We're starting to see edge-analytics come into play to make decisions downhole to optimise things in a real-time manner. For me that's a fantastic thing to be speaking about because five,10 years ago these things were nothing more than a pipe-dream."
ABOVE AND BEYOND AWARD

– LOUISE DUNCAN, CHEVRON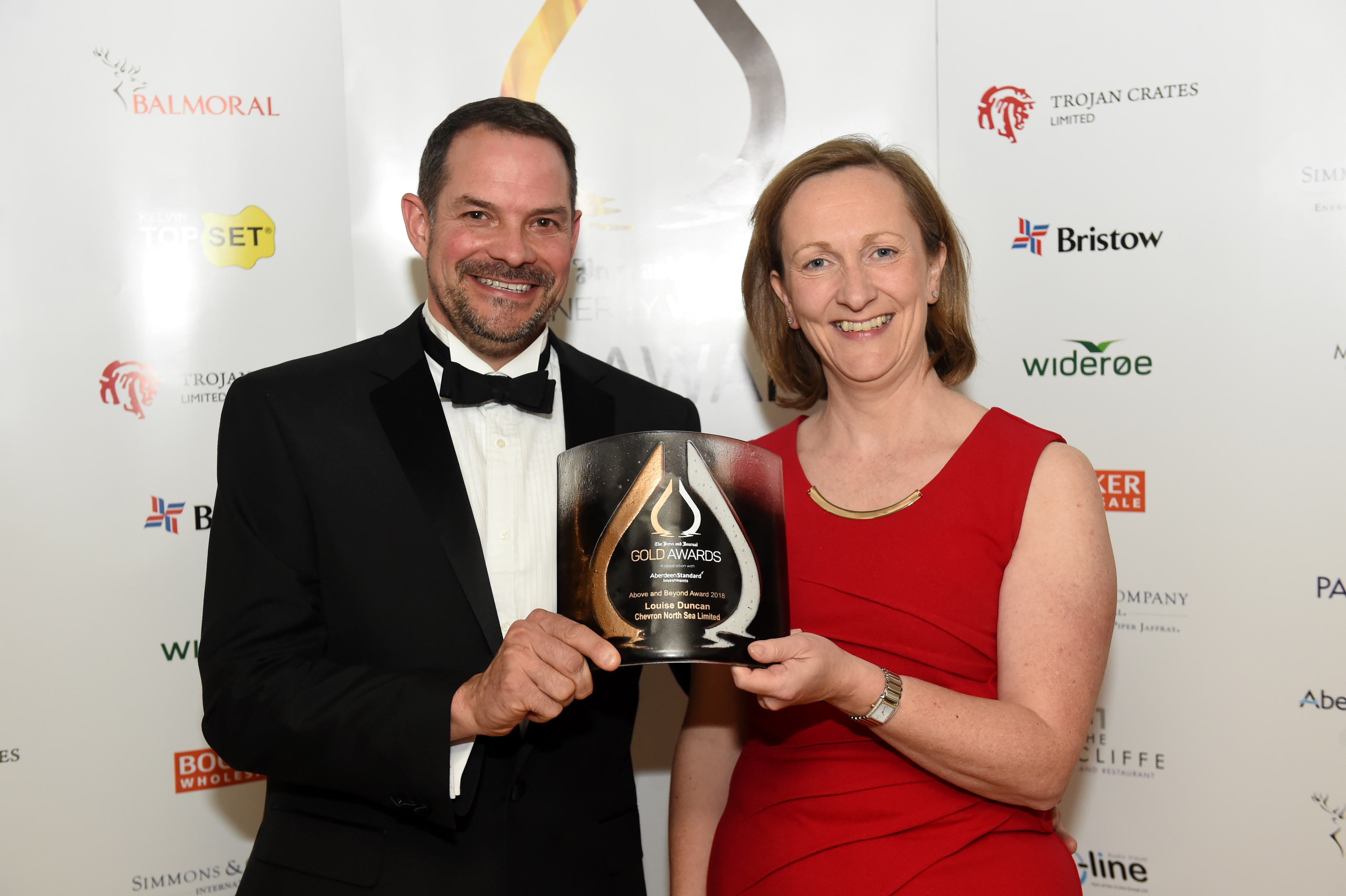 "I feel a bit flabbergasted, it's an honour and priviledge and I'm delighted to have won."
APPRENTICE OF THE YEAR

– ROB MITCHELL OF ICR INTEGRITY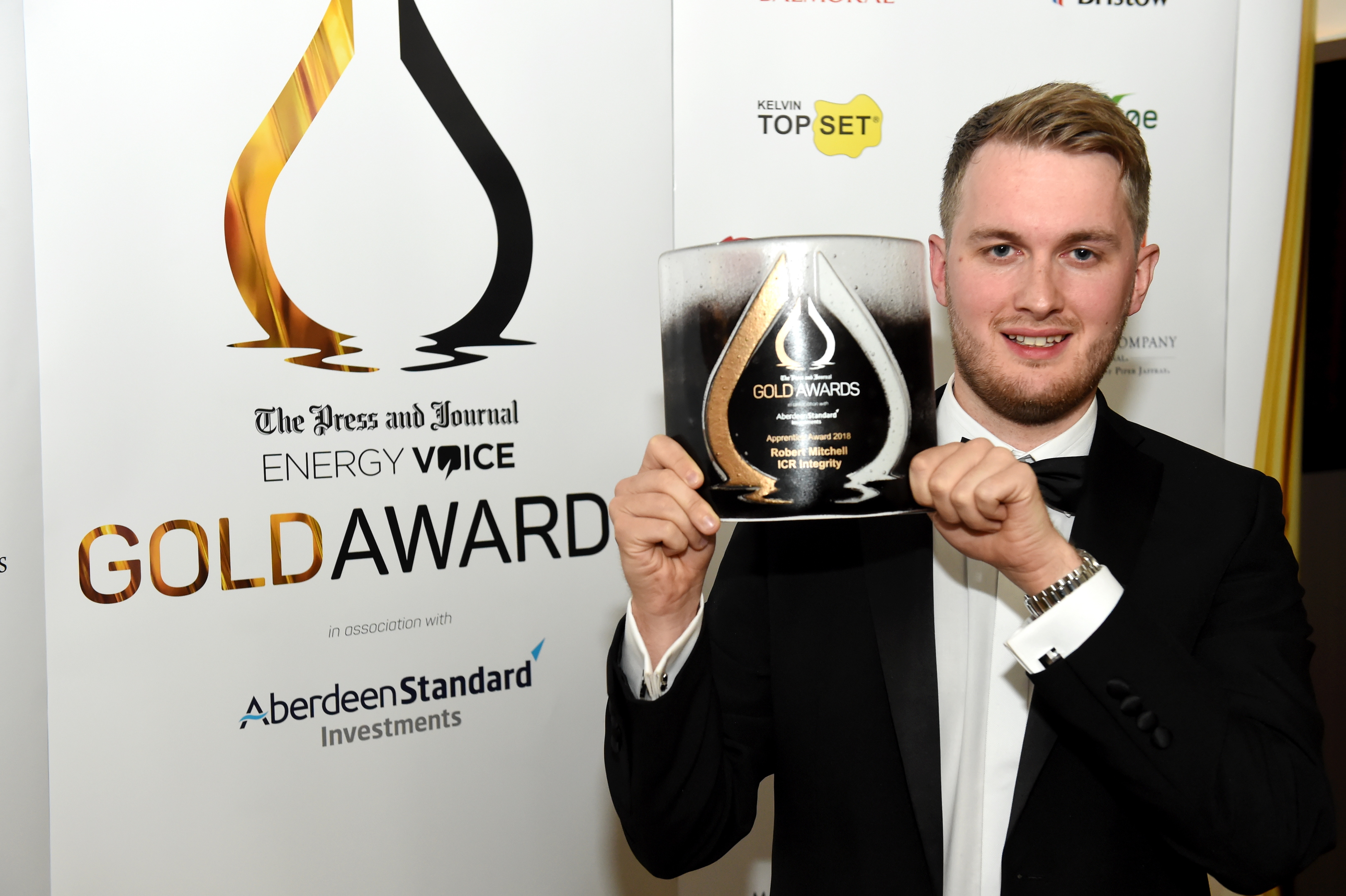 "I'm really happy, there was some tough competition this year and I knew one of the guys from uni and I knew he worked really hard over his university career as well in his job with his company as well so I'm really happy to take the award home.
"I've been at ICR for little over a year now. I started with the company as an offshore technician for three months then ICR started employing their first graduate engineers. My managing director at the time decided to put me forward for it and we're here now. I've spent six months in integrity monitoring and six months in the HSE queue division so, two years to go."
HEALTH AND SAFETY AWARD

– TAQA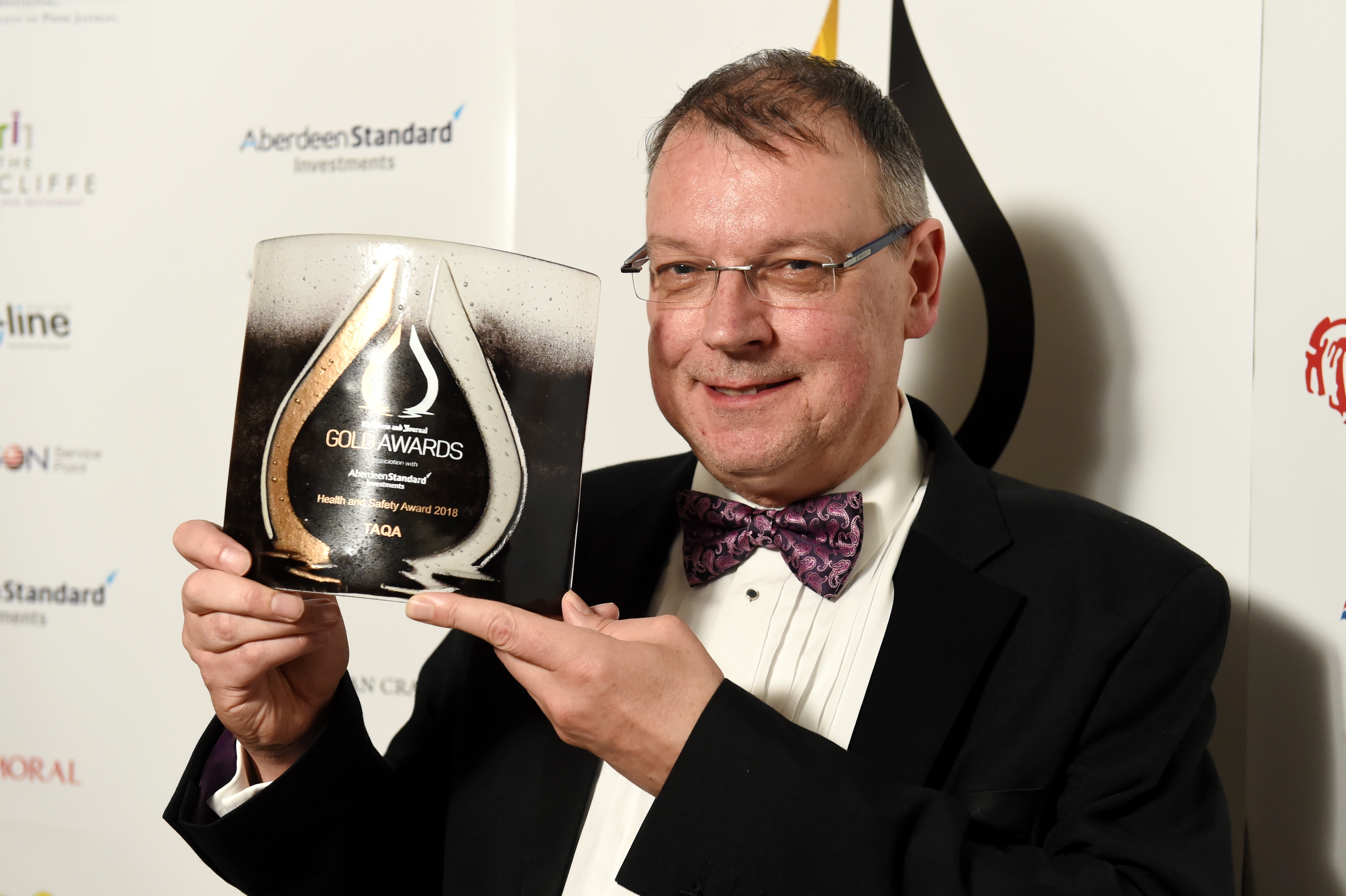 The award was accepted by David Holland, Taqa's technical safety manager.
He said: "I think the whole of Taqa are really pleased to get this award because it has been a truly collaborative effort across the whole company, rather than just a few people so I think that's why we're so pleased about it.
"I think Health and Safety is recognised as being very important in the company, from the leadership through every part of the organisation so I think that's why winning this award has meant so much to the whole company."
RENEWABLES AWARD
– SPARROWS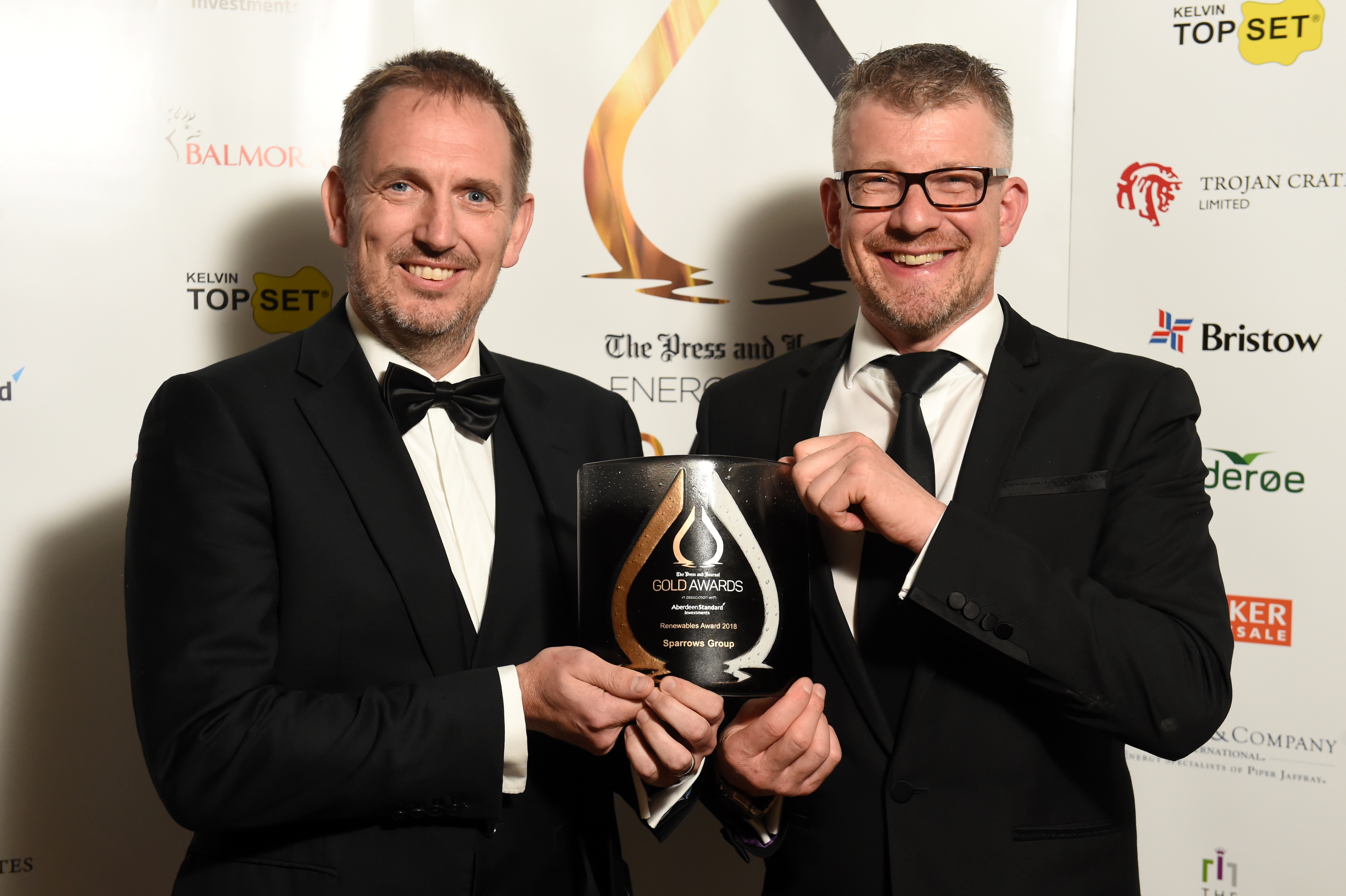 Matt Corbin, regional operations director at Sparrows, picked up the award.
"Really chuffed, obviously when you're up against someone like Wood, a fantastic company, you're not expecting to win so it's a really nice surprise but a great testament to the guys and girls, typically going offshore to oil and gas platforms to service and maintain those cranes, to then go and build 102 offshore cranes for wind turbines is a great achievement.
"We've been in renewables for quite some time. Our introduction to supplying davit cranes is a big step for us and hopefully that will continue into the future."
See below for a few more snaps of the night.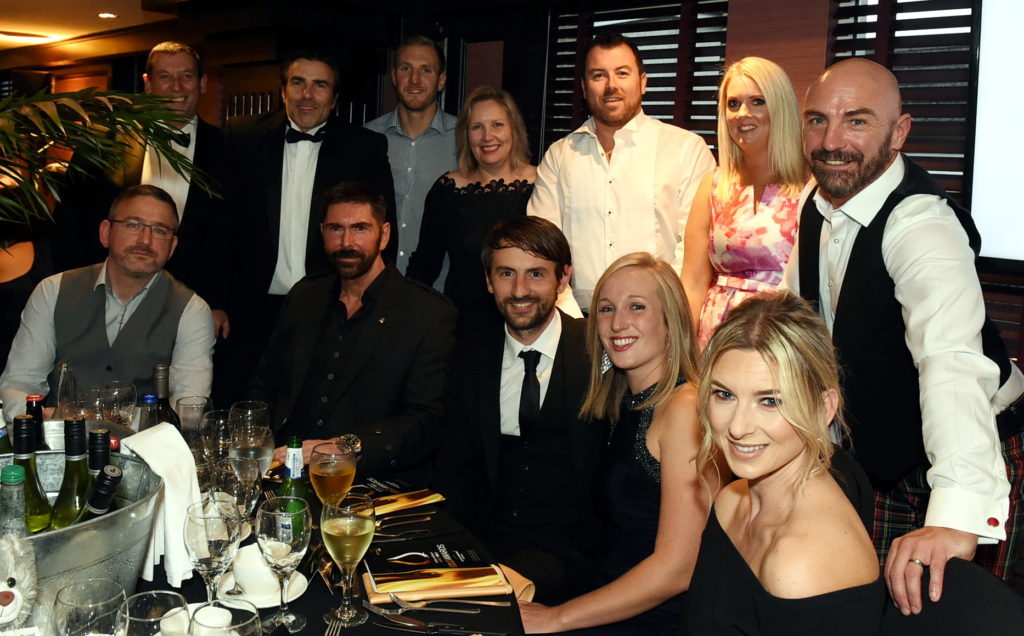 Recommended for you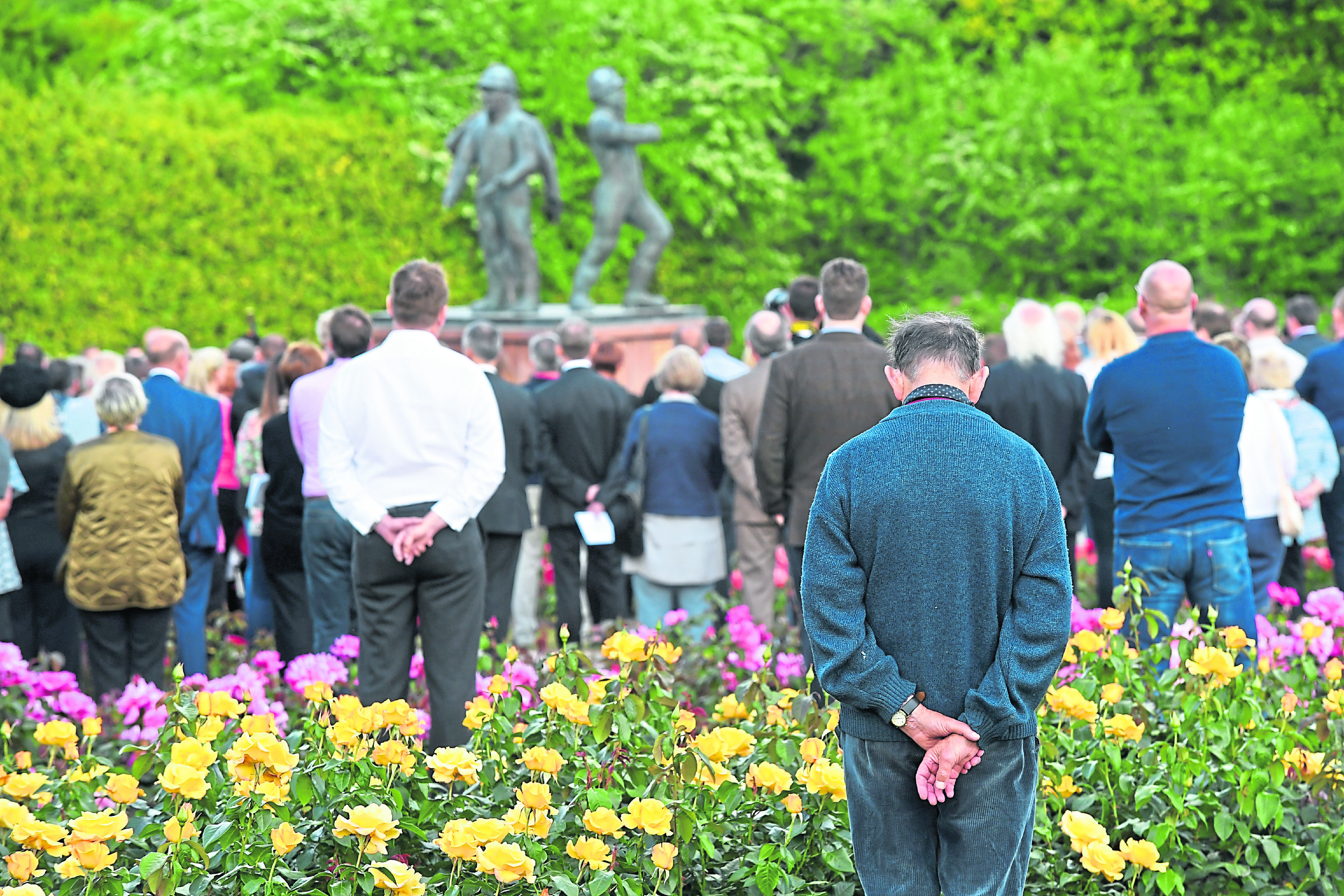 Son of Piper Alpha victim criticises lack of consultation on garden plans