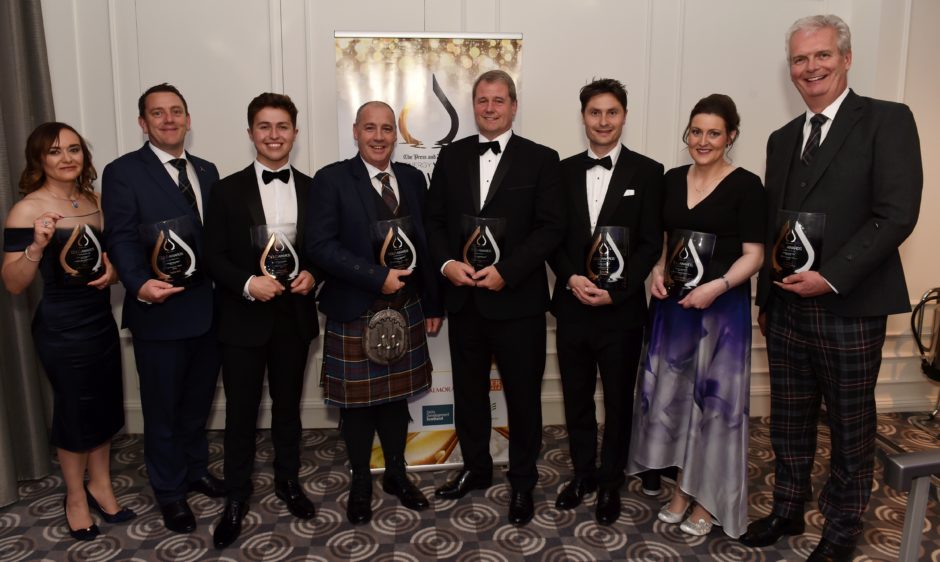 Exceptional oil and gas companies and their dedicated employees were recognised at one of the industry's most prestigious award ceremonies on Friday night.
The fifth annual P&J Energy Voice Gold Awards, in association with Aberdeen Standard Investments, was held at the Chester Hotel in Aberdeen, where respected business and energy figures gathered to find out who had tipped the bar to take home one of the coveted prizes.
It was a tough decision for the judges, who met earlier in the year to sort the best from the rest ahead of the glamorous awards ceremony.
However, judges were highly impressed by the outstanding quality of candidates discussed during the session.
Energy Voice editor, Mark Lammey, who chaired the judging, said: "The volume and quality of entries has got better every year since the Gold Awards launched in 2015, making it more challenging for the judges to make decisions.
"To be included in the final shortlist is a great achievement, but to win takes something special. Congratulations to all this year's winners and finalists."
Industry stalwart and Subsea UK chairman, Bill Edgar, was welcomed into the Hall of Fame – an award sponsored by Aberdeen Standard Investments.
He joins industry heavyweights Professor Alex Kemp, Balmoral CEO Jimmy Milne, Sir Ian Wood and Wood CEO Robin Watson, who have all taken home a gong.
Mavis Anagboso of CHC Helicopter took home the Above and Beyond award, sponsored by Rever Offshore, while Lee James, also at CHC Helicopter, was highly commended.
Ian Phillips, of the Oil and Gas Innovation Centre was named Industry Leader of the Year, sponsored by Scottish Enterprise.
Julie Roberts, digital energy lead at the organisation, said: "We were delighted to present Ian Philips of OGIC with the Industry Leader award. "Good leadership isn't just about charting the course, it is about taking others with you on the journey.
"And through his work with innovative businesses, academia, committees, government, students and various voluntary roles, Ian has been a leader to many.
"With an energy industry digitally transforming, we need more bold and visionary leadership."
Kerrie Murray of Pryme Group took home the Dr Mildred Dresselhaus Award, which celebrates the role of women in the energy industry, while Taqa was crowned Large Company of the Year.
Craig Morgan, of Chevron North Sea, was delighted to take home the Apprentice Award, sponsored by Skills Development Scotland and Load Monitoring Systems took home the gong for Small Company of the Year.
Stork, a Fluor Company was presented with the Health and Safety Award and Vattenfall was handed the Renewables Award, with Wood being highly commended.
Finally, DeltaTek Global was thrilled to be given the Innovation Award, sponsored by Balmoral.
Following the ceremony, which was hosted by Ben Thompson of BBC World's daily Business Live, guests were treated to a silent disco, allowing them to dance the night away.