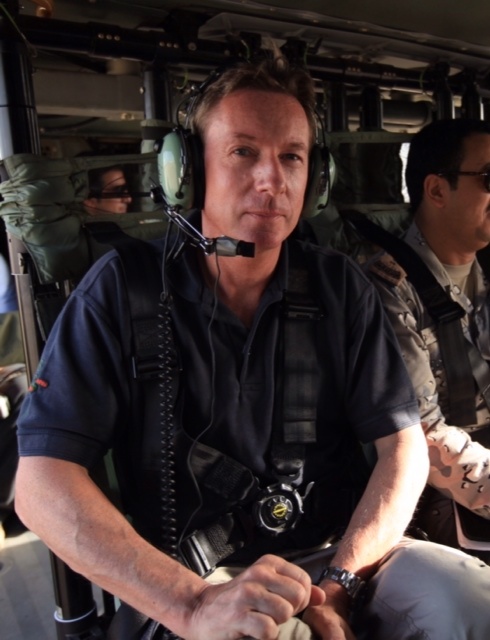 A journalist who survived being shot six times by Al-Qaeda sympathisers is heading to Aberdeen to warn the oil and gas industry about the threat of terrorism.
Frank Gardner, BBC security correspondent and author, will take his place on a panel of experts for one of the keynote debates at the SPE Offshore Europe 2017 event in September.
It was while reporting from a suburb of Riyadh, Saudi Arabia, in June 2004 that he was shot by terrorists and seriously injured.
His colleague, Irish cameraman Simon Cumbers, was killed.
Mr Gardner was left partly paralysed in the legs and dependent on a wheelchair for life.
After 14 operations, seven months in hospital and months of rehabilitation, he returned to reporting for the BBC in mid-2005. He was made an OBE the same year for his services to journalism.
At SPE Offshore Europe 2017, he and his fellow panel members will discuss cyber and physical attacks on the industry to help delegates understand the risks, manage the detection of threats and thwart malicious actions.
The session will be chaired by Oil and Gas UK chief executive Deirdre Michie and also involve David Stupples, director of electronic warfare systems research at London University.
Professor Stupples will reveal new research findings about the cyber threat facing the industry.
Others taking part will include Dominic Armstrong, president of risk management and intelligence consultancy Herminius.
Sue Frye, director Europe, Caspian, and Sub-Saharan Africa Events for the Society of Petroleum Engineers (SPE), said cyber terrorism in particular was a growing threat.
She added: "Understanding and managing the risks is the responsibility of everyone in the sector, from rig workers to investors.
"Delegates will leave with a better understanding of the shifts in global strategic risks to oil and gas operations and the new realities, threats and vulnerabilities that companies are facing."
Held every two years and organised by The Offshore Europe Partnership, a joint venture between SPE and Reed Exhibitions, SPE Offshore Europe is the largest oil and gas exploration and production conference and exhibition outside North America.
The 2017 event at Aberdeen Exhibition and Conference Centre from September 5-8 has the theme Embracing New Realities: Reinventing our Industry.
It will feature more than 65 free-to-attend technical presentations and 11 keynote panel sessions, business breakfasts, topical lunches and, for the first time, a decommissioning zone.
Recommended for you

'Virtual' Offshore Europe programme announced for September