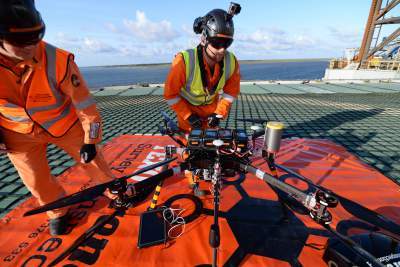 Drone specialist Texo has carried out the first ever unmanned aerial survey of an offshore asset using combined technology.
The Light Detection and Ranging (Lidar) scan of Paragon Offshore's HZ1 jack up was combined with ground-based Simultaneous Location and Mapping (SLAM).
A team from Texo DSI (UKCS) travelled to the Port of Esbjerg in Denmark, to carry out the survey.
Texo DSI (UKCS) is the only company in the world to have built survey-grade LiDAR scanning technology, with the ability to capture data to a level of below 2mm, on a bespoke UAV and integrated this with ground-based SLAM.
This allows the company, which owns and operates a fleet of unmanned aerial vehicles (UAVs), to provide combined services to the offshore oil and gas industry.
Pim Peters, drilling superintendent at Paragon Offshore, said: "This was an exciting project to be a part of. The big gain for us is improving the quality of our inspections by having more accurate data, rather than relying on eyewitness feedback, and moving to comparative analysis on trends, specifically around corrosion rates.
"In addition, we can reduce the risk to personnel, with fewer working at height or in confined spaces, as well as having a more efficient set up which has significant economic advantages."
John Wood, chief operating officer, Texo DSI (UKCS), added: "This project heralds a new era for precision data collection for oil and gas assets. Our world-leading technology delivers real benefits to the oil and gas industry, driving much needed efficiencies and taking asset information modelling for asset integrity to a new level.
"Paragon Offshore is already seeing the advantages that faster, accurate, precision data can give them."