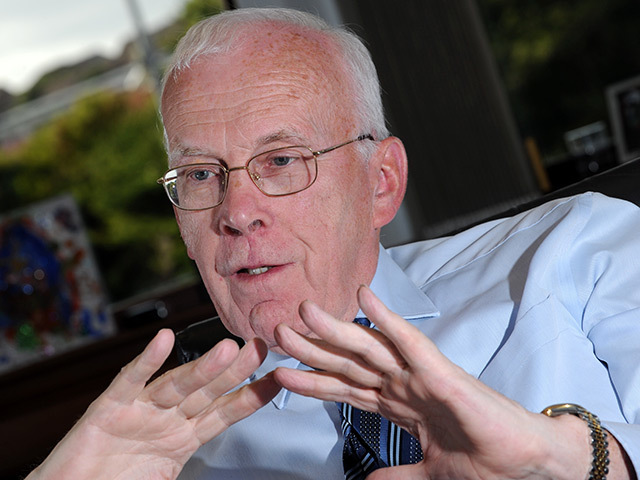 The North Sea industry has turned a critical corner, according to industry veteran Sir Ian Wood.
However, the sector doyen cautioned the region not to expect recovery fireworks.
"I think we have turned the corner but there's no room for complacency," he said.
"We're going to have to fight really hard to get ourselves back on some type of track.
"Frankly, Aberdeen is never going to recover to where it was in 2014. That's not where we are going. We're going to about 330,000 jobs in the UK. We've lost about 100,000 jobs.
"I think we've stopped losing jobs.
"We're going to have a slow, steady and unspectacular recovery.
"But it will give us the potential for our economy to settle down a bit and hopefully build a broader economy going ahead."
The industry currently supports 302,200 jobs, according to Oil and Gas UK's economic report. That is down from a peak high in 2014 of 463,000 jobs.
Speaking from Offshore Europe, Sir Ian said: "I think the mood being struck is right. It's not optimistic. It's not pessimetic. I think the reality is that we're still facing big challenges. But what's encouraging is that actions we are taking are having a positive impact.
"Recovery is going to be hard-won and a lot more hard work, including costs savings. Operators are clearly feeling the benefit of a better fiscal regime, but we're still not getting the investments we need."
The cash injection should be targeted at exploration and new field development plans, according to Sir Ian.
"We've had a good stream of fields come on, but we need to work really hard to get more investment," he added.
"The UK is now seen as a positive area to invest.
"We still have about 100 structures, which could be developed, but still on a number of them the costs are too high."
Only three new fields have been sanctioned since the start of 2016, according to OGUK report.
A total of 87 development wells were spud in 2016 – a 30% dip year-on-year. 2016 also marked the first time less than 120 development wells were drilled in a single year since 1986.
However, cash intake has taken on other forms for the basin. Almost $6billion of worth of UK traded value was announced in the first half the year – a figure OGUK labelled "a sign of confidence returning to the basin".
The UKCS has also shifted its cost perception on the global exploration stage, making more improvements than any other basin to position itself in the top quartile in terms of fiscal attractiveness.
"We are getting some investment in and that's very encouraging but we are fighting all the way against competition from other countries. The UK is very mature. Although we've come right down in our costs, we're still more expensive than other basins," Sir Ian added.
But the costs aren't everything, according to the OGUK.
What the basin can't provide in costs it can compensate with a "easier access to information and highly mobile workforce".
"The maturity and capability of the supply chain are also an important consider action as is the strategic fit within an investor's portfolio," the report said.
And the final prize totals $40billion, according to OGUK.
The report added: "There is no shortage of investment opportunities in the basin, with almost £40billion of potential capital development projects with company business plans.
"Around two-thirds of this is related to modifications and redevelopment of currently producing fields, with around one third associated with new developments currently under consideration."
Ultimately, it will be a "hard-won" fight, to Sir Ian.