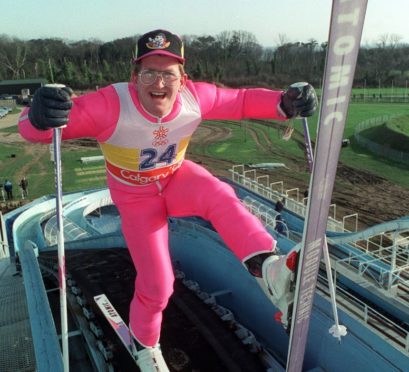 Celebrated underdog Eddie 'The Eagle' Edwards will discuss the value of persevering "even through the toughest of times" at an offshore industry event this week.
The world-famous ski jumper has been announced as the main speaker for Subsea UK's Offshore Europe Networking Dinner on Wednesday at the Marcliffe Hotel.
Eddie shot to fame in 1988 when the former plasterer represented Great Britain in the Calgary Winter Olympics.
Despite coming last in both the 70metre and 90metre jump events, his efforts to get to Calgary captured the imaginations of viewers around the world, exemplifying the Olympic spirit.
His story was made into a film in 2016 starring Taron Egerton and Hugh Jackman.
At the event, Eddie will discuss the importance of tenacity for the industry, which is coming out of one of the worst economic downturns in its history.
He said: "There is an underlying theme of tenacity, resilience and never giving up.
"I talk about some of the funny situations I found myself in on my way to Calgary, and also a few stories about what happened after Calgary.
"It's all about resilience, tenacity, never giving up and even through the toughest of times you just need to get your head down and never give up and you can get yourself through some amazing things."
Eddie, whose real name is Michael Edwards, is a regular visitor to Aberdeen and has been through the city numerous times since his Olympic foray at various charity and theatre events.
Shortly after the 1988 Olympics, entry requirements were strengthened which ultimately prevented Eddie from qualifying for the 1992 games in France.
However he has been much in demand since then, which has only grown since the 2016 movie came out in cinemas.
He said: "I always like to be up in Aberdeen, it is a beautiful city, and it will be nice to be back there again.
"Having this movie made about my life has really taken my story to a much younger audience who weren't born in that time.
"It has been great and I have been so busy off the back of the film for the last three years. I've been travelling all over the world – 80% in the UK – but the rest around the world talking about my life.
"In one respect the film has sort of rejuvenated things for me and it's made me very, very busy."
The Subsea UK event, sponsored by DiveSource, will include drinks, dinner and networking for industry professionals, starting at 7pm on Wednesday.
Recommended for you
X

Updated: Parkmead not 'easing off' oil and gas despite renewables plunge