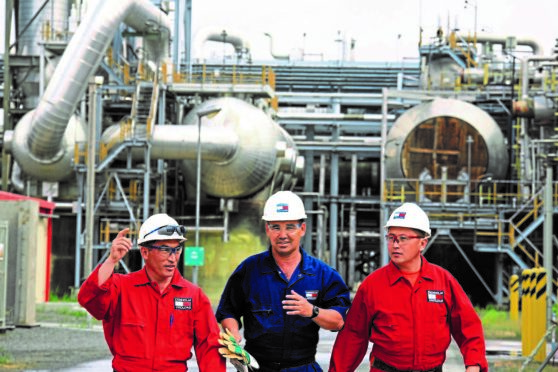 As part of a corporate family with a history stretching back more than 150 years, Denholm Zholdas and Denholm MacNamee represent the epitome of tried, tested and trusted solutions.
Denholm Oilfield Services began as a division of J & J Denholm and now operates as a stand-alone group with more than 4,000 employees worldwide and an annual turnover in excess of £200 million.
As part of Denholm Oilfield Services, Denholm Zholdas and Denholm MacNamee offer international services which are strategically based to support clients using high quality, innovative and reliable solutions.
Denholm Zholdas is celebrating its 20th anniversary as a market-leading maintenance and services provider to the oil and gas industry in Kazakhstan.
The company's central operational base is located in Karabatan, within easy reach of west Kazakhstan's oil and gas facilities. In addition, the company boasts several state-of-the-art facilities in the Tengiz region which include a modern fabrication workshop and a 1,200-person camp, backed up by administrative and operational headquarters in Atyrau.
Denholm Zholdas provides a wide range of specialist support services from construction, commissioning and operations to maintenance and decommissioning. With a proud record in providing service of the highest quality, safely and on time,
Denholm Zholdas works to ISO9001, 14001 and 18001 standards.
Based in Aberdeenshire and with a global footprint, Denholm MacNamee is a market leader in the provision of specialist cleaning solutions.
Complex challenges faced by operators relating to intrusive and non-intrusive tank cleaning, coupled with the need for extreme care due to environmental factors, maintenance or repair work and regulatory requirements to enable structural integrity assessment mean it has never been more important to find the correct solution.
Add to the mix factors such as heavy hydrocarbon fluids, toxic gases and the possibility of encountering several feet of sludge which can create or compound safety, time and cost implications – all require careful consideration and elimination, so specialist solutions of a technically high calibre should always be sought to ensure the job is done right first time, every time.
Working closely to identify the needs of every client, Denholm MacNamee ensures nothing is left to chance and, as a recognised leader in providing specialist cleaning solutions for a wide range of industrial applications, offers a safe pair of hands for all tank-cleaning and water-jetting requirements.
From the offshore oil and gas industry and onshore petro-chemical sector to power generation and other industrial users, the company supplies state-of-the-art equipment complemented with trained, experienced and competent technicians to ensure specific and tailored solutions are carried out on time and on budget.
Denholm MacNamee works to ISO9001, 14001 and 18001 standards.
Thanks to combined experience of more than six decades, Denholm Zholdas managing director Graeme Milne and his Denholm MacNamee counterpart Brian Ritchie have been able to steer their companies on a successful growth journey in their chosen marketplaces.
This has been achieved by working together, combining experience and pooling resources to establish an enviable track record of providing turnkey solutions to customers.
The success of a recent large project in Kazakhstan resulted in the redeployment of Denholm MacNamee's automated jetting solutions to support Denholm Zholdas, clearly demonstrating the power of group collaboration in achieving the best possible results from customers worldwide.
Recommended for you
X

Ace upgrade for winch