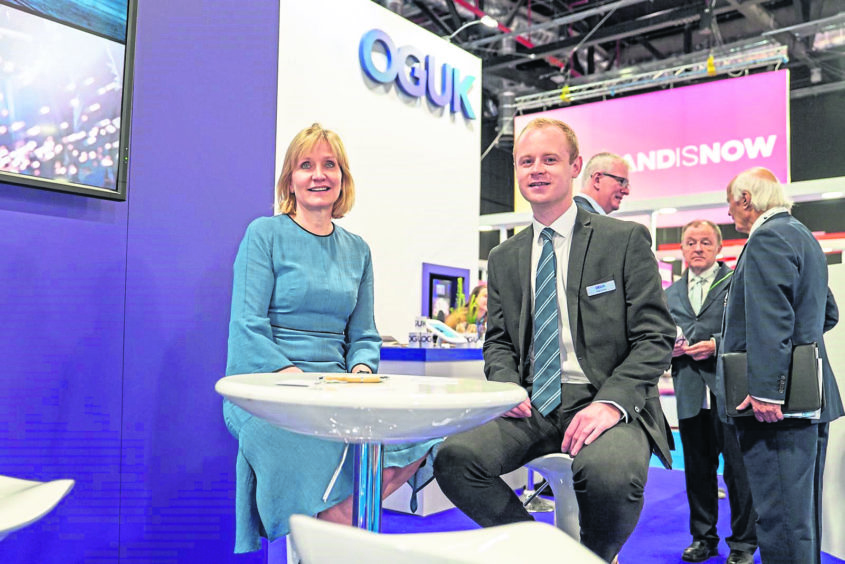 A new "roadmap" was unveiled today setting out the UK oil and gas industry's ambition to transform the North Sea into a basin with net zero emissions.
The plan, published at Offshore Europe, shows how the sector can thrive without compromising the UK's new, legally-binding commitment to achieve net-zero greenhouse gas (GHG) emissions by 2050.
Targets were also set for oil and gas production, exports, employment and technology in the document, which was devised following consultation with 2,500 people across the sector.
Deirdre Michie, chief executive of Oil and Gas UK (OGUK), said the roadmap was "one of the first industrial responses" to the government's new goals and showed "an industry in action with a credible plan for the future".
Ms Michie insisted the sector was ready for the "huge challenge" of providing reliable energy while playing a "major role" in the country's net-zero emissions crusade.
The roadmap is an "evolution" of Vision 2035 – industry's aim of fulfilling as much UK energy demand as possible from domestic production, doubling supply chain export revenues, and supporting the energy transition.
North Sea oil companies are already taking action to reduce emissions from their operations, OGUK said, adding that the sector can make a huge contribution to developing low carbon technology.
Oil companies have come under increasing pressure from environmentalists and activist investors who want them to stop extracting fossil fuels and instead spend more money on renewables.
In response, industry leaders have argued that oil and gas would be a vital part of the global energy mix for many decades to come, in any scenario.
OGUK said oil and gas would meet around two-thirds of UK energy needs by 2035, while contributing more than £8.5 billion to the Exchequer over the next five years.
The organisation also pointed out that only 3% of total UK emissions came from oil and gas production activities, whereas the consumption of those products was responsible for most GHGs.
Also, oil majors are increasingly investing in renewables and setting their own targets for emissions reductions, which in some cases have been linked to the payment of executives' bonuses.
But there is a growing acceptance within the UK oil and gas industry that companies need to do more to shrink their carbon footprints if they are to "maintain societal and political support".
In line with the roadmap, by 2035 the UK offshore oil industry must be "on track" to become a net-zero GHG emissions basin by 2050.
That means getting emissions as low as possible, with the remainder being mitigated through carbon capture and storage, for example.
Industry has shown encouraging early signs. OGUK said the carbon intensity of North Sea operations had been reduced by 16% since 2013.
Technology developments, such as the use renewable energy to power offshore platforms, are showing promise and are being supported by the oil industry.
OGUK also said the sector was well-suited to supporting efforts to slash emissions from the use of oil and gas products by consumers.
It said oil and gas company expertise, infrastructure and investment would be crucial to implementing carbon capture usage and storage (CCUS) and hydrogen technology.
Oil and gas firms have already supported the launch of CCUS at 18 sites globally.
The roadmap also states that by 2035 at least half of UK oil and gas demand must be met by domestic production, thereby minimising imports.
Production from the UK continental shelf (UKCS) has increased by 20% since 2014 to 1.7 million barrels per day in 2018 — enough to satisfy 59% of the country's oil and gas demand.
But output from this mature basin is expected to decline from 2021 onwards as fewer new fields come on stream – as a result of few investment decisions being taken during the downturn.
If the roadmap's target is to be met, this decline will have to be well managed, with a steady stream of new field investments being made.
Those behind the roadmap also wants energy supply chain export revenues to increase to £20 billion per year, compared to about £10.6bn in 2017.
And in 16 years' time, the oil and gas industry must have secured 130,000 direct and indirect jobs, against about 150,000 today.
Furthermore, Roadmap 2035 calls for the creation of more than £10bn in "economic value" through technology and innovation, partly through the launch of more than 100 new start-up companies.
Ms Michie said: "While we don't have all the answers to the big challenges we face, we have started work on what we know can be.
"We are ready to work with others in developing some of the new solutions the UK needs."
UK Business, Energy and Clean Growth Minister Kwasi Kwarteng said: "Roadmap 2035 shows how seriously the UK's oil and gas sector is taking its mission to decarbonise and support the transition to net zero emissions by 2050.
"The highly skilled offshore energy sector will be integral to the UK's energy transition, developing solutions to support the sector's significant contribution to our economy."
Scottish Energy Minister Paul Wheelhouse said: "I welcome the Roadmap to 2035 as it marks a significant move by the industry to reflect the need to make the energy transition a reality. The sector can and has committed to helping Scotland and the UK achieve net zero, working with both governments, as well as industries and communities to transform our energy system.
"We are committed to achieving a net-zero economy in a way that is fair for all and to ensure a just transition. The oil and gas sector can and will, I believe, play a positive role in this transition, helping to channel its resources and innovative supply chain to design the diverse energy system we need for the future.
"The knowledge, skills and experience of the workforce will also be of vital importance for developing and investing in low carbon technologies, such as Carbon Capture Utilisation and Storage, hydrogen and floating offshore wind projects."
Recommended for you

TotalEnergies to bid in Scottish offshore wind process