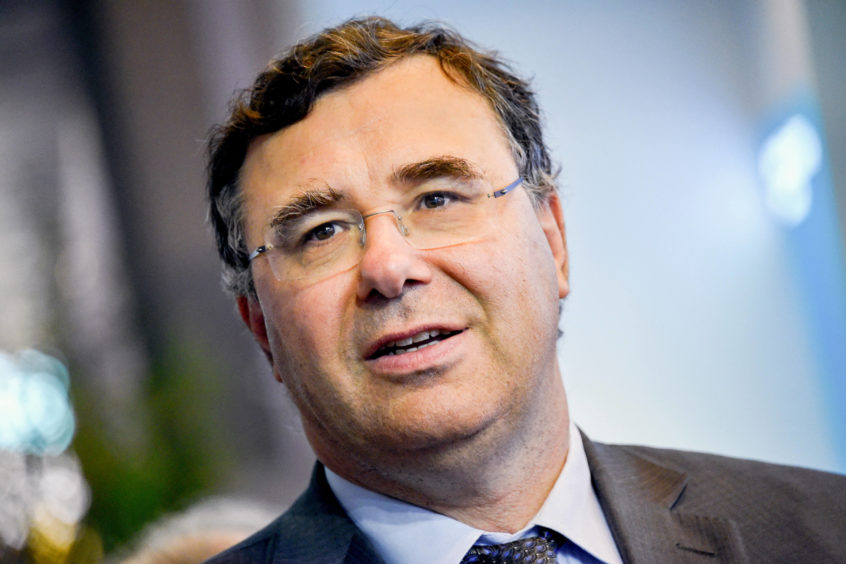 The oil and gas industry has been warned by French energy giant Total that it must adapt or go the way of the dinosaurs
CEO Patrick Pouyanne delivered the keynote address at the opening of Offshore Europe at the new P&J live venue yesterday.
The industry heard how climate change is the single greatest challenge facing the industry, jeapordising its license to operate, as well as its ability to attract new talent and fresh investment.
Mr Pouyanne discussed the need to bolster investment in new technologies like carbon capture and storage, with the potential for the North Sea to become the "giant cave for CO2 in Europe" by using depleted gas fields.
He also praised efforts of the UK in setting net zero legislative targets for 2050, but said the industry must "act now" in order to meet these goals.
He said: "Let me be clear, we have a lot of stakeholders here today who look to us as dinosaurs. Dinosaurs have disappeared.
"I don't want to disappear but the only way not to become a dinosaur is to act, to invest, to progress together.
"This is what society is expecting from our industry – not just to rely on what we know but to become progressive.
"Our mission is to be able to provide reliable, affordable and clean energy to the world. All of these words are equally important, even if society is clearly putting emphasis on the last one of them: clean energy.
"All of our citizens around the world are really pushing us to act in ways to solve climate change."
Industry leaders also discussed the dual challenge of meeting climate change targets while delivering energy to the world's growing populations, particularly in developing regions.
SPE President Sami Alnuaim described the millions of people living in fuel poverty around the world as a "human tragedy" which the industry has a role in addressing, while making the transition to renewables and cutting carbon emissions.
He cited International Energy Agency stats showing there were 620milion people in Africa last year who didn't have access to electricity, adding the figures will "quadruple" in the years ahead.
He added: "These human beings lack access to basic energy and lifestyle that you and I take for granted. Investments in liquefied natural gas as well as renewables can play a major into improving this human tragedy.
"We need others to look at us as part of the solution, which we are, rather than the cause and the blame we see today.
"The world's energy appetite is increasing, driven by the unprecedented economic growth, population growth, lifestyle improvement and energy reduction needs."
Recommended for you

ESG uncertainty continues to disrupt industry M&A