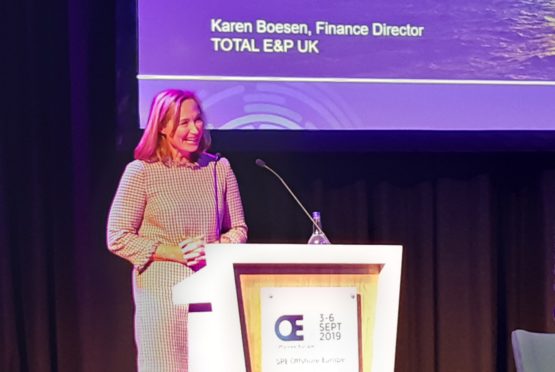 The finance boss of French oil giant Total claimed last night that the North Sea wasn't a "sunset industry" for her firm.
Karen Boesen, Total's finance director, said the reason why her company had continued to explore the North Sea was that it was "good business"and in line with the firm's global strategy.
Ms Boesen was speaking during the finance and new start-ups session at Offshore Europe in Aberdeen yesterday.
She described the Elgin-Franklin and the Culzean fields as the "jewel" in Total's North Sea portfolio, adding that she expects both fields to produce for around 15 to 20 years.
Total made the huge Glendronach and Glengorm gas discoveries last year, which Ms Boesen termed "a good year".
She added: "These two discoveries show that there is still potential in the UK, it is not a sunset industry.
"When you can make discoveries like this then there is more to come, that's for sure."
The Total finance chief was referring to a previous statement by fellow panel member Espen Kvilekval, the global head of oil and gas at DNB Bank.
He claimed the North Sea was "a sunrise, not a sunset industry" and "well positioned for the future" with "plenty of opportunities" for investors.
Ms Boesen said she though the acquisition of Maersk UK by Total in 2017 had "really revitalised" her company thanks to the fusion of French and Danish cultures of working.
She said Total will stay in the North Sea because it "works for us".
The biggest operator in UK, Total currently employ around 1,200 staff in Aberdeen, 500 of those offshore.
She added: "For us Aberdeen is a great place to be because it's a fantastic place to tap into talent to deliver our performance in the UK and also our international portfolio.
"Why has Total stayed in the UK when we have seen some of the other majors leaving? It's quite straight forward – it's good business for us.
"We have a good portfolio and it fits our global strategy."
Recommended for you
X

Extinction Rebellion stages climate protest at Offshore Europe