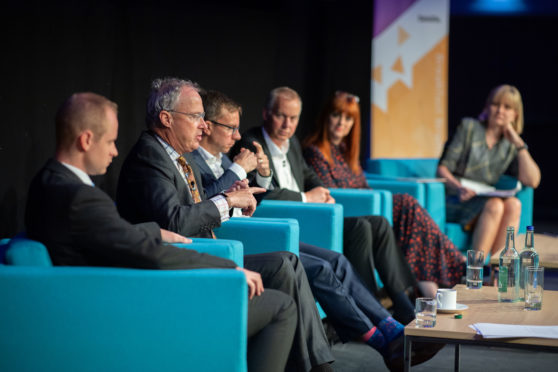 Oil and gas companies are the UK's "best hope" of hitting its net-zero emissions target for 2050, industry bosses said today.
They also insisted that the UK oil industry would have grasped the climate change nettle without pressure being ramped up by activists like Greta Thunberg.
Robin Allan, North Sea and exploration director at Premier Oil, said oil firms' technical experts "hold the answers" to overcoming the emissions challenge.
Speaking at the official launch of a UK oil industry roadmap setting out the goal of turning the North Sea into a "net-zero basin" by 2050, Mr Allan said "deriding" the sector was "not going to solve the problem".
The "blueprint" was launched at day after Extinction Rebellion activists demonstrated at the Offshore Europe conference in Aberdeen.
Mr Allan said the oil and gas industry was the "best in the world", but that the "jury was out" on whether the sector was winning the debate in the hearts and minds of the public.
He said "the man in the street" living in a cramped city would think about pollution and blame oil companies.
Mr Allan said everyone working in the sector had to become advocates for the business.
He said: "I believe in what we do. We are creating a product that drives the world.
"But to attract young people the promise of this industry has to be something bigger and better.
"The roadmap to net zero will attract young people who want to be part of solution.
"We get interns coming in and wanting to join us when they see what we're doing to lower emissions and that we're a responsible operator.
"But the industry is failing to convey that sense of excitement and belief in what we're doing to young people. We need to do that better."
Fellow panellists at the Oil and Gas UK (OGUK) event said industry needed to properly engage young people in the net-zero challenge.
Andy Hessell, managing director at Kellas Midstream, said: "We need to listen to the younger generation.
"We need to get them to tell us what we need to do."
Referring to the roadmap, Mr Hessell said 15 years was "not far away" and that the sector needed to "act now".
Ross Dornan, market intelligence manager at OGUK, said: "No one has experience of creating a net-zero basin, so why not listen to the next generation."
Mr Dornan also said the industry's current push to lower its carbon footprint, with Roadmap 2035 as a guide, would "still be happening without Greta", but with "less urgency".
Mr Allan said Greta Thunberg was "marvellous" and hoped she would get a Nobel prize.
Chris Ayres, chief operating officer at Opex Group, said Extinction Rebellion demonstrators should have been invited into Offshore Europe so that the industry could "make them part of the discussion and show how serious we are".
Fiona McKie, senior vice president of digital and technology operations at Wood, said oil and gas was an "intelligent" industry which doesn't "shy away" from what it needs to do.
Recommended for you
X

'Value destruction' of nearly £8billion after North Sea deals, says WoodMac