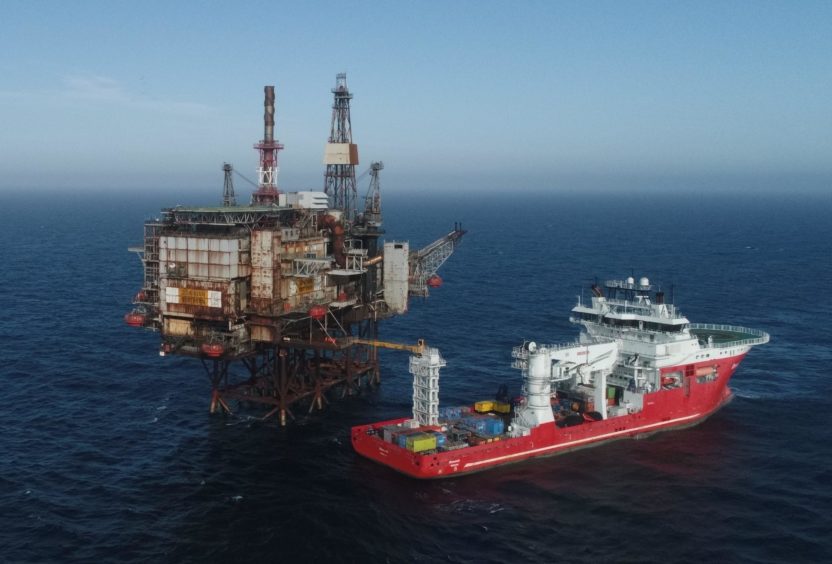 Canadian Natural Resources International (CNRI) has announced it has completed a preparation campaign to dismantle a 12,500 tonne oil platform in the North Sea.
The Ninian North is now "fully ready" for a huge operation to lift the platform next year.
Speaking at the Offshore Europe conference in Aberdeen, decommissioning project lead Caroline Lawford said work to prepare the platform has just been completed.
The campaign, using Allseas' Oceanic offshore construction vessel, included down-manning the platform and separating the topsides from the steel jacket using cutting gear.
Ninian North lies around 100miles north-east of Shetland.
The giant Pioneering Spirit vessel will be used to remove the topsides in a "single-lift" next year, and will deliver the platform to the Dales Voe facility in Shetland for dismantling.
Ms Lawford said: "We've just finished the campaign a couple of weeks ago.
"We de-energised and down-manned the Ninian North so there was nobody on it and we came alongside with this construction support vessel. We bridge-linked and we separated the topsides from the jacket.
"So the platform is fully ready now for its single lift which is planned for next year.
"The cuts of the jacket legs were done in a castellated format, so the self-weight of the topsides and the castellations will keep it in place in each of the horizontal sheer directions there."
CNRL will also need to ensure removal of the 7,000 tonne steel jacket, which it said would be by 2023 at the latest.
Ninian Northern was installed in 1978 and started producing in 1980, reaching a peak of 90,000 barrels per day a year later, and ceased in 2017.
Ms Lawford also used her speech to highlight the benefits of collaborating on decommissioning through improved contract models and working with other operators.
CNRI is exploring the potential to make "substantial savings" by collaborating with others on decommissioning their assets east of Shetland.
Ms Lawford said: "One of the things that we've been working alongside EnQuest and Total and Taqa on is the east of Shetland area plan for decommissioning.
"We're looking at ways we can collaborate and the initial report indicates there is substantial savings to be gained from collaborating with different operators.
"Not just on the fixed platforms, but the subsea assets and subsea well plug and abandonment."
Recommended for you

Decommissioning excellence – getting ready for removal