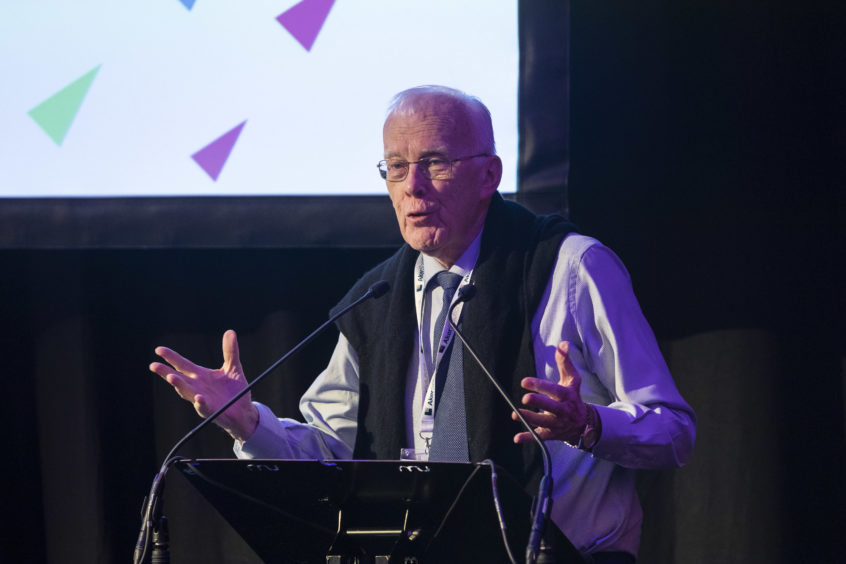 Oil and gas veteran Sir Ian Wood has hit out at climate change activists unwilling to further the energy transition conversation.
He also criticised the investors currently retreating from oil and gas during a keynote address at Offshore Europe in Aberdeen yesterday.
Sir Ian, who transformed Aberdeen company Wood Group into a global energy services giant before retiring and going on to become chairman of Opportunity North East, described the rhetoric of some climate groups as "very unhelpful".
And he urged protest groups to consider the issue "in terms of reality".
Sir Ian said: "Quite frankly, I find it very frustrating to hear climate change activists saying that we need to stop hydrocarbon production now and in the future.
"What they have to tell us is: how are we going to make up the huge energy shortfall?
"On the one hand, we clearly all agree with the need to maximise renewables and to try to minimise the carbon in the atmosphere but, on the other hand, in terms of reality, we've got to get a balance between needing enough energy to do what this world wants to do, along with the carbon emissions.
"It's actually very unhelpful, frankly, to hear some of the comments that are being expressed.
"What is clear is that oil and gas will continue to make up a sizable part of the energy mix as the world acquires affordable and reliable energy to meet growing demand."
The north-east energy mogul also warned investors looking to divest from oil and gas they have "got it wrong" if they believe it is a constructive move for the energy sector.
He added: "Let me just say to any investors here who are not sure about continuing to invest in the oil and gas industry, with respect, you've got it wrong.
"If you're going to stop investing in oil and gas, you're going to have to tell us how you're going to get energy? How are we going to make our 2050 energy requirement?
"What we should be investing in is responsible energy companies who are going to do anything they can to minimise the carbon they're producing, and are also doing a range of constructive things to try to help in the change to renewables."
Sir Ian also spoke about Scotland's growing offshore wind, hydrogen and carbon capture capability, which he described as having "huge potential".
According to estimates, two-thirds of the UK's energy requirement could be met by renewable energy by 2050, he said.
He added: "I believe that's quite ambitious but I think it is right that we should have an ambitious target.
"To realise the ambition to get to net zero by 2050 we need a very significant investment in offshore wind, both green and blue hydrogen and, additionally, a significant investment in carbon capture and storage (CCS)."
The oil magnate also lamented government bureaucracy around getting big offshore wind projects off the ground.
He urged authorities to make sure processes are in place to allow the energy sector to move forward towards transition if they wanted to achieve net zero emissions.
Through the Wood Foundation, Sir Ian has committed £62 million over 10 years to help support projects aimed at strengthening and diversifying the local north-east economy after the latest oil downturn.
It is hoped this money will be bolstered by a further £62m from co-investors and partners in both the public and private sectors in an attempt to deliver "transformational" local projects and a successful energy transition.
Sir Ian said: "There's huge frustration right now over the amount of time it requires in the UK to move from a concept to a new development – it's something like 10 years.
"Both governments (Scottish and UK) use the word emergency, and the strong message must be, if you're going to use the word emergency, then you must be prepared to produce essential transformation changes and the various processes to enable us to move ahead as quickly as possible.
"That'll be very important over the next 10 to 15 years."
Sir Ian also said he believed Scotland had a "big opportunity" in floating offshore wind and should focus on the North Sea's successful subsea sector, which accounts for about 1000 companies in the north-east.
The UK can meet many of its climate targets "if we get it correct", he said, adding CCS should be "a very big part of that".
Sir Ian highlighted the Acorn CCS project at the St Fergus gas plant, near Peterhead, and threw down a gauntlet to Prime Minister Boris Johnson to make a financial commitment to the scheme.
He added: "The estimate is that it could cost £1 trillion, it's a very expensive process.
"Our present prime minister has been suggesting the allocation of all kinds of funds toward the future of the UK and I'm afraid that if they're really serious, the investment in CCS is going to have to be a significant one."
Recommended for you

Sir Ian Wood urges govt to confirm Acorn will benefit from £20bn CCS pot