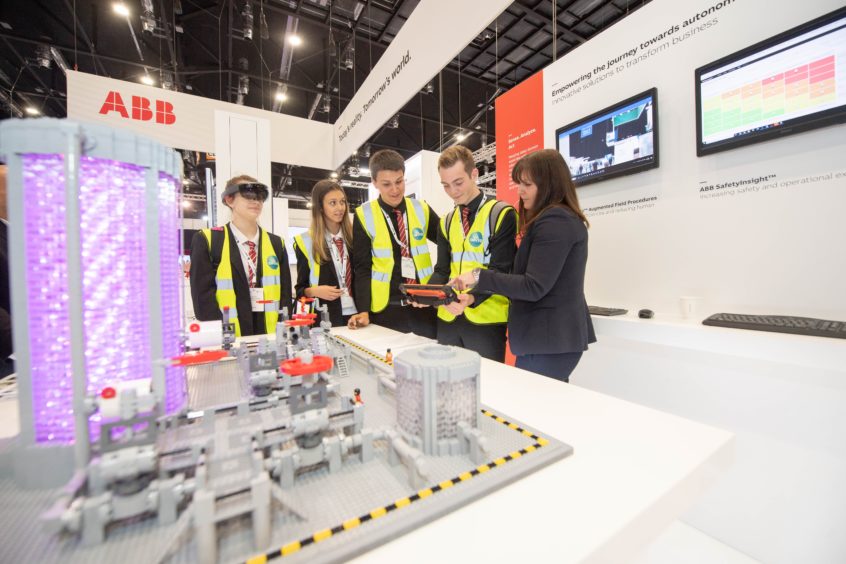 School pupils raced salt-water-fuelled cars, operated drilling simulators, calculated their carbon footprints and donned "smart goggles" at Offshore Europe in Aberdeen today.
The activities were laid on by 20 companies as part of Energise Your Future (EYF), an initiative to inspire kids to embark on careers in the energy industry.
About 160 pupils from north-east secondary schools took part in EYF, a record turnout for the programme, now in its 12th year. It is organised by skills body Opito.
Shell challenged pupils to build vehicles in teams and race them round a track. The cars were propelled by electric motors with lithium batteries, powered by salt water.
At Aberdeen University's stand, children walked around seismic data graphs in a fully immersive 3D space generated by artificial intelligence.
Other activities included taking part in an escape-room-inspired quiz with energy consultancy Xodus Group, and using goggles to practice "augmented field procedures" with technology firm ABB.
Rebecca Munro and Jaimee Bain, 16-year-old pupils from Fraserburgh Academy, were victorious in the salt-water car challenge.
Asked whether a career in oil and gas would appeal to her, Rebecca said: "My plan was to join the RAF as a technician after school but I might have a different opinion after today.
"Companies at Offshore Europe are looking at different and interesting aspects of engineering."
Jaimee said: "I was already interested in a career in oil and gas, but am also thinking about one that supports more clean sources of energy. I would like to see the oil industry do more to keep emissions down."
They both agreed the energy industry needed to do more to increase the number of women working in the sector.
Jill Glennie, external affairs director at Opito, said: "The energy industry is progressing rapidly, using new technologies and innovations to help transform businesses in ways which were previously unimagined. As our industry transitions, we need to ensure we are working to attract talent and demonstrate the change in future roles."