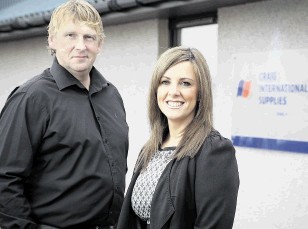 Oil company buyers spend 85% of their time managing only 15% of their spend according to a new survey carried out by Aberdeen-based Craig Interational.
Craig Group is relaunching its global oilfield procurement division at Offshore Europe tomorrow to demonstrate the major cost savings that companies could achieve by outsourcing their procurement functions.
Craig International – having ditched the "Supplies" from the name as part of the rebrand – says almost 90% of its revenue comes from outsourced procurement management – and it expects it to grow over the next 12 months.
Earlier this year, the company secured contracts worth £30million over five years.
According to its research, typically oil company buyers spend 85% of their time on managing only 15% of their spend. The small percentage of overall spend is largely related to oilfield consumables including chemicals, oils and paints, tools, services such as travel and accommodation, and even hospitality.
Joint managing director Jill MacDonald, said: "Historically, we have been seen as simply a supplier of oilfield consumables, but we now have a recognised track record in delivering a much wider procurement service which allows companies to outsource their entire procurement function."
Craig International's rebrand is part of the company's effort to illustrate its credentials as a full trading house for the industry. It aims to use its global buying power to pass on savings to customers. It also operates a gain share model with key customers where cost savings of their combined spend are shared across them all equally.