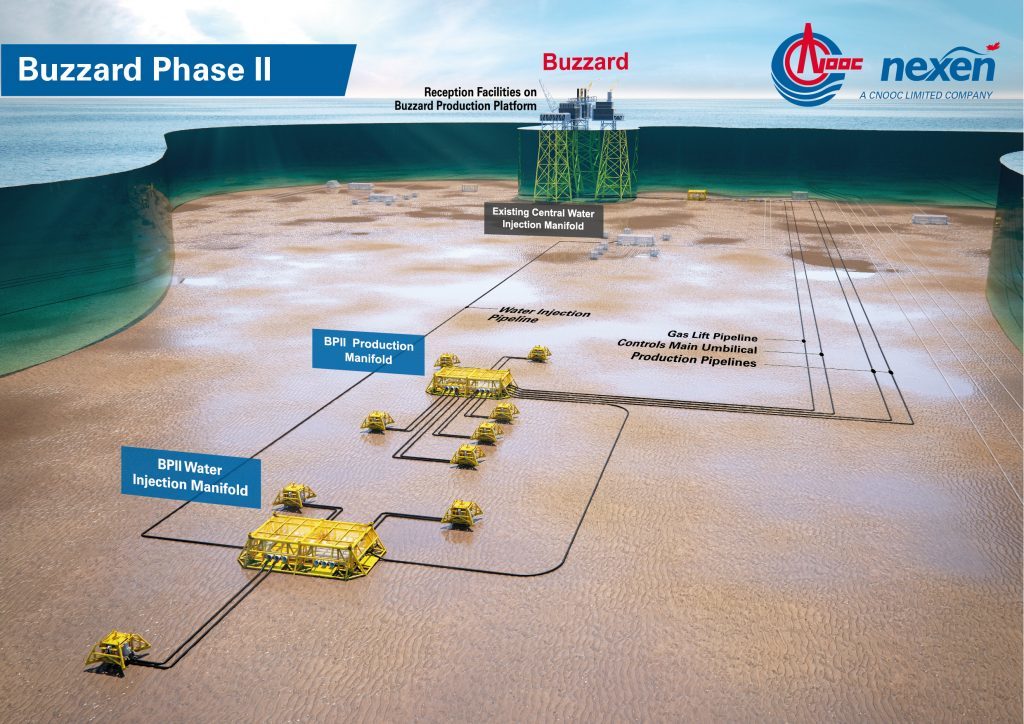 The UK North Sea has enjoyed a "mini-boom" in final investment decisions (FIDs) this year, an analyst has said.
Malcolm Dickson, a research director at Wood Mackenzie (Woodmac), said the UK's record was encouraging because although the projects are relatively small, they are still profitable.
Ten projects have been sanctioned so far this year, and there is potential for another six before the end of December, according to the Edinburgh-based energy consultancy's latest figures.
Shell set the ball rolling with the Penguins redevelopment, and has also given Fram the all clear.
BP has taken FID on the Vorlich and Alligin fields and Nexen Petroleum is pushing ahead with Buzzard phase two.
Premier Oil sanctioned the Tolmount field last week.
Some of the projects which have yet to be sanctioned in 2018 could spill over into 2019, when eight potential FIDs have been identified.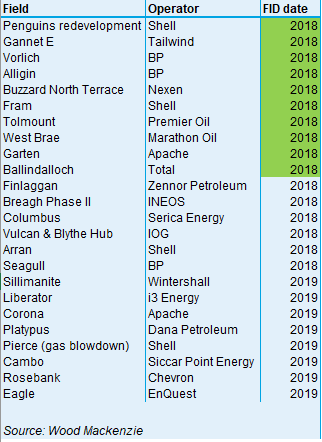 Mr Dickson also said the drilling of more "high impact" wells would be help change opinions and create more value in the region.
Subsea tiebacks and other brownfield projects are important, but delivering wells with a bigger pay-off would be a "game changer", Mr Dickson said.
Siccar Point Energy's Cambo well, recently drilled west of Shetland, is an example of the sort of project that could significantly boost confidence in the North Sea, according to Mr Dickson.
Speaking at ONS, he said: "Brownfield is a big part of the picture, but if you want game changers then it is about high impact wells in areas like west of Shetland.
"Cambo seems to have been a reasonable success for Siccar Point, and they're now going to drill Lyon. These wells can change the opinion of a market and bring a lot of value."
Mr Dickson also warned of a "project gap" – a lack of new field development opportunities – beyond 2020 in the UK and Norway, caused by a lack of exploration during the downturn.
He said a recent "uptick" in exploration successes in Norway was helping to close the gap.
Exploration is still "low" in the UK by historic standards, but operators are focusing on quality rather than quantity.
Mr Dickson said the Oil and Gas Authority's effectiveness was highlighted during the 30th offshore licensing round, when firm commitments were made for eight exploration or appraisal wells and nine new 3D seismic surveys.
Fourteen licences progressed straight to field development planning.
Mr Dickson also said the appearance of new, private-equity-backed operators, such as Chrysaor, Neptune Energy and Siccar Point, was "fascinating" at a time when many majors appear keen to reduce their North Sea interests.
He said: "Private equity wants to invest and they are very focused on growth.
"There has been a massive amount of spending on assets from these companies.
"They are bringing new ideas and money to assets that were not as material to majors.
"If assets are being invested in and companies are doing the right things, it's a positive.
"Some companies are leaving or selling down their interests, but a lot of firms are growing individual assets, which is great because a few years ago thing were looking bleak.
"To have a situation where companies are buying assets and looking to drill exciting new wells is a real turnaround."
Mr Dickson said the UK Government and the OGA deserved a lot of credit for the improvement.
He said: "They understood the need to give people an incentive to come to the UK.
"The UK had a very changeable tax rate so it was difficult for companies to plan.
"But a more stable tax regime and a more positive regulator has been conducive to investment."
Recommended for you

WoodMac: almost £25bn of UK energy investment faces chop if Labour take power