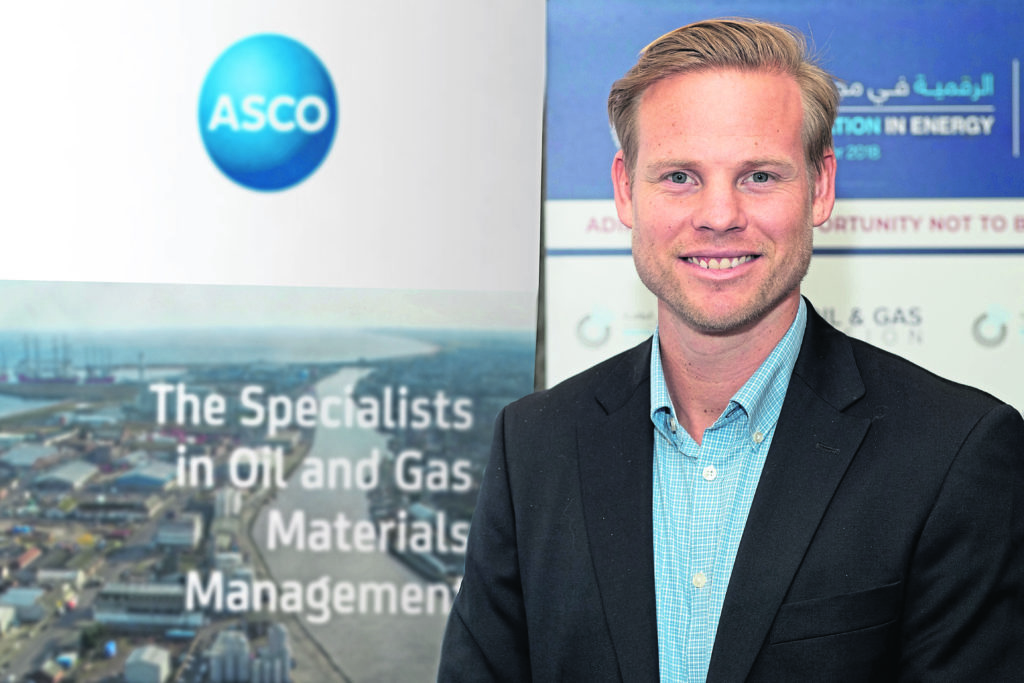 Digitalisation and innovation manager for ASCO Norway, Christopher Hoftun, says the offshore supply chain industry is now ready to be digitally transformed, as industry leaders gather in Norway for the 22nd biennial ONS conference.
"We're about to see a new culture of innovation in oil and gas, but it's been a long time coming," he said. "Just as new technologies have revolutionised other sectors, embracing digitalisation in the offshore supply chain will transform the entire industry as we know it."
Hoftun is familiar with pushing boundaries – with a background in petroleum engineering, including time at NASA Ames Research Center in San Francisco. He was a co-founding director of the
Mars Institute in Stavanger, the only one of its kind outside North America. The institute, with a remit to build collaboration and test novel technologies for future missions to the red planet, established a base in Stavanger because of the city's world-class reputation for oil and gas technology – a technology not so different from that used in space. Hoftun explains: "Part of my role was to reach out to tech companies and encourage them to collaborate with NASA, to share knowledge across different sectors.
"Both sectors are about operating sophisticated technologies in extreme environments, so learnings from one sector can often be applied to the other."
Now at ASCO, Hoftun draws on his experience of cutting edge technologies. "My job involves looking at new ways to solve existing problems, by applying digital technologies that will transform our business models. Logistics represents a small part of the overall supply chain in oil and gas, but we have the potential to play a major role in improving efficiency."
A boost in that efficiency will not come from rocket science, but by implementing systems that have been exploited within the retail and automobile sectors for over 20 years, as Hoftun explains: "We could learn a lot from the car manufacturing industry, where orders for parts are placed online in a process which kickstarts a whole set of motions that smoothly pull everything from supplier to consumer.
"By contrast, operations in oil and gas are often delayed because equipment is not available, which leads to a very 'hand-to-mouth' existence, and ultimately serves to drastically drive up cost."
A tendency towards silo-based working and a reluctance by customers to be the first to engage in new technologies have been key to the industry's comparatively slow uptake, according to Hoftun.
He said: "Historically, most companies were independent and non-collaborative. There is very little standardisation as a result, and the lack of data sharing has made it difficult to plan efficient operations.
"The most recent oil price crash changed all that, creating a highly competitive environment in which companies have been forced to be more efficient to reduce costs. The good news is that this mindset has remained even as the oil price continues to climb again, and our customers are beginning to see the industry-wide benefits of collaboration."
ASCO is no stranger to innovation – the forward-thinking firm has focused its strategy on developing and exploiting digital technologies for the past several years.
Dr Matthew Anderson, the business transformation director at ASCO, said: "We are well placed to push modernisation, specifically how humans and technology augment each other to optimise operational efficiency and performance.
"Logistics is an ideal area to lead on digital transformation. The world of logistics outside of oil and gas has transformed in such mind-blowing ways – we see that it works, and the risks are knowable and manageable – so there's no reason, apart from willpower and a bit of courage, why we can't digitally transform the oil and gas supply chain. We just have to be smart enough."
Hoftun agrees: "I think we're on the brink of a new culture of innovation, as a growing number of operators take action, and ASCO is well-positioned to embrace this trend. We are focused on creating productive partnerships with clients, offering complete transparency throughout the supply chain, and real-time tracking of their assets."
A digitally enabled supply chain will bring multiple benefits.
He added: "Tracking and tracing equipment, like you would find in Amazon, from warehouse through to offshore, will be completely transparent. Operators will be better placed to plan their operations, knowing the exact location of their equipment. Ultimately this will optimise production and increase efficiency, using a system that is sustainable for the future. Basically, we want to be the Amazon of offshore logistics."
Recommended for you

Why safety and skills are the key to achieving Vision 2030 for the energy sector