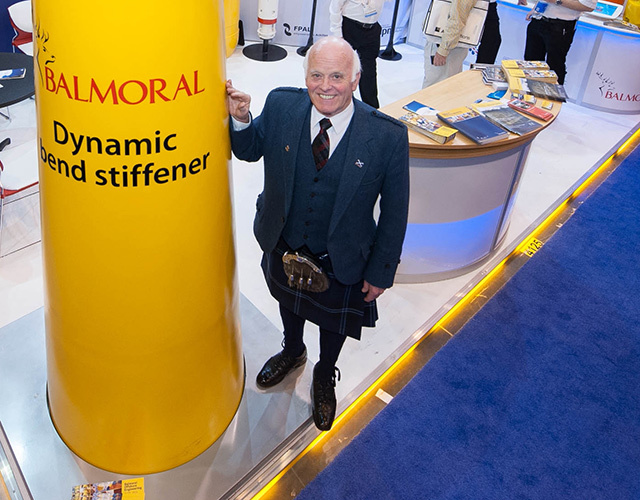 At a time when much of the oil & gas industry is slashing costs, Aberdeen's Balmoral Group is investing £20million in an ultra-deepwater test facility.
It will operate 24/7, have a staff of 15 and is part of a wider investment in next generation elastomer-based products R&D and manufacture at group headquarters.
Widely regarded as a world leader in the design and manufacture of deepwater buoyancy, insulation and elastomer products, Balmoral also intends to offer test capacity to the wider subsea industry.
It is a long time since anyone built a major, cutting edge offshore oil & gas-related development centre in the UK and the timing is fortuitous, given the current effort to galvanise action via the Oil & Gas Innovation Centre initiative.
Ground-works for the facility started in January and have entailed blasting through the city's granite sub-strata to accommodate a suite of underground pressure test vessels.
The building now taking shape covers an area equivalent to more than six tennis courts and stands 18m tall at its highest point.
Jim Milne, chairman and managing director of Balmoral, has personally taken charge of the project.
"The Balmoral Subsea Test Centre offers a comprehensive range of procedures including hydrostatic, mechanical and laboratory trials," he told Energy.
"The facility provides the industry with a fully comprehensive resource for buoyancy, insulation and polyurethane product testing – from concept through development and deployment.
"New and upgraded vessels and procedures are in place offering independent testing for all types of subsea equipment to depths of 10,000msw (metres of seawater) – equivalent to 32,808ft.
"All our vessels are underground meaning that access is at ground level making handling much easier and safer.
"Bespoke software has been written to allow full test traceability and real time observing from anywhere in the world.
"This level of monitoring is a first for the industry and informs clients whether or not current testing is successful. This capability also means that the vessels are put to optimal use by reducing downtime."
Balmoral's standard hydrostatic tests include:
-Uplift determination
-Water ingress
-Instrumented buoyancy loss
-Hydrostatic compression and creep
-Hydrostatic collapse
-Bulk modulus
-Buckle arrestment performance
The pressure test vessels use air driven liquid pumps and can accommodate electric, hydraulic and instrumentation connections. Each vessel can be fitted with chart recorders, pressure and temperature data loggers that provide highly detailed results for analysis.
In terms of mechanical testing the multi-purpose load rig performs the following test-types:
-Axial and lateral slip loads to 60 tonne
-Static loading and 3-point bend to 100 tonne
-Bend restrictor/stiffener load to 10 tonne
-Bend restrictor locking radius measurement under load
-Compression and shear testing on companion cylinders to 200 tonne and tensile testing to 150 tonne
-Dropped weight and swing arm impact testing
-Lifting point/insert load testing
The new test centre is located adjacent to Balmoral's existing R&D laboratories and covers some 800sq.m with a working height of 12m.
An overhead crane is capable of lifting 40 tonnes while the centre has been fitted out with state-of-the-art remote vessel monitoring and control equipment.
The centre will house 14 vessels to various pressures with a maximum of 10,000psi, 700bar.
A 9m diameter x 4.5m deep, 286,000 litre, 63,000 gallon, test tank to undertake large scale displacement testing is also provided.
Milne: "The largest vessel we have is buried deep in the ground and measures some 10m long by 2.5m diameter – we had to blast through 13m of solid granite to bury this colossal structure.
"The vessel is designed to accommodate drill riser buoyancy modules and other large pieces of equipment and can test to pressures of 6,890psi, 475bar, the equivalent of 4,750m (15,584ft) of seawater. Our smaller vessels can test up to 10,000psi, 700bar.
"We will be able to test everything from massive drill riser buoyancy modules and ROVs to tiny pieces of subsea equipment such as valves, controls, etc. Equipment can be trialled continuously to suit project requirements.
"So, it could be in-house testing of buoyancy or elastomer products or it could be unusual materials from half way around the world. The equipment we have is unique in its application and we carry out work across many sectors.
"Predominantly used for in-house testing and development work the test centre facilities and services are also available to external customers."