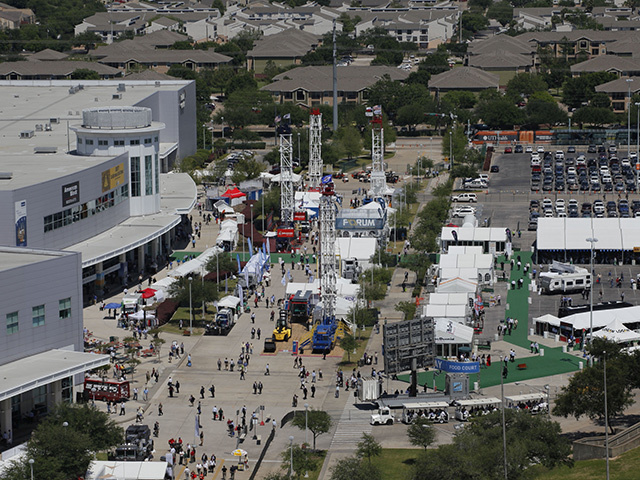 Hundreds of representatives of North Sea companies braved the downturn to attend the Offshore Technology Conference 2016 in Houston.
For Jim Milne, 75, the chairman and founder of Aberdeen's Balmoral Group, it was his 42nd trip to the annual Texas show which this year welcomed over 90,000 attendees from around the globe.
A spokesman for the firm noted that this year's event was "noticeably quieter" but that the firm still had good meetings on the stand.
He added: "The focus of the show is without question innovation and how companies can help their clients achieve their targets. Thought provoking and stimulating discussions aplenty!"
Expro was also in attendance along with the firm's new chief executive, Mike Jardon.
Nigel Webster, technical marketing director at Expro, said hailed this year's event as "successful".
"OTC remains one of our major annual trade shows and while the industry may be operating in a difficult market, the quality of the conference has been high," he said.
"Although there were fewer attendees this year, we found that the right people were still visiting the show and we gained important opportunities while maintaining our relationships with customers."
Sarah Forbes, managing director of Aberdeen IT firm Core 29, said: "We've had a very productive week at OTC. Across the supply chain companies are looking for ways to simplify and streamline their business processes.
"At Core 29 we listen to a customer's challenge and build systems and processes, powered by the latest technology that address these. There has therefore been significant interest in what we offer and with our proven track-record, we have been able to demonstrate real, reliable and immediate results."
Burness Paull associate Ross McKenzie, a first-timer to OTC, said the trip was illuminating as well as "invaluable".
"This trip has shone a light on a global industry of opportunity – particularly for my generation who are facing an uncertain future," he said.
"Whether it be scope for international work or a better understanding of what skills will be needed in the years to come, visiting the conference has been an invaluable experience."
His colleague, Arran Mackenzie, a senior associate with the Scottish law firm, noted that "Houston seems to be surviving the downturn better than Aberdeen" – seemingly due to better diversification and more sectors supporting the city.
"The general mood in Houston, despite the ongoing crisis, is much happier than in Aberdeen.
"The 2016 experience has provided a valuable and interesting insight into the state of the industry on a global level and how our clients are surviving and viewing their future."
Recommended for you

Omicron variant casts shadow over major oil and gas conference